By Bilge Arslan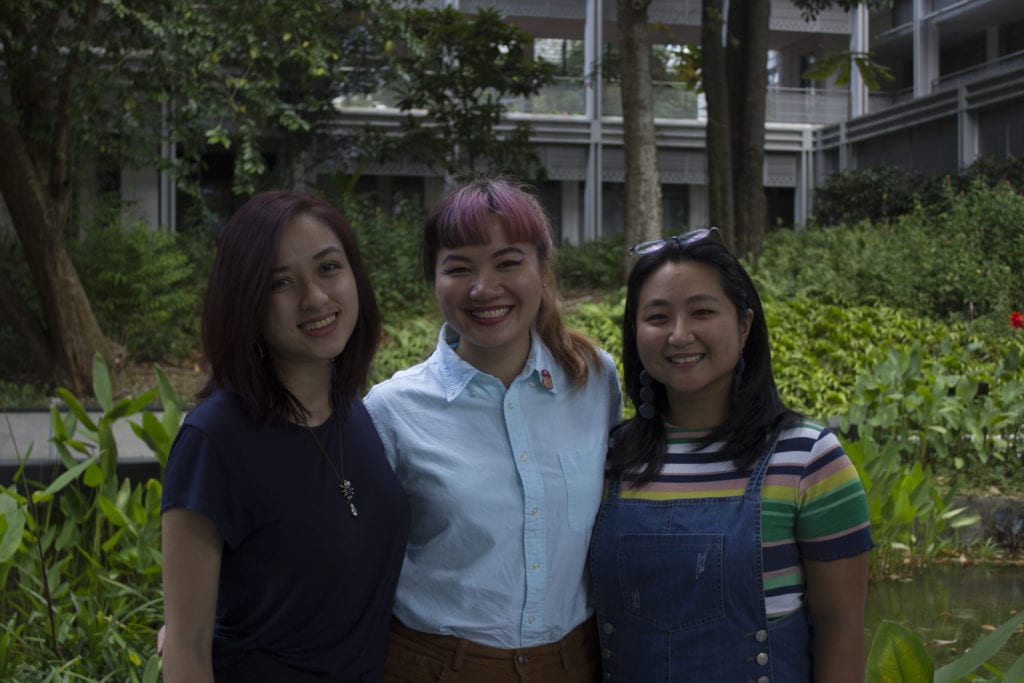 From left: Ms Zhiwen Yap (Class of 2017), Ms Kathy Poh (Class of 2020), and Ms Clara Peh (Class of 2019). Image by Bilge Arslan for Yale-NUS College.
This summer, one Yale-NUS student and three alumni participated in the 58th Venice Biennale (La Biennale di Venezia), one of the oldest and most prestigious global exhibitions of contemporary art.
Selected by the National Arts Council, Singapore as ambassadors for the Singapore Pavilion, Ms Yap Zhiwen (Class of 2017), Ms Teo Xiao Ting (Class of 2018), Ms Clara Che Wei Peh (Class of 2019) and Ms Kathy Poh (Class of 2020) spent six and a half weeks in Venice providing technical and administrative support to the Singapore Pavilion, one of 87 national pavilions. Ms Yap and Ms Teo were there from 3 May to 16 June, while Ms Peh and Ms Poh were there from 14 June  to 28 July.
Their principal roles ranged from giving tours of the exhibition and answering questions that visitors may have regarding the exhibition or Singapore, to operational duties like care of the artwork, wiping dust off the display cases and vacuuming. "I had never thought much about these mundane tasks when walking through other exhibitions as an audience member!" Ms Yap remarked.
An Arts and Humanities major, Ms Yap took many visual art and art history classes during her time at Yale-NUS and was the founder of Yale-NUS Visual Art Society, which allowed her to gain practical experience in leading creative projects and initiatives. After graduation, she joined the President's Office to manage The Future of Our Pasts Festival, an arts and media festival organised in support of the Singapore Bicentennial.
At the Biennale, she learned how to interact with visitors from around the world by representing the Singapore Pavilion to numerous people every day.
"Working in the Biennale enabled me to gain much insight about how various countries decide to represent themselves to global audiences at an event like this, and the disparate functions of art in the minds of different stakeholders," she said.
One of her favorite exhibitions was the Lithuanian Pavilion — Sun and Sea — an opera performance-installation featuring actors and singers in a beach set. "It was a refreshing, creative and well-executed piece on the issue of climate change," she said.
Off-work, Ms Yap had the chance to explore Venice and try local food. She especially enjoyed walking along the coastline and watching the ferries pass, which was "a peaceful change from the city's centre." She also spent time with fellow invigilators from other countries' pavilions and other locals she met. On one of her days off, she took a train to Trieste, a neighbouring city, for a day trip with friends from another pavilion.
Ms Teo, who was at Venice at the same time, is just starting her writing career and thinks that she has a lot to learn about the visual arts. She joined the Ambassador programme because she was eager to see and understand the inside operations of an international event such as the Venice Biennale.
She, too, forged friendships with people she met in Venice, such as Alberto, the gallery sitter and production assistant of the Luxembourg Pavilion. She shared that talking to him and other Biennale staff members was a way for her to learn a lot about their respective art works, as well as how other pavilions interact with guests.
"The Biennale made me realise that art is not the work of a single person, but a group of people who are emotionally committed to bringing the work to the public. At the end of the programme, I was even more appreciative of intricate artworks and more aware of the invisible labour behind them," she added.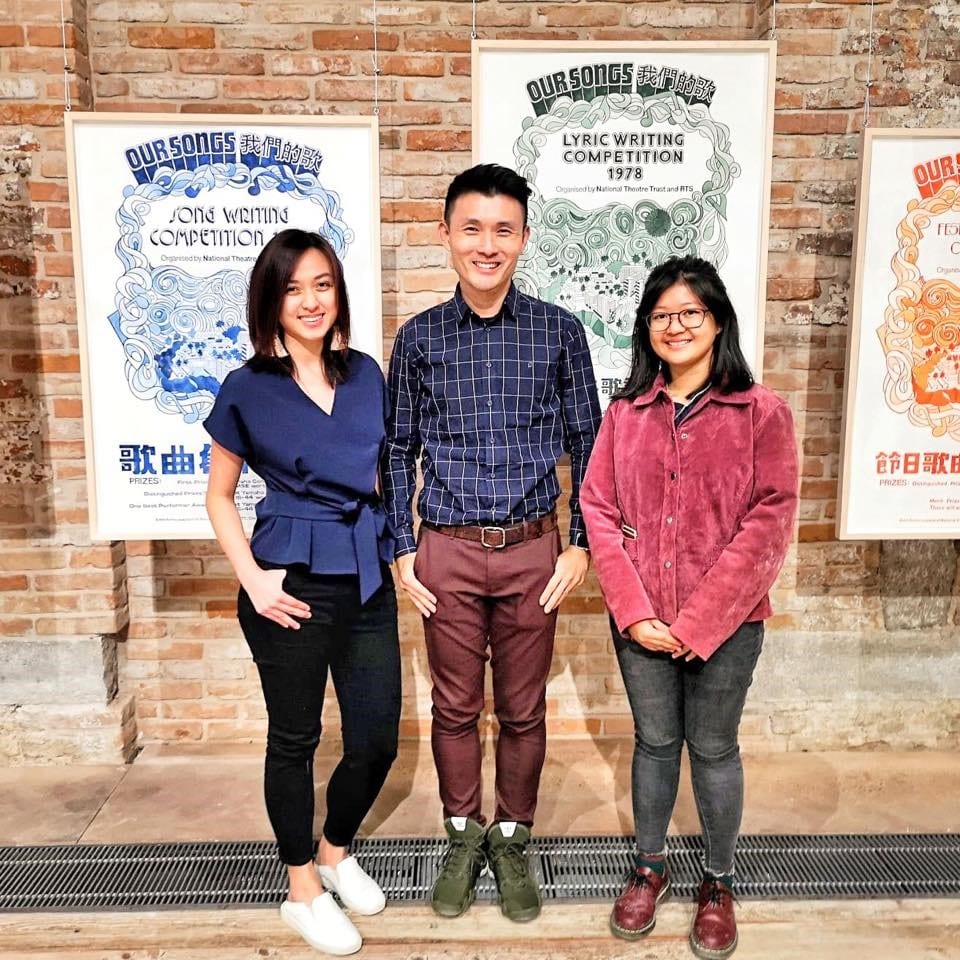 Ms Zhiwen Yap (left) and Ms Teo Xiao Ting (right, Class of 2018) together with Mr Baey Yam Keng, Senior Parliamentary Secretary, Ministry of Culture, Community and Youth and Ministry of Transport (Singapore), during the latter's visit to the Venice Biennale. Image provided by Mr Baey Yam Keng.
Ms Poh – the only ambassador who is still a student – applied for this programme because she is curious about how art and audiences at an event such as a Biennale would differ from those in a museum or gallery setting. She is also interested in curatorial studies and curatorial work. After being inspired by the art history classes in Yale-NUS given by Assistant Professors of Humanities (Art History) Maria Taroutina and Nozomi Naoi, she started thinking about possible careers in arts management.
Like the other participants, Ms Poh also visited other pavilions and exhibitions at the Biennale and Venice. She found Rothko in Lampedusa, an exhibition which was organised by the United Nations High Commissioner for Refugees (UNHCR), particularly memorable. The exhibition featured established contemporary artists alongside younger refugee artists who participated in residencies in Venice. "I thought that it was an especially important exhibition in the context of the prestigious Biennale, and it was also human and incredibly moving," she said.
For Ms Peh, the Biennale is the latest step in a journey that began two years ago. An Economics major, she began to take an interest in the art world after taking an art history course in her sophomore year. While she had previously studied visual arts, this course led her to realise that art history is a very interesting lens through which she could understand and interact with the world, and she eventually declared a minor in Arts and Humanities. She will start her Master's in History of Art at the Courtauld Institute of Art in London in October .
The Singapore Pavilion Ambassadors Programme is a rare opportunity for her to see how things work behind-the-scenes in the art world. Moreover, she thinks that Ang Song-Ming, the artist chosen this year to represent Singapore, has a very interesting and fun artistic practice. He is interested in making art more accessible to the public, which is something Ms Peh resonates with deeply.
She recommends the Ambassadors Programme to anyone who is even slightly interested in any career relating to the arts. She said, "There is so much art to see and absorb and learn from, and it's very nice to be able to take my time in doing so."