Written by Elena Owyong | Image by Alyson Rozells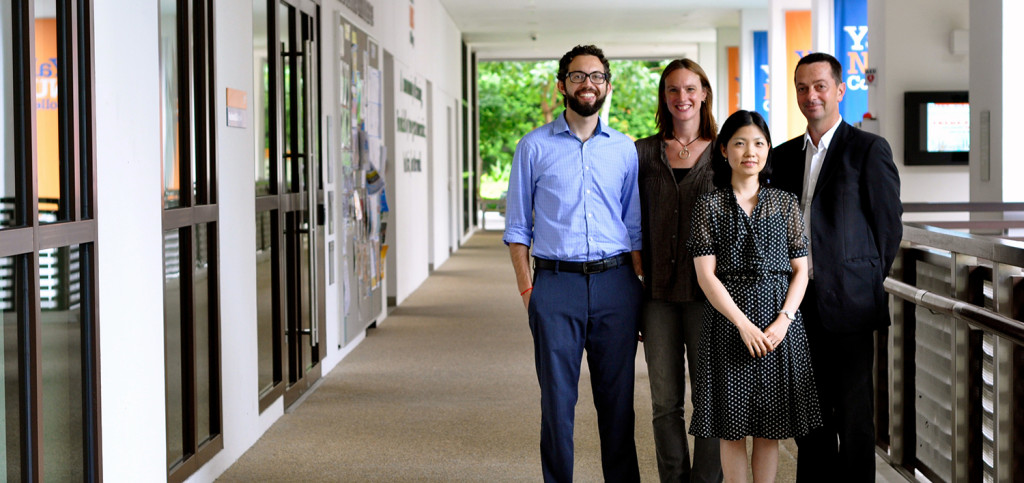 At the age of four, Ms Heidi Stalla had an experience like no other.
"My mother taught tennis to King Hussein of Jordan while I taught him how to skip!" shared Ms Stalla, the new Associate Director of the Writing Programme and Coordinator of the Writers' Centre. She was referring to the time her family moved to Jordan during her childhood.
Ms Stalla is one of four new faculty members who have joined the Division of Humanities at Yale-NUS College as it expands its arts programme to include more interdisciplinary courses that cover both theoretical and practical applications. The three other faculty members are Professor Mark Joyce, Mr Jason Carl Rosenberg and Dr Nozomi Naoi who hail from Ireland, America and Japan respectively.
The new faculty members bring with them expertise spanning various fields such as visual arts, creative and professional writing, as well as music appreciation and performance.
Drawn to liberal arts education
Despite their diverse backgrounds, all four faculty members share the same passion for a liberal arts education.
"As a graduate from Carleton College, I realised that I owe my current interests to the liberal arts education that I received and the enthusiasm that my teachers demonstrated," said Dr Naoi who joins the College as Assistant Professor of Humanities (Art History). Dr Naoi's research focuses on modern Japanese prints and visual culture.
Ms Stalla echoed similar sentiments.
"I am deeply interested in pedagogy and the innovative energy of the Common Curriculum," shared Ms Stalla, who is assisting Professor Robin Hemley, Director of Writing Programme in shaping the Writers' Centre and developing writing courses.
"I am thrilled by the ideas, optimism, and can-do spirit of the faculty, staff, and students whom I have already met," she added.
Professor Joyce, the inaugural Director of Art and Professor in the Practice of Arts also believes that the College stands in good stead to develop an interdisciplinary education for the 21st century.
"I have always believed that art truly comes alive when it is confronted by other areas of knowledge. Singapore seems ideally suited to bring all of this together," said Professor Joyce, an award-winning visual artist whose artworks explore the historical, scientific and philosophical concepts of physical light.
Adapting to life in Singapore
Having been in Singapore for less than a month, the intrepid new faculty members have been busy exploring and seeking local experiences in Singapore.
"I am quite keen on exploring the area, learning squash, and methodically trying every dish at the hawker stalls," shared Mr Rosenberg, the newly minted Director of Student Music and Assistant Professor of Humanities (Music).
Formerly based in Switzerland, the music composer added, "I'm always looking for brave participants to take part in my beer brewing experiments."
In Professor Joyce's case, he was able to handle the humidity, sudden tropical downpours, as well as the hustle and bustle of Singapore. However, his stumbling block was the local infrastructure.
"The one thing that has literally tripped me is the storm drain, having stepped into one at the art opening in Gillman Barracks in front of the entire Singaporean art world," joked the affable Professor Joyce.
Teaching through unconventional means
All four faculty members are also brimming with ideas on how they can contribute to our community of learning.
For instance, Mr Rosenberg is keen to introduce an experimental and highly interactive application-based method to teach music. His course, titled "Integrative Music Theory", will require students to use the ukulele, piano, smartphone applications, and their voices to integrate performance practice and intensive ear training as a comprehensive introduction to musicianship and musical understanding.
Like Mr Rosenberg, Dr Naoi is also keen to bring her expertise in Japanese prints to her course on Japanese woodblock prints, which will provide a thorough introduction to Japan's most celebrated artistic medium from the mid-17th century to the modern era. Lest students think that this course is purely practice–based, it also explores complex issues of urban culture, print capitalism, censorship, representation of war and national identity, gender roles, and portrayals of modernisation.
Ms Stalla also has plans to engage in experiential learning for her writing courses.
"I believe there is a way to teach authentic engagement with a core text by encouraging students to experiment with the translation of its form across different mediums, such as music or performance," she said.
On top of teaching courses, the four new faculty members have plans to tap on external sources to enrich students' learning.
"One of my priorities is to get Singaporean artists to come and talk to the students," said Professor Joyce, who oversees the development of the arts curriculum and arts-related extra-curricular activities.
Given the interesting slate of courses that the four new faculty members will be offering, Yale-NUS students will be spoilt for choice in the semesters to come!