Text and images by Julian Low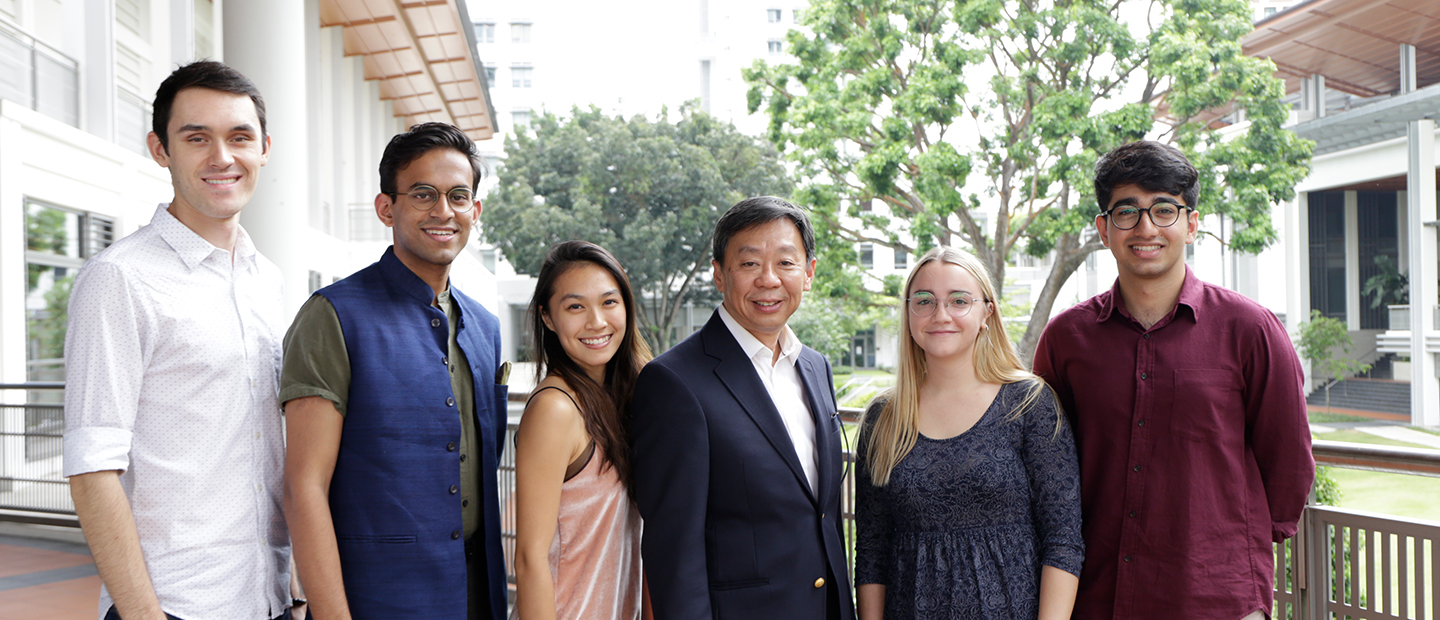 From left to right: Peter Lewis, Kaushik Swaminathan, Stephanie Chee, Professor Tan Tai Yong, Guadalupe Lazaro and Feroz Khan
Over the summer break, five Yale-NUS students clinched honours in the inaugural Association of Pacific Rim Universities – New York Times (APRU – NYT) Asia-Pacific Case Competition 2017.
Stephanie Chee (Class of 2019) clinched the first Runner-up position in the solo category of this prestigious competition while Feroz Khan, Kaushik Swaminathan, Peter Lewis (all from Class of 2018) and Guadalupe Lazaro (Class of 2020) clinched a position within the top 10 in the group segment. The winners were announced by Chancellor Gene Block, APRU Chair, at the APRU Annual Presidents' Meeting in Sydney on 26 June 2017.
Students from 12 nations and territories and 31 universities participated in the competition, which was judged by senior university leaders from member universities of APRU and staff from The New York Times.
Assuming the role of a policy advisor to a respected political leader who can influence public opinion and change policy, participants were tasked to submit an 800-word brief policy on the complexities of climate change with a prime focus on the future of the Pacific Ocean. They could either participate individually or as a group of four.
In her essay, Stephanie addressed her policy to Australia's Minister for the Environment and Energy. She highlighted two main threats of climate change to Australia, namely the impact on its coral reefs and the prospect of climate refugees fleeing from other island nations into Australia. She discussed how protecting the coral reefs was not only a moral responsibility for the country but it was also an important attraction for tourist revenue.
To address these issues, Stephanie gave two recommendations. Firstly, she proposed introducing mitigation efforts against large-scale climate change effects such as ocean heating and acidification. Her other recommendation was to construct a cooperation agreement with other Pacific Island nations on how to manage the coast and ocean.
"I was thrilled and surprised to learn that I was the first runner-up," Stephanie said. "I did not expect to win anything even after submitting my essay. When I heard the news, I was in such disbelief that I kept reading the email several times!" She learnt about the competition through Assistant Professor of Social Sciences Angel Hsu in one of her classes. As one of the class assignments was similar to the competition's task, Stephanie decided to give it a shot.
Similarly, Peter heard about the competition through his advisor Charlotte Evans, a programme manager from the Centre for International and Professional Experience (CIPE). "In a conversation over dinner, Guadalupe and I first decided to work together to participate in this competition. Soon, we had Kaushik and Feroz interested after we had shared the details with them," he recalled.
In their essay, the group discussed the impact of Singapore's food system on the climate and the oceans, as well as Singapore's vulnerability to future climate-induced shocks to its food system. Their goal was to reduce Singapore's food-related impact on the environment while simultaneously addressing the nation's food security issue. The group recommended investments in the areas of vertical farming and agricultural research and development. They also discussed shifts in land-use policy and incentives to steer current agricultural production away from ornamental fish.
Feroz was especially proud of the group's achievement. "We did a great job in working around everyone's schedule during term time! Even though we re-evaluated our ideas many times, I am very glad that we all managed to keep one another engaged and motivated to produce the essay together as a team," he said.
To read Stephanie's essay, please click here
To read the group's essay, please click here