Written by Jacqueline Su | Image by Alyson Rozells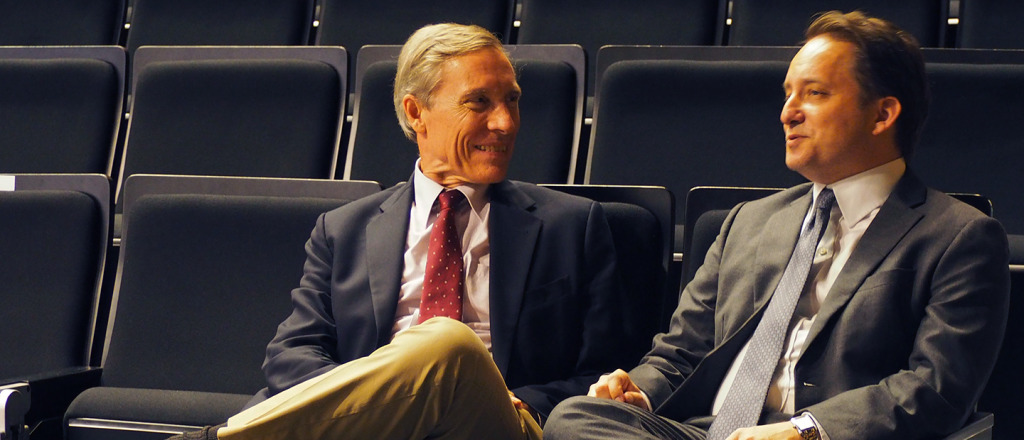 On 7 November 2014, as part of the President's Speaker Series, Yale-NUS College President Pericles Lewis and Pomona College President David Oxtoby discussed the future of liberal arts education in North America and Asia.
Speaking to an audience of about 100 Yale-NUS students, faculty and staff at the Ngee Ann Kongsi Auditorium in University Town, the two presidents explored a range of topics, from the origins of the liberal arts tradition in the United States, to the common curricula and student life experiences at their respective colleges. Both presidents agreed that the two institutions have much to learn from each other despite their differences in location and age.
While Yale-NUS College is a young institution with only two batches of students to date, Pomona College has approximately 1,600 students currently enrolled. Established in 1877 and located in Claremont, California, Pomona College is the founding member of the Claremont Colleges, a consortium of five undergraduate and two graduate institutions located in the town.
Before being appointed President of Pomona College in 2003, President David Oxtoby served as the Dean of Division of Physical Sciences at the University of Chicago.
President Oxtoby commented on the growing importance of interdisciplinary learning and its significance for liberal arts students.
"I think what we're experiencing is a real renaissance in focus on creativity, crossing all these boundaries," he said. "We've got physicists working with some studio artists and some economists thinking about how you would approach, let's say, a problem in India."
For the younger Yale-NUS College, President Lewis remarked that starting out from scratch is beneficial.
"One of the great things about being a very new college is that we can make our plans on a blank sheet of paper, a blank screen," he said. "Now, it's true that not 100 percent of the things you try will work out, and that's part of it, but if 70 percent work out and we then fix the other 30 percent, then we're doing pretty well."
For Yale-NUS student David Chia, Class of 2017, felt that President Lewis made the College's vision "very clear as a community and as a College when he discussed the role of the College in relation to Singapore and international education".
He added: "He made the distinction clear, where we are a global college in Singapore as opposed to an American college in Singapore."