By Daryl Yang | Image by Yasunari Watanabe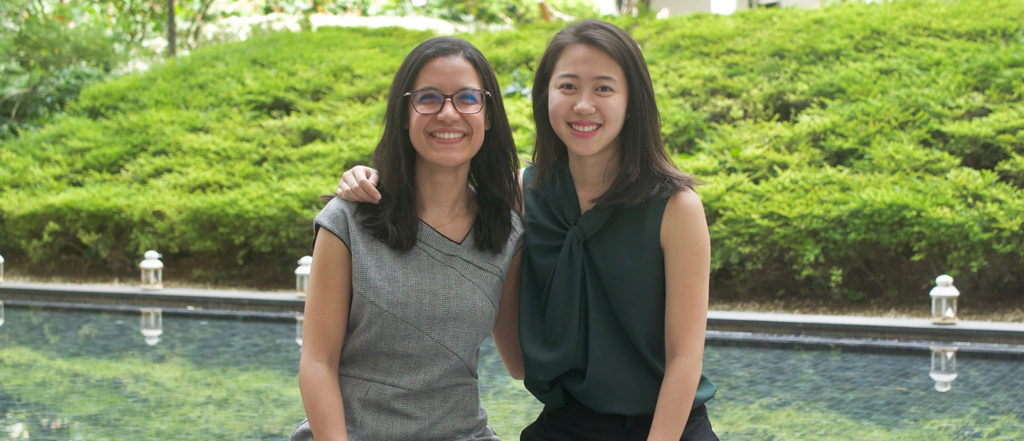 Fatima Ezzahra Daif (left) and Colette Chiaranussati (right).
Four Yale-NUS students will not be bidding each other goodbye after graduation as they will be joining the same company. Colette Chiaranussati, Fatima Ezzahra Daif, Tiffany Ip and Ajinkya Chougule (all from the Class of 2018) will be heading to Goldman Sachs, a leading global investment banking, securities and investment management firm.
Fatima will be joining the Risk Management division at the firm, which she shared "offers a wide exposure to different financial products and the opportunity to work on a global scale."
"I think it will be a great place to challenge myself and learn continuously. The work is bound to be both diverse and challenging and I appreciate the rigour and commitment to excellence that the bank is renowned for," she added.
An Economics major, Fatima noted that the interdisciplinary curriculum at Yale-NUS will come in handy when she embarks on her career at Goldman Sachs.
"I think the interdisciplinary spirit of our college allows us to look at any project holistically. It makes us take that extra moment to think of indirect factors that might affect a transaction, political contexts that might change our assumptions, and hopefully add value to the teams we're in," she shared.
Like Fatima, Colette is also an Economics major who developed an interest in investment banking after taking economics-related modules in college.
"I did not go to university knowing that I wanted to do finance, or that investment banking was what I wanted to pursue. It was only after taking classes in Economics that my interests evolved towards more analytically challenging pursuits. After some research, I realised that investment banking would be an exciting challenge that combines my interests in critical thinking and quantitative analysis, which also requires creativity and interpersonal skills," she reflected.
Colette decided to join Goldman Sachs for multiple reasons such as the strong business culture and positive work environment.
"Goldman Sachs has a strong focus in investment banking and a culture of excellence which runs throughout the firm. Also, I enjoy working in an environment where the co-workers motivate and push each other to succeed," she explained.
"I am looking for colleagues who are reasonable, down-to-earth and willing to mentor and this came through strongly in my interviews and internship. In addition, Goldman Sachs takes steps to look after the welfare of its employees. For instance, it is the first big bank to enact a 'protected-weekend-day' policy for junior bankers."
Colette's experiences at Yale-NUS have helped her develop personal and professional skills to contribute meaningfully in her career.
"Being at Yale-NUS has helped me develop a global perspective and better emotional intelligence (EQ). This helps me add value to the bank because its clients are very diverse and it needs people who can relate to the clients," she said.
Both Colette and Fatima are busy completing their capstones as they count down to graduation.
Fatima's capstone focuses on "the intersection between corporate strategy and financial inclusion."
"I am working on an empirical study of the impact of Chinese Foreign Direct Investments (FDIs) on illicit financial flows in emerging markets. There is a lot of criticism around Chinese involvement on the African continent for instance, but not nearly enough evidence of causality, and that's where my research comes in," she explained.
Colette is focusing on Thailand as a case study to examine whether firms anticipate minimum wage changes.
"While most papers on minimum wages look at the labour market outcomes of policy changes, my capstone seeks to answer the question whether firms anticipate such changes and if so, how they reallocate their factors of production such as capital and labour," she shared.
On what she would miss most about Yale-NUS, Colette shared that it would be the friends she made since first year orientation.
"Since my first year here, there has been one constant in my life at Yale-NUS: Camaxtli, my Dean's Fellow group (a group formed during orientation). From the late night supper runs and studying to overseas trips and deep conversations, I have loved every moment that we have spent together. It will be very tough saying goodbye but I know we will be lifelong friends," she reflected.
Similarly, Fatima's favourite memory of college is having meaningful conversations with her friends. "I often find myself with friends who are all passionate about vastly different topics from environmental laws to migration policies and sharing about how they fit in our respective countries," she reminisced.
"It is always a reminder how diverse this community is, both in terms of cultural backgrounds and academic interests."