By Daryl Yang | Images as credited  
While many students would think of finding an internship with a multinational corporation, commercial enterprise or the public sector, some Yale-NUS College students decided to work in non-governmental organisations (NGOs) where they served different communities while learning what it was like working in various parts of the world.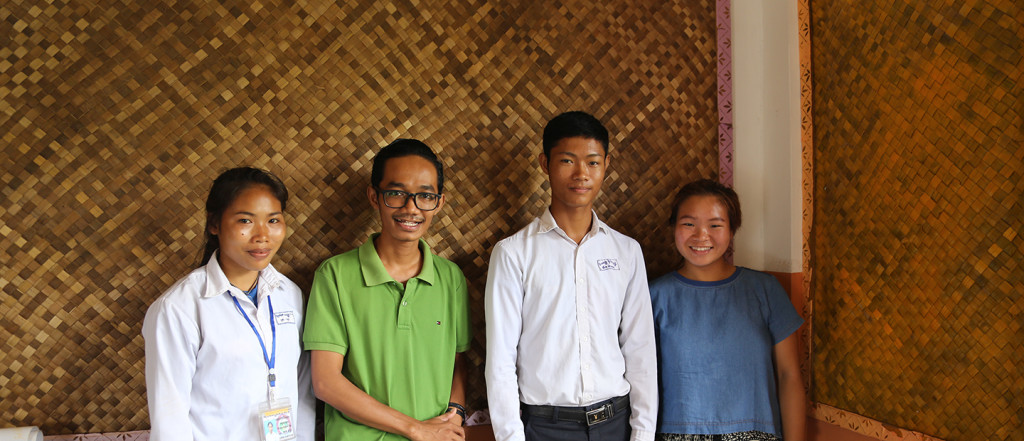 Photo provided by Tan Yanru
One of these students was Tan Yanru (Class of 2019) who interned with Caring for Cambodia, an organisation that aims to secure a better and brighter future for the children of Cambodia through education.
"As a gender equity intern, I had to revamp the organisation's gender equity curriculum and prepare teaching materials, facilitate gender equity lessons and do a presentation on Gender Responsive Pedagogy for the NGO staff. Besides these, I also designed a wall mural for the school for future volunteers to work on," said Yanru on her role in the organisation.
What touched her most was the impact she observed on one of the participants from the programme she helped to organise.
"While I may have doubted the effectiveness of empowerment in the past, I got to see how my gender equity lessons were having an impact on the students. A girl shared that after attending the gender equity sessions, she was inspired to convince her parents to let her pursue running instead of working in the household, and she has since been to two provinces outside Siem Reap for running competitions."
Saza Faradilla (Class of 2018) similarly went abroad and interned at the Jordanian Hashemite Fund for Human Development (JOHUD). JOHUD is one of the two royal NGOs in Jordan, and is the largest NGO in Jordan with 51 community development centres all around the country.
"I interned at both the children's and women's empowerment departments. For the children's empowerment department, I worked on a social media strategy for a new centre they are opening in Kafrain, and writing and editing reports for donors. In the women's empowerment department, I worked on documenting the work that they do and collating it into a comprehensive manual," she shared.
Saza's prior experience running KidsAccomplish, a student organisation at Yale-NUS College that offers a holistic educational programme for primary school students, enabled her to meet the challenges at her workplace.
"Helming KidsAccomplish at Yale-NUS has given me the necessary skills to also contribute meaningfully to JOHUD. For instance, I was able to use the social media skills I learnt from managing the KidsAccomplish Facebook page for JOHUD's social media channels. I also realised the importance of archiving materials while running the group, when we had to design new registration forms or new standard operating procedures each semester. I had the opportunity to apply my previous experience to help JOHUD develop an effective archiving system for its activities and programmes."
Jane Zhang (Class of 2018) spent her summer in Singapore, serving the migrant workers community with HealthServe, a local NGO that provides medical assistance and advocates for the rights and welfare of migrant workers.
"My main role was to interview workers in order to create a compilation of their stories. I also helped out with other tasks such as running Geylang Food Programme (a free meal programme by HealthServe funded by the Migrant Workers' Centre), accompanying workers on excursions around the city and to their hospital visits, and assisting in the Healthserve clinic and at public health screenings," Jane explained.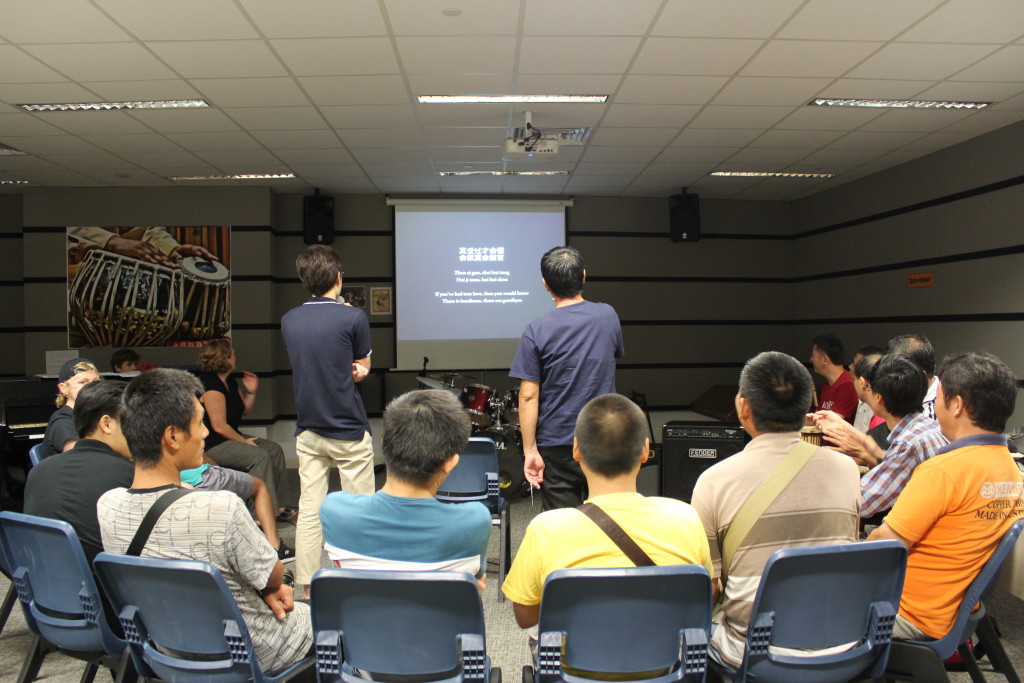 Karaoke session with migrant workers. Photo provided by Jane Zhang
Issues relating to migration have always been close to Jane's heart because of her background. "Since coming to Singapore, I have been very interested in migrant workers' issues and rights. I think this interest stems from a personal place, as my own parents were immigrants to the US and my own position as an international student here in Singapore," she shared.
The greatest takeaway from Jane's internship was realising that beyond humanising the migrant workers, it is also equally important to recognise their needs and problems.
"They have very real, pressing problems that they are facing, and simply being polite to them on the MRT is not enough; we must recognise their value as individuals in multicultural Singapore, include them into the patchwork of Singaporean society, and take care of their needs as much as we take care of the needs of any other member of Singaporean society."
Jane also intends to continue volunteering with the organisation beyond her internship.
"I am very thankful to have gotten the chance this summer to work as an intern with HealthServe, because it allowed me to see how the needs of the migrant workers are being addressed by NGOs in Singapore. In fact, I enjoyed my time at HealthServe so much that I am planning to continue volunteering in the office once a week throughout the semester."
"I am also planning a photography project in collaboration with the various NGOs that work with migrant workers in Singapore," Jane shared.
At the College, in addition to the exciting opportunities our intrepid students secure on their own, the Centre for International & Professional Experience (CIPE) also coordinates internships for our students with non-governmental organisations (NGOs) locally and abroad. It also runs an annual NGO Bootcamp to prepare students with skills to contribute effectively to these organisations before they embark on their internships.