By Avani Adhikari
At Yale-NUS College, financial aid has always been about flattening access to knowledge and enabling students to participate in the diverse educational experiences at the College. Philanthropy is one important avenue through which financial assistance can be provided to those in need. Supported by the generosity of the Kuok Group of Companies Singapore (Kuok Group), financial aid through study awards has empowered Elle Cheng Li Ling (Class of 2023) and Larry Loh Kar Lek (Class of 2024), to seek new opportunities at the College. The Kuok Group is also a founding benefactor of Yale-NUS.
Currently in her second year, Elle recalled the moment when she was awarded the Yale-NUS Study Award. "I was so relieved and thankful! College fees always weigh heavily on the back of my mind as well as my mum's, and the Study Award helps to ease a lot of that burden."
For Elle, the financial support from the Study Award enabled her to focus on her college life without worries. "The immense financial support enables me to be fully present and involved in the work I do in school without having to worry about school fees or pressurising myself to find a part-time job."
Larry, a first-year student and Malaysian native, echoed similar sentiments of surprise and appreciation. "When I received the news that I was awarded a Study Award to attend Yale-NUS, I felt this sudden rush of happiness and certainty that I have not felt in quite a while amidst the worldwide pandemic."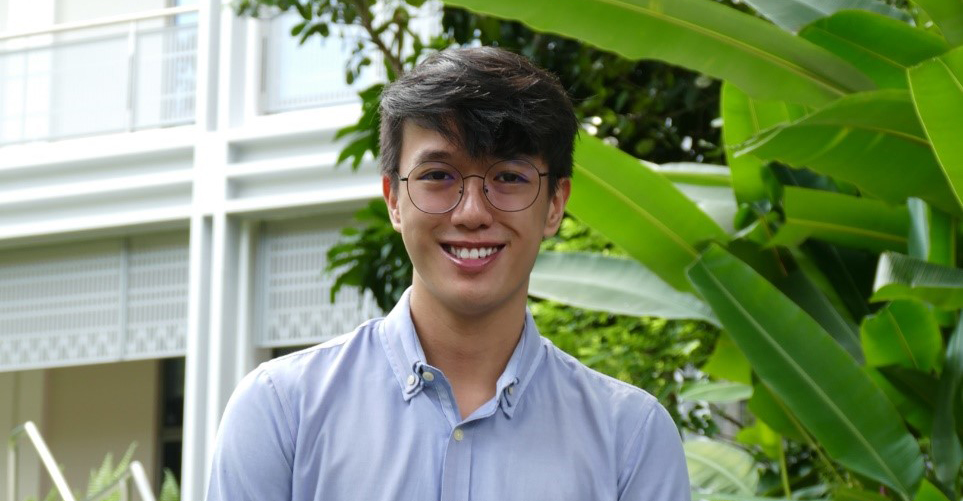 Larry Loh Kar Lek (Class of 2024) at Yale-NUS College. Image taken by Nicholas Loh.
"Financial instability has caused many uncertainties when it comes to my future endeavours, especially one as crucial as attending university. This Study Award has helped put my parents' minds at ease knowing that I can safely and comfortably attend one of Asia's best universities."
At Yale-NUS where its liberal arts curriculum allows students to engage in the natural sciences, social sciences and humanities, Elle and Larry have found unique intersections of their interests.
Since her first semester in the College, Elle has been facilitating a bi-weekly theatre workshop and building relationships with peers across different art disciplines to strengthen the performing arts culture on campus.
For Elle, the community of artists she has found at Yale-NUS constitutes a very big part of her campus life. Elle recalled how the creative power of the community was demonstrated in events such as the 24-hour art session organised by the College's Visual Arts society.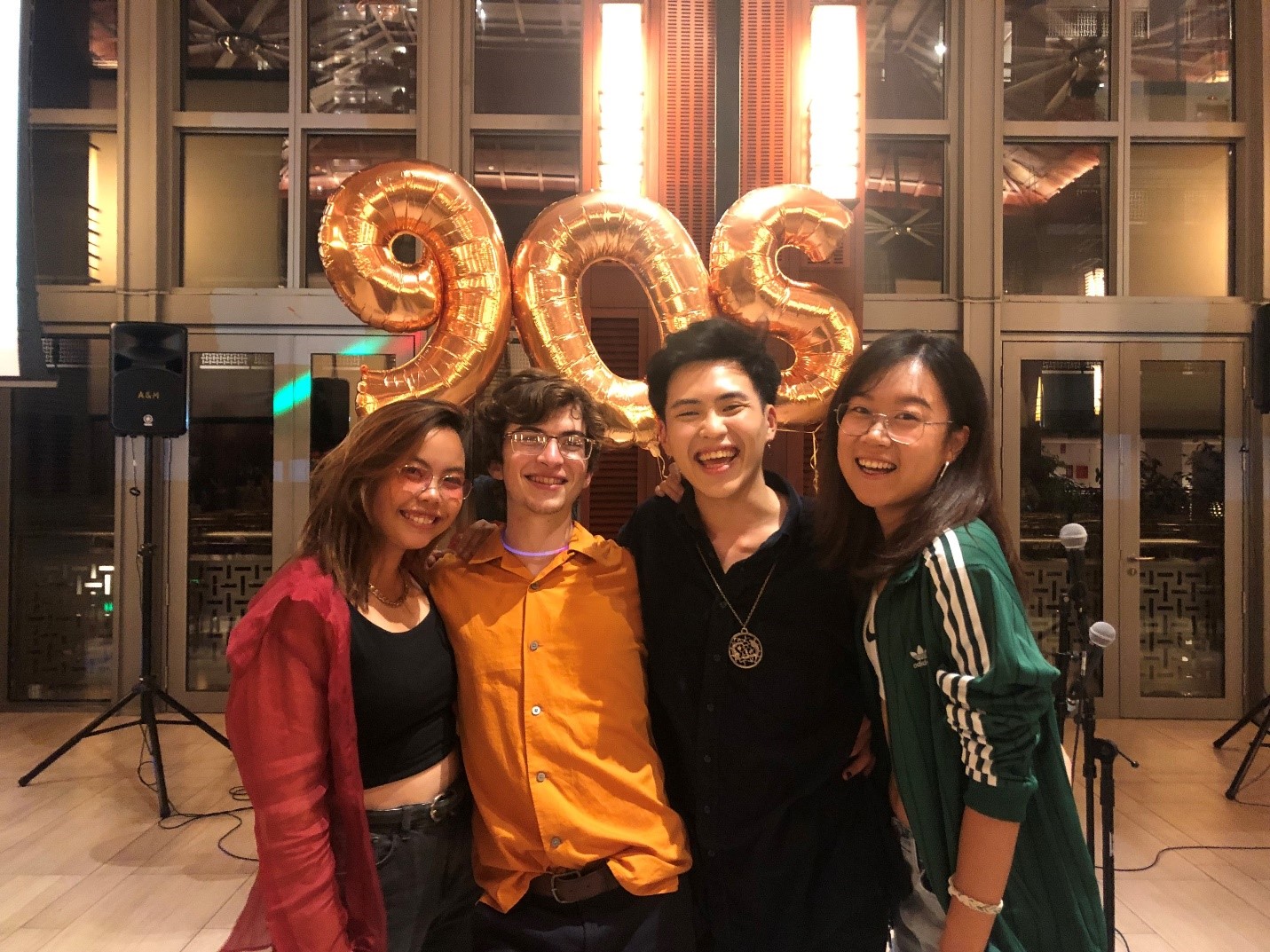 Elle (left) and her suitemates at the "Start of Semester Dinner" during her first year in 2019.
From community to academics to extracurricular, Yale-NUS has allowed Elle to not only further engage with the creative world, but also challenged her to reimagine herself and her approach to life.
"[Yale-NUS] is filled with people from different backgrounds with differing opinions, who are always ready to question and challenge me. They ask me difficult questions and I thirst to be able to answer them."
"Through this process I have learnt that it is insufficient to settle for a one-size-fits-all answer because each new circumstance or perspective is unique. So I am driven to continually analyse them and reflect on myself and my position towards them."
Larry on the other hand, is interested in the quantitative side of things — tradition and programming. By creating a self-learning algorithm, Larry wants to help individuals transact autonomously based on their own style of trading.
Despite being in Yale-NUS for only six weeks, the College has already had a significant impact on Larry — from the close community he has found amidst orientation activities to the environment of the College which has enabled him to achieve more clarity in life.
"Before this, a meaningful life to me would be living life in the fast lane, constantly being on the go, keeping busy, and prodding at every opportunity I see. But since I got here, I realised that a meaningful life requires balance, and sometimes it is good to take a step back, take everything in and appreciate life with everyone and everything that encompasses it."
For both Elle and Larry, receiving the Yale-NUS Study Award has been instrumental in their college experience — a fact that they are acutely aware of and grateful for.
"Thank you for supporting and believing in me. I believe that life is an echo, and what you send out will come back. Therefore, I will find a way to repay this incredible gesture in the future," said Larry.
Reiterating this sentiment, Elle underscored her gratefulness to this humbling experience.
"I want to thank the Kuok Group for seeing something worth believing in when I was not even sure I deserved it. I will always recognise how incredibly lucky I am to have access to existing opportunities, and to have met wonderful friends and faculty. I am very grateful for the help that I have received. I hope to be able to pay it forward in the near future."