Written by Nirali Desai | Image by Aleithia Low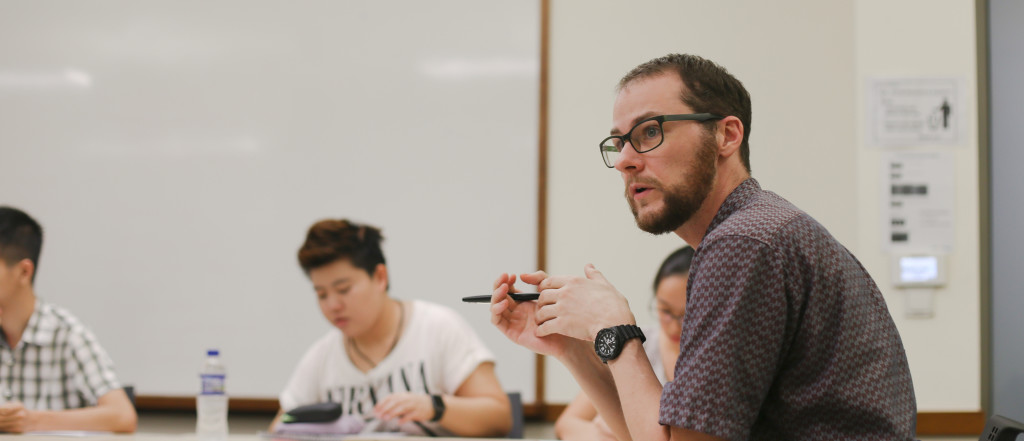 Established to allow Yale-NUS College to hire young academics who can help develop and participate in the College's diverse curriculum and programmes, the J Y Pillay Fellowship is part of the J Y Pillay Global-Asia Programme, which is supported by philanthropic gifts from various corporations and individuals. This year, Assistant Professor Malcolm Keating has been awarded the J Y Pillay Fellowship, which is named in honour of Professor J Y Pillay, a former top civil servant, corporate leader and policy maker in Singapore.
Many of Dr Keating's students have noted that he emulates the virtues of Professor Pillay, who was previously praised for being a "great teacher, sharp and analytical" by Emeritus Senior Minister Goh Chok Tong.
One such student is Hansel Tantohari (Class of 2020), who shared that he appreciates Dr Keating for his patience and how he tries to make time for all his students. Kate Lim (Class of 2020) echoed Hansel's opinion, and added that students not only get to learn from Dr Keating, but have the chance to be a big part of classroom discussions.
"Dr Keating strikes a very good balance between driving student-led discussions and imparting his expertise to us," she explained.
Beyond the classroom, Dr Keating's research focuses on Indian philosophy. As the J Y Pillay Fellow, he continues to work on a series of articles for the Fellowship, centred on topics that have emerged from his previous work in Indian philosophy, which was concerned with the intersection and investigation of epistemology and language, in a tradition known as Mīmāṃsā. Dr Keating researches the processes of understanding the utterances that Mīmāṃsā is concerned with, particularly when they are elliptical (missing words), metaphorical or non-literal. These need to be correctly and specifically interpreted, in part so that ancient Indian Vedic rituals can be performed correctly.
At Yale-NUS, Dr Keating has found the support of fellow academics who also study Indian thought, helping to facilitate an ongoing exchange of ideas and thoughts. Based in Singapore, he also has the advantage of a convenient geographical location for his research, but emphasised that the College's unique "philosophy of being intentionally global" drew him here.
"In Singapore, the context of an international faculty and student body allows for a fruitful way of doing philosophy, as it does push back on an easy categorisation of East or West, which can be far too simple," Dr Keating said, noting that the distinction between East and West is increasingly complex and not simply binary. Speaking specifically on his discipline, he highlighted that the relationship between Indian and Western philosophy, for example, was complicated.
"Comparative philosophy, which is essentially looking at philosophy with different voices, decentres the West as the standard of comparison or the default, and allows for an enriching conversation about thinkers that converge in certain conclusions, separated by different times and places," he said.
He also shared that he is grateful that the diverse academic community at Yale-NUS – both faculty and students alike – does not recognise either the East or the West as default assumptions. "The division between the East and the West is a construct and not a very helpful one," he said.
Dr Keating's work, which looks at the links between Eastern and Western philosophy, has been well-received at the College. "We are very glad that Dr Keating is the second recipient of the J Y Pillay Fellowship at Yale-NUS," said Professor Tan Tai Yong, Executive Vice President (Academic Affairs).
He added: "I believe that his extensive research and experience in Indian philosophy, as well as his desire to cross cultural and disciplinary boundaries, will be extremely valuable for our community of learning, Singapore and the rest of the region."