Written by Daryl Yang | Image by Serena Quay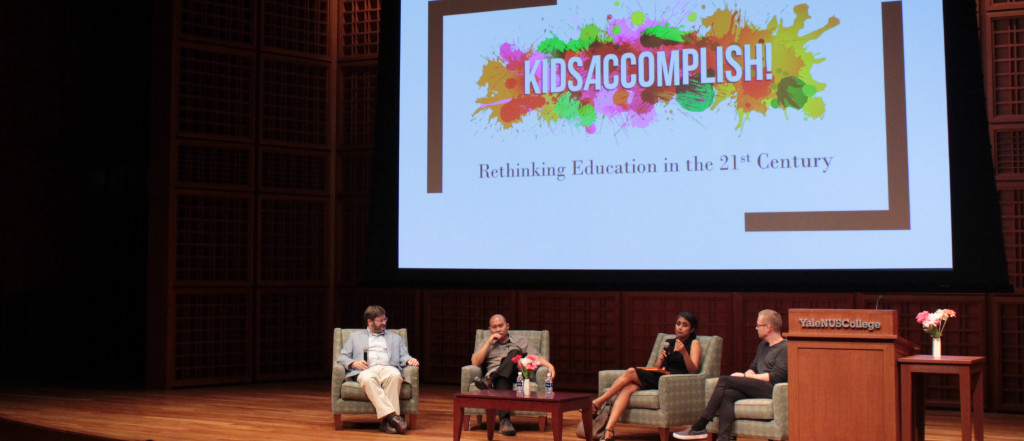 KidsAccomplish Education, a student group at Yale-NUS College, organised its inaugural education panel on 8 March 2016. Titled 'Rethinking Education in the 21st Century', the panel sought to explore what and how young people should be educated to prepare them for today's increasingly challenging and interconnected world.
Three panelists from diverse backgrounds but with a common passion for education took part in the lively discussion that was moderated by Yale-NUS Dean of Faculty, Professor Charles Bailyn.
The panel comprised Yale-NUS Assistant Professor of Social Sciences (Psychology) Paul O'Keefe, whose research focuses on goals and motivation; Dr Mohamad Shamsuri Juhani, Associate Lecturer at SIM University and principal of an international school in Malaysia with over 15 years of experience in the education sector; and Dr Sumitra Pasupathy, co-founder of Playeum, the Children's Centre for Creativity in Singapore that champions children through play and creativity.
For Joyan Tan (Class of 2017), an audience member, what impacted her most was hearing from Dr Pasupathy about how play can be instrumental in a child's development and learning, which challenges the very ingrained utilitarian attitude of many Singaporean parents.
"The topic of this panel interested me and I wanted to find out if they had any new insights into how the current education landscape in Singapore could be reformed to focus on developing children holistically with a less grades-oriented approach," she added.
In his opening dialogue, Dean Bailyn noted that KidsAccomplish is a poignant example of the type of active learning greatly encouraged by the College – where students not only learn and receive knowledge from their professors but, more importantly, use what they have learnt to create a meaningful impact on their communities.
Each panelist then shared their perspectives on the meaning of education and how it can be innovated to meet the needs of the 21st century.
Dr O'Keefe spoke on his ongoing research on the role of motivation and mindsets in bridging the achievement gap that exists between students as a result of ethnicity or gender, while Dr Pasupathy presented on the role of play in fostering creativity and innovation.
Dr Shamsuri shared about his philosophy on education, which he termed "conscientised learning". This refers to the use of active and interactive learning strategies to develop a student's critical consciousness of his or her surroundings and community so as to foster greater understanding and empathy for others.
According to the President of KidsAccomplish, Saza Faradilla (Class of 2018), the panel came about because of the need to have diverse voices heard regarding the way ahead for education in the 21st century.
"From our conversations with different stakeholders in the education sector, we realised that their insights on diverse modes of education would be very valuable for both the Yale-NUS community and the larger Singapore society," Saza said.
"We wanted this panel to provide a space for us to discuss this urgent question of how our idea of education needs to evolve to meet the needs and challenges of this new century."
KidsAccomplish was co-founded by Saza, Lim Chu Hsien (Class of 2018) and Yogesh Tulsi (Class of 2020) with Lisabelle Tan from the National University of Singapore (NUS). The group runs an enrichment programme for young primary school students, modelled after the concept of liberal arts and sciences in Yale-NUS College, and conducted by Yale-NUS and NUS students.