By Bilge Arslan and Jeannie Tay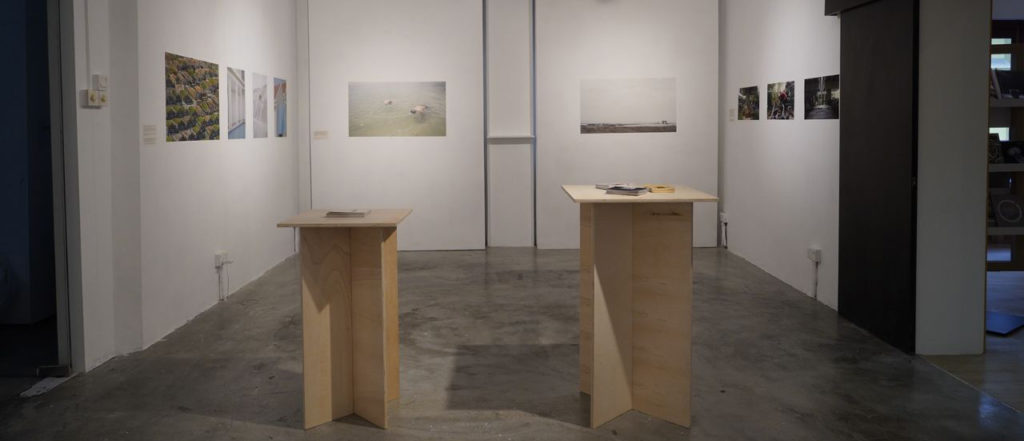 Image provided by Adar Ng.
Earlier this month, a group of eight Yale-NUS students put up a photography exhibition titled 'Accretion', featuring works using different methods of photography to explore a variety of social issues. Held from 2 to 11 May 2019 at Objectifs Centre for Photography and Film, the exhibition showcased works that reflected the photographers' experiences with topics ranging from environmental destruction to heritage and urban renewal.
The series was shot in Penang, Malaysia, as part of Yale-NUS College's Learning Across Boundaries (LAB) trip to the OBSCURA Festival of Photography in Penang last August. LAB is an experiential learning programme developed by Yale-NUS Centre for International & Professional Experience (CIPE) in collaboration with Yale-NUS faculty.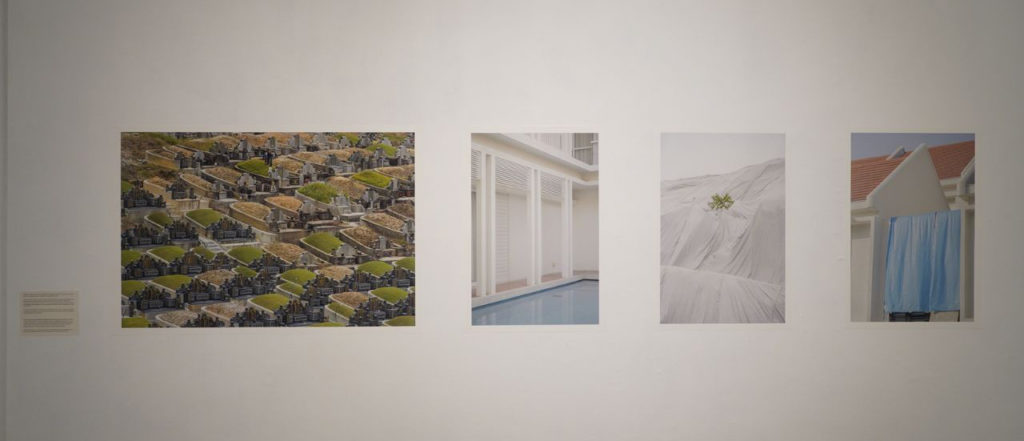 'Constructing Futures' by Dave Lim. Image of exhibition provided by Adar Ng.
Among the exhibiting photographers was Dave Lim (Class of 2019) whose work 'Constructing Futures' examined the different futures that people try to construct. While in Penang, he spent a considerable amount of time in Bukit Kukus in Penang, an area that was in the spotlight earlier this year for construction deaths. Through his photography, Dave hopes to encourage thoughts about developmental issues in Penang, Singapore and other places.
"The intention of my work has always been to link issues of development and construction to greater issues of politics and financing. Yale-NUS has taught me to think critically, which in turn 'forced' me to combine my artistic process with what I'm concerned with. In this case, it was critical commentary on the need for urban renewal," Dave explained.
The LAB to Penang was led by award-winning photographer Ian Teh and Yale-NUS Instructor of Humanities (Documentary, Photojournalism and Visual Communication) Tom White in conjunction with the OBSCURA Festival of Photography 2018, and comprised an intensive documentary photography masterclass. Through the LAB, students were exposed to the key areas of the creative process from the development of a story idea, visualising and problem solving, to its realisation.
Commenting on the exhibition, Mr White said that it was a successful step along the process of building reciprocal relationships between Yale-NUS and external organisations, and providing Yale-NUS students with the opportunity to develop their professional practice. He hopes to continue to integrate photography as a cross-curricular activity within the College to encourage in-depth research-based creative work.
Another photographer Sim Xi Zhe (Class of 2021) hopes to narrate the everyday life through his photography. Through his work, 'Lucid Dreaming' that showed the nightscape of George Town, the capital city of Penang, Xi Zhe questioned how the city transforms into an "otherworld of sorts and whether the reality presented could be but a lucid dream."
"I've always been fascinated by how space is transformed into something completely different at night. Every now and then, I would do a night walk of sorts where I'd take the last bus or train and get off at a random stop, and spend the rest of the night till dawn wandering aimlessly. Hence, with this project, I wanted to explore the liminality of the time between midnight and dawn, and capture the surreal feeling of being out there in the night," said Xi Zhe.
During the LAB, he was challenged to look beyond the conventional forms of photography as a way of documenting reality and to take a more abstract approach to photography, to capture a feeling rather than a discernible scene in his photos. "I really struggled with that. But it has inspired me to continue pushing my boundaries in photography and to never stop practising, trying, and experimenting," he added.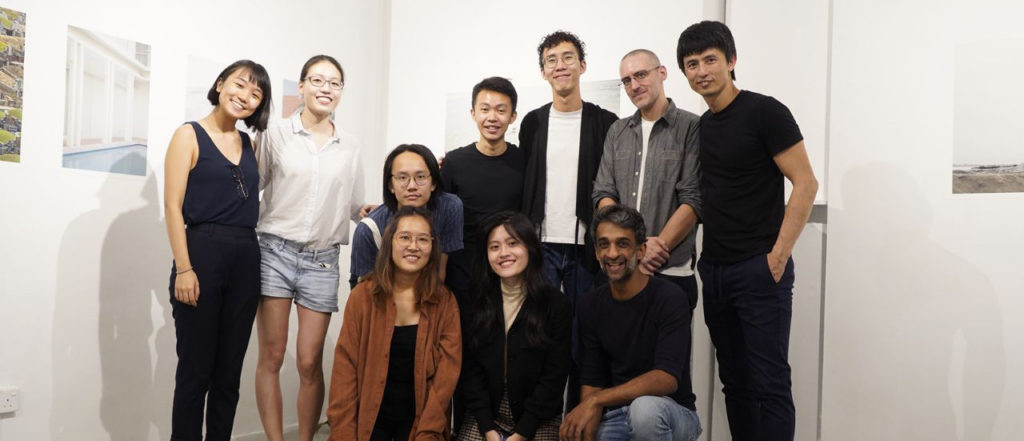 Mr Ian Teh, Mr Tom White (back row, from right) and Mr Vignes Balasingam (front row, first from right) with Yale-NUS student photographers and Ms Annette Wu from Yale-NUS CIPE (back row, first from left). Image provided by Adar Ng. 
Mr Teh, who spoke at the opening of 'Accretion', was very heartened by the students' works.
He said, "The week we spent almost a year ago with the Yale-NUS students was mostly about the creative process and the application of critical thinking to solving issues they might encounter during their photographic project. Students had to decide for themselves the kind of 'photographic language' (e.g. conceptual or documentary) that would be most appropriate for the overall intended outcome of their works. It was wonderful and inspiring to see how the students have developed while working on their projects, and take control of the dissemination of their works by organising the Accretion exhibition at the Objectifs Gallery."
OBCURA photo director Mr Vignes Balasingam, who also spoke at the event, echoed similar sentiments.
"The result (exhibition) was a truly remarkable observation of issues that utilised a good width of photographic language in telling these stories – through a series of works that is visually captivating. The Yale-NUS photographers' works are both a testament to their commitment to photography and a remarkable display of their concern for humanity. We are confident that many of them will go on to make positive impact to their society."