By Ethel Pang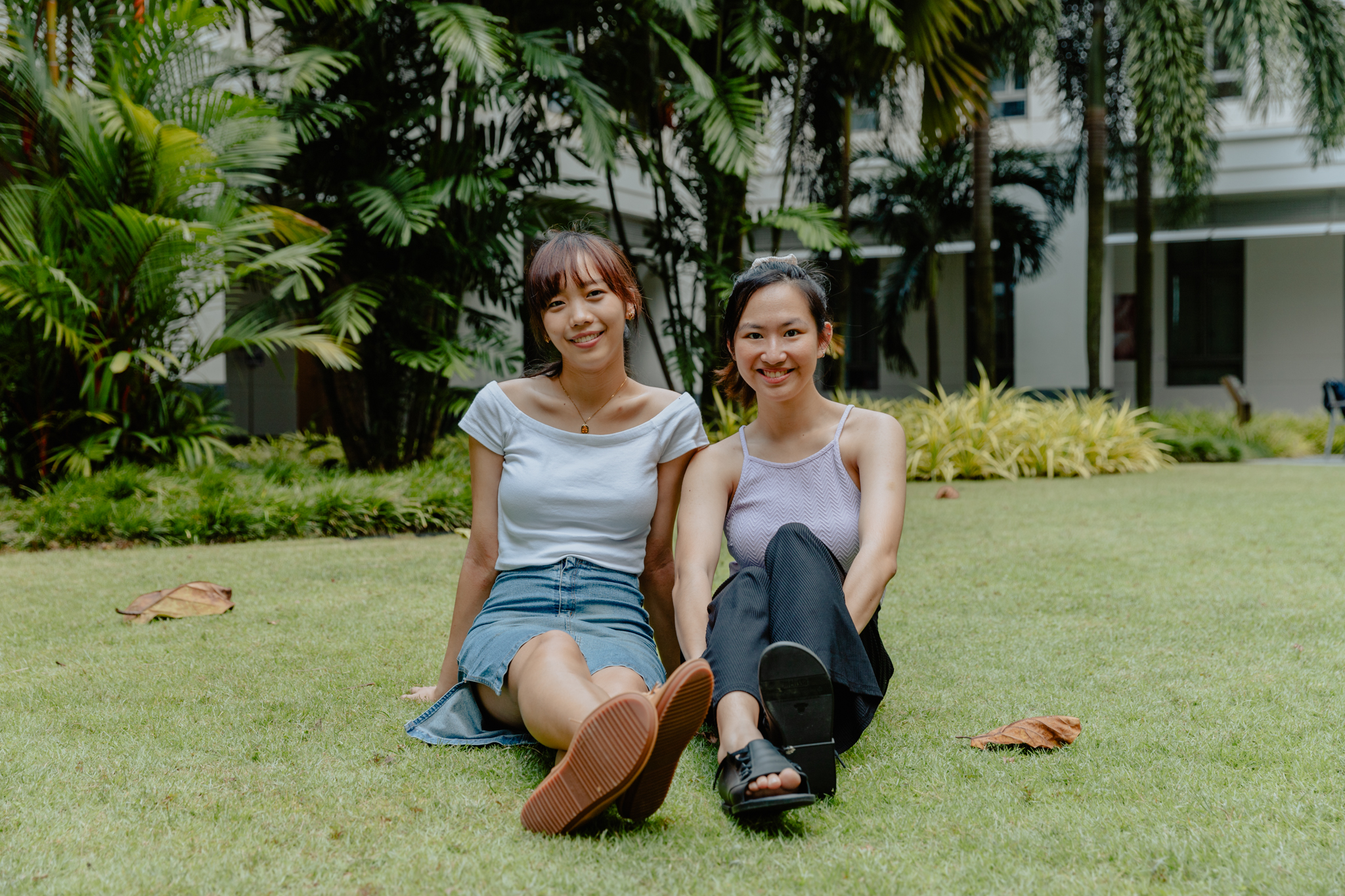 Ethel Pang and Chong Han Lyn, part of Nominated Member of Parliament Anthea Ong's Mental Health Workgroup. Image by Ashbel Chioh
At this year's Singapore Budget 2020 debate, one of the most salient issues highlighted by various Members of Parliament (MPs) was mental health. Multiple MPs raised pertinent questions and voiced deep concerns over the current state of Singapore's mental healthcare system, prompting a strong, affirming response from the government – Senior Minister of State for Health Amy Khor announced a "whole-of-government review" of the current state of the mental healthcare system.
A group of volunteers have been working behind the scenes to make this happen.
Since last December, Yale-NUS College students Ethel Pang, Lim Jingzhou and Chong Han Lyn (all Class of 2022) have been part of Nominated Member of Parliament Anthea Ong's 'Mental Health Workgroup'. Comprising just six members, this small team came together to advocate for better mental health support in Singapore.
This January, the team rolled out the first-ever public consultation on the affordability, accessibility and quality of mental healthcare. Within the month, they received 400 responses, which they incorporated into Ms Ong's speech and follow-up debates in Parliament. They also created a website [hyperlink to https://sgmentalhealthmatters.com/] to share their key findings.
Crucial to this process was the leadership of Jingzhou, who has been volunteering with Ms Ong since May 2019. No stranger to social impact work, he is currently the Head and Co-Founder of the Cassia Resettlement Team, a ground-up non-profit formed in 2017 to support communities affected by involuntary public housing relocation, and was previously an Ambassador with the Community Health Assessment Team (CHAT), a national outreach and mental health check programme under the Institute of Mental Health.
When asked about his motivations behind joining the workgroup, he readily replied, "I hope that I will be able to raise awareness about the issues and challenges, especially the systemic ones, faced by the communities I work with, and ignite conversations that lead the way for social change."
And when it came to finding appropriate members to join his team, Jing Zhou reached out to two of his Yale-NUS classmates – Ethel and Han Lyn.
Ethel started her social impact journey when she interned with gender equality advocacy group AWARE back in 2018. Since then, she has organised dialogues surrounding sexual harassment, worked on advocating for a more comprehensive public sex education curriculum, and volunteered with Ms Ong in her NMP work.
About her work on the mental health initiative, Ethel shared, "We were working on an extremely tight timeline. We had to pull together the first draft of a speech in around two days, for example, and this is on top of school and other commitments we all had. It was definitely a frenzy at times, but I'm blessed that everyone in the team was exceptionally committed to the cause and really pulled their weight."
Resonating with this statement, Han Lyn said, "The biggest challenge to me was that we were all not professionals in mental healthcare and were learning on the go. This truly made it a ground-up effort but at the same time, the learning curve was steep and we had to make sure to communicate effectively with one another."
Nevertheless, she was glad to have found "like-minded, driven individuals" who strove together to make this possible. A big push to join the team was her own personal journey with mental health. She added, "I feel like my own journey with mental health has been one of privilege. I was able to access support and resources, but even then I faced some struggles. I knew that these struggles would be amplified for so many others in Singapore who do not have access to such resources."
Speaking of his Yale-NUS groupmates, Nicholas Oh, a student at University College London and fellow workgroup member involved in this project, shared, "I can only be impressed with the vibrancy and enthusiasm that Jingzhou, Ethel and Han Lyn have brought to the team. As an overseas undergraduate student, finding kindred spirits leaves me excited for my eventual return to Singapore, where I'm sure we'll continue to work together and create meaningful change."
The team's efforts thus far have already yielded fruit, helping to push the under-researched but pertinent social issue of mental health into the limelight. Moving forward, the team is working on establishing an online community and support network, and compiling a list of resources for individuals seeking support in their journey to seek mental healthcare.
"Our team's collective efforts delivered the message to the wider public that mental health is an issue to be taken seriously, reminding those going through their own struggles that they are not alone," said Ms Ong.