By Daryl Yang | Image provided by National Youth Council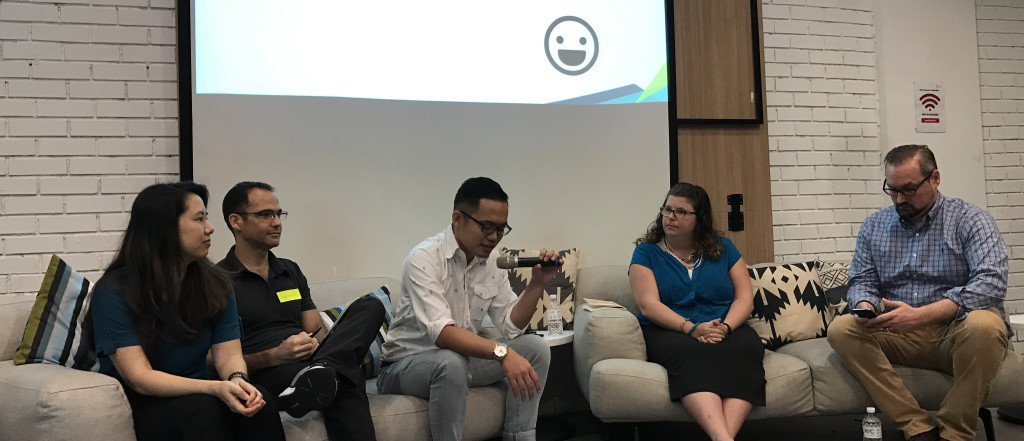 On 21 January 2017, Cendana Vice Rector and Lecturer in Social Sciences (Global Affairs) Catherine Sanger was invited to speak at a panel organised by the National Youth Council, Singapore.
The panel was part of the inaugural event for a programme called "What's Going On Out There?", which aimed to encourage conversations in Singapore about current affairs around the world and how they are relevant for Singapore and Singaporeans.
As the event coincided with the inauguration of the 45th President of the United States of America, the panel comprised four Americans residing in Singapore and their thoughts on the recent US elections. Vice Rector Sanger shared about her personal thoughts as an American citizen living in Singapore since 2014. Previously, she had also taught a class on American Politics.
"I participated in honest conversations with the other panellists and audience about their concerns, hopes and anxieties about the future of the US and the world," Vice Rector Sanger shared.
Something that struck her was how similar the ethos of the event was to various programmes organised by the Dean of Students Office such as Intergroup Dialogue and the Intercultural Peer Advisor programmes.
"The event focused on creating a space where people felt safe and comfortable to engage with each other in meaningful sharing and dialogue about their perspectives, which is something that we strive to instil in our students at Yale-NUS," she noted.
This was not the first time that Vice Rector Sanger has been involved in applying her academic expertise to the larger community. She had previously appeared twice in television interviews with Channel NewsAsia to share her perspectives on the American elections.
Many Yale-NUS faculty are also regularly involved in external speaking engagements, to share their expertise with the larger community. Just earlier this month, Divisional Director of Humanities and Professor of English Literature Rajeev Patke took part in the NUS Arts Festival 2017, speaking at an event 'Dystopia Now: Brave New World in 2017' discussing the basic ideas of Aldous Huxley's Brave New World and how it applies to modern times.
On 25 January, Assistant Professor of Practice (Music) Nirmali Fenn collaborated with the Curriculum Planning and Development Division of the Ministry of Education, on a three-hour symposium on Knowledge and inquiry for secondary school teachers.
In addition to Yale-NUS faculty engaging with the larger community, Yale-NUS College also actively invites other academics and experts to contribute to the local community.
Most recently, Erik Assadourian, a Senior Fellow at the Worldwatch Institute, was invited to Yale-NUS College in late January by the Environmental Studies major. Mr Assadourian directs Worldwatch Institute's Transforming Cultures Project, which focuses on how cultural transformation can help make living sustainably feel as natural as living as a consumer feels today.
"We're very excited to have Erik with us.  He is an internationally prominent scholar and writer whose work captures fully the spirit of the liberal arts," noted Head of Studies of Environmental Studies and Professor of Social Sciences Michael Maniates.
Mr Assadourian spoke at a guest lecture on the topic 'Preparing for the EARTHED future: How to thrive on a changing planet'. He discussed how the education system must consciously foster the skills and knowledge necessary to cope with the impact of environmental change.
Rachel Ong (Class of 2017), who previously read some of Mr Assadourian's work for an Environmental Studies class shared:
"His talk highlighted how the normalisation of excessive consumption is contributing to climate change. As such, the key to reversing such a trend is to transform culture from inside out; to make it feel as natural to live sustainably as most people feel about consumption today," she reflected.
Apart from engaging with Yale-NUS students in various Environmental Studies classes, Mr Assadourian also met with local environmental stakeholders through the Singapore Sustainability Network, which was launched by the Yale-NUS sustainability movement, I'dECO.
A list of events where external speakers are invited to the College to share more about their knowledge with the public can be found here.