Written by Clare Isabel Ee | Image by Alyson Adrianne Rozells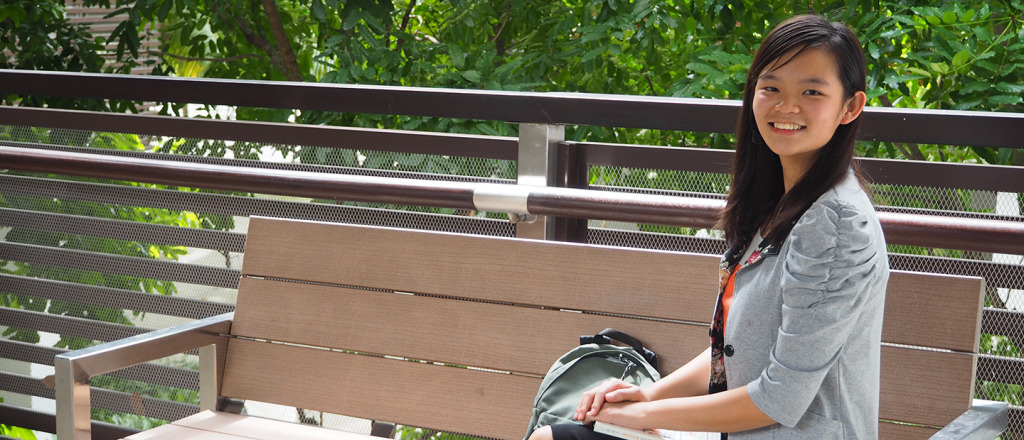 Meet Clin Lai: A freshman at Yale-NUS from the Class of 2018 who loves reading, writing and dancing. One semester into College, she finds herself enjoying every seminar and lecture that comes her way, and is involved in four extracurricular clubs – Environmental Sustainability Club, Literary Collective, Japan Society, and Strategic Board Games.
But her vibrant College life may not have been quite so vibrant if not for the Tan Ean Kiam Study Award.
"The study award allowed me to attend such a great college that offers a myriad of opportunities for its students," she shared. "There is no other college that I would rather be at than Yale-NUS College. Being awarded the Tan Ean Kiam Study Award was the sole reason that allowed me to pursue my studies at Yale-NUS College. I remember telling my mother about it, and she was really glad as well."
Her study award was founded by the Tan Ean Kiam Foundation, a philanthropic organisation that has contributed greatly to the National University of Singapore (NUS), and now, the study award at Yale-NUS.
The Foundation's namesake, the late Mr Tan Ean Kiam, was a rubber magnate and businessman who immigrated to Singapore from China in 1899. In his lifetime, Mr Tan made many significant contributions to Singapore and social causes. After his death, the foundation was set up in his name to continue his contributions to society.
"The Tan Ean Kiam Study Foundation is pleased to be able to support deserving students at Singapore's first liberal arts college. My grandfather was passionate about helping the needy, and we continue to honour his legacy by supporting youths to become leaders of tomorrow," said Mr Tan Keng Soon, Chairman of the Tan Ean Kiam Foundation and grandson of the founder.
For Clin, the study award has allowed her to concentrate fully on her studies without worrying about financial issues, and has made her much more determined to live life in College to the fullest.
While the freshman has not chosen a major yet, she is leaning towards Psychology and Neuroscience.
"I consider the brain to be the most complex organ in the body," she explained, "and it holds the key to important questions like 'What is consciousness?' and 'What is the self?'"
Before coming to Yale-NUS, Clin worked as a kindergarten teacher for two years and fell in love with teaching, and has it in mind as a possible career to delve into.
"Teaching has always been something that I enjoy doing," she said. "I hope to continue the teaching career – perhaps as a psychology lecturer at Temasek Polytechnic, where I graduated from, or a researcher leading an investigation into the human mind."