Text by Kelly Ng | Images by Saksham Mehtora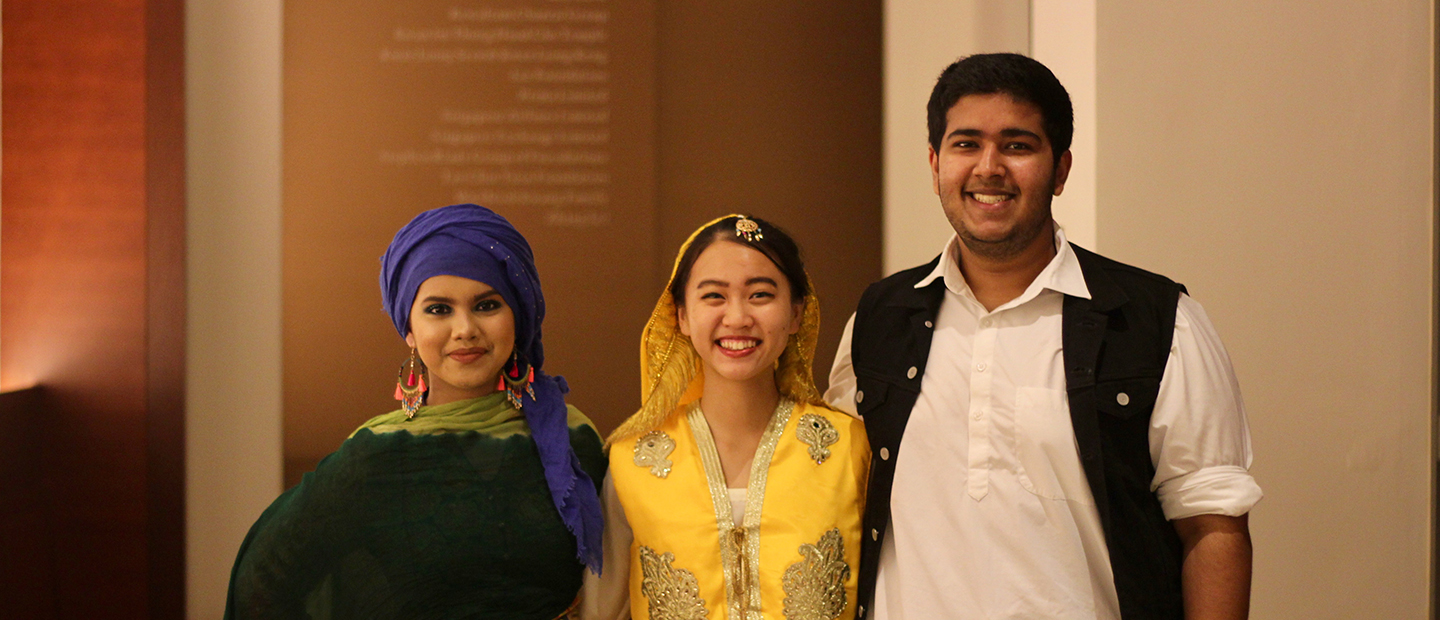 During the first week of April, the Yale-NUS community came together to celebrate the inaugural Diversity Week. Throughout the week, the Dean of Students (DOS) Office's campus life team rolled out various initiatives to address multiple facets of diversity that are important and relevant to the Yale-NUS community.
Ms Iulia Iordache, a Dean's Fellow and a member of the campus life team, said, "I think it is important for our campus to celebrate and ponder about diversity. We decided that the theme would be 'Connecting in a World of Difference' because we wanted to acknowledge that difference exists on our campus."
This year, Diversity Week featured activities ranging from conversations about queerness, mental health and sexual wellness to panel discussions on the Singaporean identity and social justice amongst many others. In addition to these dialogues, there were art and sign language workshops, documentary screenings, a cultural bazaar and show.
"We planned the programmes broadly so that we could include almost all aspects of diversity. We wanted to get people thinking about intersectionality," Ms Iordache said. She added, "Diversity and inclusion are not just about pointing at an aspect of someone's identity and saying that they are diverse. In my view, it is more about understanding the different factors and experiences that make each individual unique."
One of the programmes was a movie screening of Apprentice, a film by local filmmaker Boo Jun Feng, which is about a young correctional officer Aiman, who became an apprentice to Rahim, a chief executioner at a maximum-security prison. In addition to serving as a foil to the disproportional cultural consumption of mainstream Hollywood movies in Singapore, the screening also sought to stimulate underlying explorations about class, race and moral agency in Singapore.
Ms Annette Wu, Executive for Co-Curricular Programmes at the Centre for International and Professional Experience (CIPE), facilitated the event. She shared, "My purpose behind the screening was to have a film with a local context that explored political and social questions. I wanted to incorporate a discussion that would draw from our own experiences to respond to the film."
As a grand finale to the end of Diversity Week, the Yale-NUS community participated in a vibrant cultural bazaar and show which showcased food, fun and activities such as Turkish coffee and painting, and Persian New Year displays. The cultural show featured a diverse line up of performances that included dancing, singing and stand-up comedy from all over the world. The highlight of the evening was Bollywood Fiesta, where students from the Yale-NUS South Asian Society, Urban Culture Society and Hispanic Student Association danced to the rhythm of salsa, bachata and Bollywood music.
"This is my first time experiencing Diversity Week and I really loved the cultural bazaar. Not only did I enjoy eating all the different Korean and Japanese snacks, I also gained newfound knowledge about the various cultures that we have here in College," shared Snezhina Kancheva from the Class of 2021.
Her comments were music to the ears of Jace Kim (Class of 2021) who had manned a booth displaying Korean delicacies at the cultural bazaar. "I liked the opportunity to show my culture to other people. It was also a chance for me to reminisce what it was like to be home again after spending almost a year abroad," he said.
Ms Sahar Kazemini, Programme Manager for Intercultural Engagement in DOS, shared, "During the cultural show, one of our students, Daniela Salazar (Class of 2021), performed a folk song from her home country, El Salvador. The song is popular among Salvadorans and it speaks of the deep nostalgia and a love for home. I felt incredibly moved as I connected with the power of the song lyrics, which spoke of one's connection to and longing for home that they strongly identify with. It was a beautiful portrayal of the human experience which was animated by the song and visual depictions."
Several projects in the pipeline include the Intergroup Dialogue (IGD), a facilitated dialogue programmme that guides participants through an exploration of specifically defined identity groups. In the new academic year, the IGD will focus on specific topics that respond to areas of learning expressed by our community, such as socioeconomic difference, spirituality and race. Ms Kazemini will also be initiating an Intercultural Engagement Council for student leaders who represent cultural and identity affiliated student organisations. "We aim to create a shared space for different groups who are striving toward similar goals and where we can engage the community better, support inclusivity, and identify challenges and areas where further advocacy is needed," Ms Kazemini said.
She added that these projects all serve a common goal – to empower students to expand in self-awareness and deep empathy, to challenge them to become more conscious about differences and to be mindful of their own positionality as responsible global citizens.