By Daryl Yang | Images as credited              
For the past few months, Crystal Yong (Class of 2019) spent a large part of her time with crickets and otters. She was involved in two scientific research projects with Yale-NUS Assistant Professor of Life Sciences Philip Johns regarding these two animal species.
"We were trying to identify an incredibly loud cricket species we found in Brunei, which had a very high likelihood of being a new species. For the otters, we were exploring the idea of getting amateur otter enthusiasts around Singapore to upload their material onto a platform that could be used to collate data from all the videos and photos. All this data could potentially be used for academic research on Singapore's otters, which is highly interesting but sorely lacking," Crystal explained.
Crystal's interest in this area of research was sparked during her Week 7 experience to Brunei with Dr Johns.
"Once during the trip, Dr Johns invited me to take a walk with him to find the crickets, during which he pointed out all the interesting things about what we were observing at that moment. I was curious to learn more about these observations and decided to pursue this curiosity when offered the opportunity."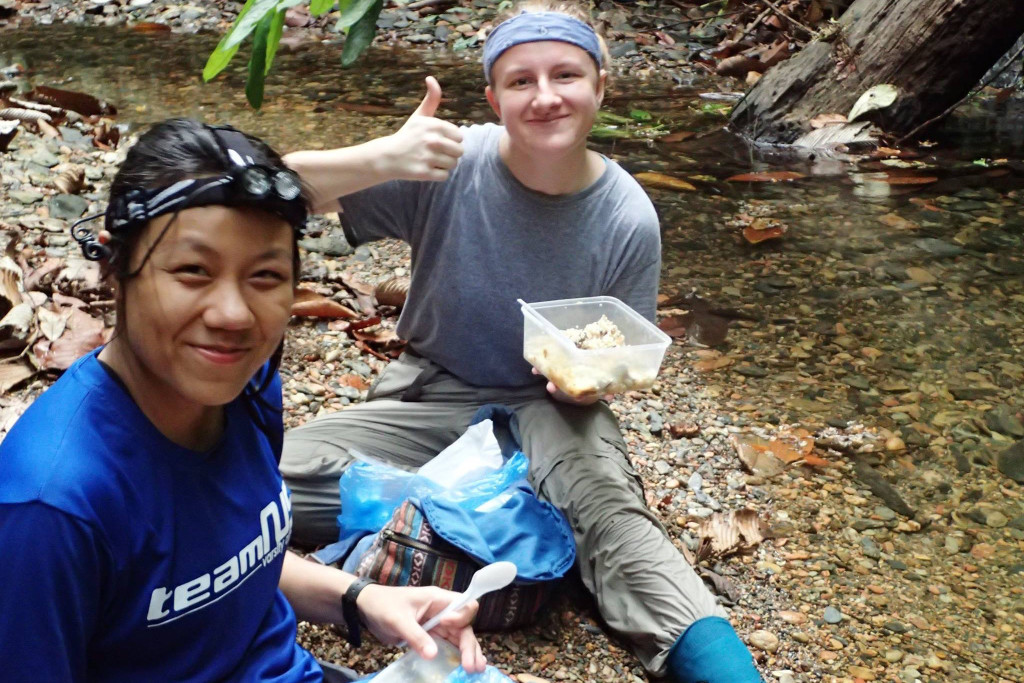 Crystal (left) and another researcher on the Brunei field trip. Photo provided by Crystal
Crystal subsequently returned to Brunei for a research expedition over summer, this time as a student researcher working with Dr Johns, to search for more cricket samples.
"We found the cricket only on the fifth day. We got to the edge of the forest, located the cricket, and in a concerted effort involving two students and one professor, a torch, a net and a vial, we caught that cricket. It was just this immense sense of relief and elation about the fact that we got at least one cricket to bring back, after a series of failures to do so due to the unpredictability of nature."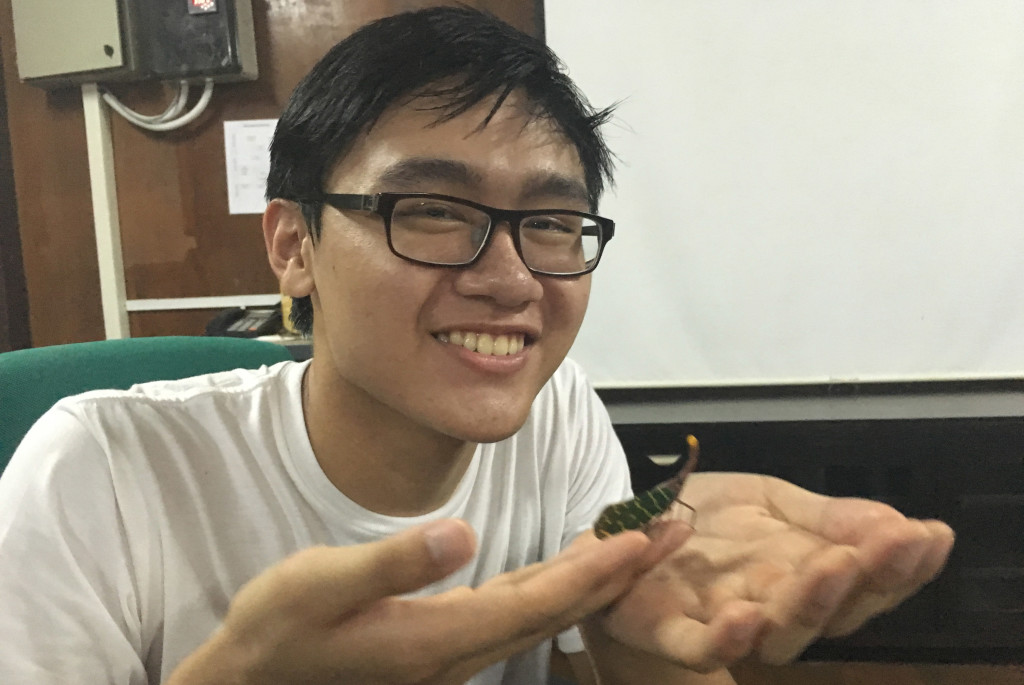 The other student who helped catch the cricket was Nawat Bunnag (Class of 2019) (photo above), who was also working as a student researcher for Dr Johns. However, instead of otters and crickets, Nawat focused on stalk-eyed flies.
"Stalk-eyed flies are a species of flies with extremely long eye stalks. They are sexually dimorphic, which means that the males have longer eye stalks than the females. The males with longer eye stalks are often more successful in finding mates and use their eye stalks to fight. My project involved setting up fights and looking at the genes that are being expressed in the flies that are fighting. The other project that I worked on with Dr Johns looked at tissue-specific gene expression, focusing on the presence and absence of genes in different tissues in the fly," said Nawat. Nawat explained that studying the gene expression in these flies will provide researchers insights into the importance of the genes as some of them are shared with humans.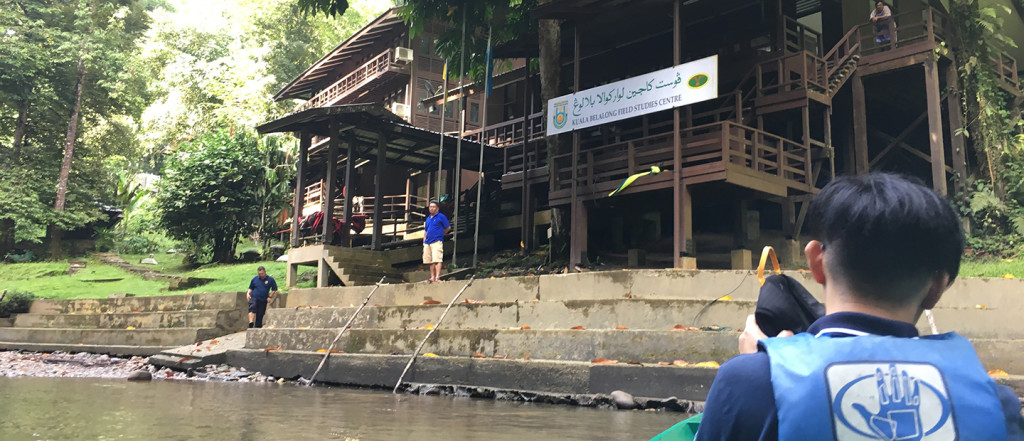 For their research, Nawat and Crystal both stayed at Kuala Belalong Field Studies Centre (photo above), a field centre in the middle of the jungle owned and run by Universiti Brunei Darussalam for three weeks.
Crystal shared that it was a good learning experience to be able to explore different scientific disciplines to develop a multi-disciplinary approach towards scientific research and understanding.
"In science, it is important to occasionally step out from one's field and take a look at the larger picture. Furthermore, from our discussions and work, I also had some exposure to the idea of biophysics, which could very much be something I might look into in the future," she added.
Another student involved in scientific research is Shaun Lim (Class of 2018) who worked with Assistant Professor of Biochemistry Jan Gruber to study a nematode (worm) in relation to the mechanisms of ageing.
"Caenorhabditis elegans is a hermaphroditic worm and reproduces via self-fertilisation, essentially providing populations of identical "twins". From our study, we know that the first twin usually dies around the 11th day while the second twin dies around the 26th day, and the big question I'm trying to answer is, why?"
"The work I am assisting Dr Gruber with is a mere droplet in the ocean of gerontological research, but it will provide a greater insight into the mechanisms of ageing, particularly healthy ageing. By investigating what intrinsic molecular mechanisms may contribute to unhealthy ageing, we may be able to develop therapies that can extend the health span of individuals," Shaun explained.
Currently on a semester abroad, Shaun is continuing his interest in age-associated diseases by working with Professor Rudiyanto Gunawan from ETH Zurich in Switzerland, an attachment he got through Dr Gruber.
"Professor Rudi has developed a method to obtain large numbers of samples to sort the worms using a microfluidics fluorescence-based sorter, allowing me to obtain more data within a short period of time. This would not only supplement my current data, but further elucidate the system that I am investigating, given that I may now conduct assays that would have been impossible at Yale-NUS."
Shaun shared that his greatest takeaway is learning to embrace the uncertainty that comes with doing research.
"My hypothesis and direction of my research has changed numerous times because of unexpected data. There's a beauty in the uncertainty and I experience sheer exhilaration upon realising that the results that I have are going to lead me down another rabbit hole. It's like a meandering river – you know that the research will keep moving forward, but you never know which direction it will eventually take."
"All you can do is cross your fingers and see where it leads."
Apart from ongoing opportunities offered to students to enhance their learning through participating in professors' research projects, the Centre for International & Professional Experience also offers the Summer Science Research (SSR) programme, where students work in the laboratories of Yale-NUS or NUS faculty for 8 to 10 weeks during the mid-year break, conducting research activities or participating in field research. Watch this space for Part Two of the stories on the SSR!