By Kelly Ng
A fundamental quality that underscores a distinctively Yale-NUS College experience would be the residential model where students are required to stay in one of the three residential colleges (RCs), Cendana College, Elm College and Saga College for all four years of their undergraduate education.
Within each RC, students play a key role in shaping residential life and community wellness. But of equal importance are the faculty and staff that live on campus alongside students. Following a review to enhance the robustness of residential life at the College last year, the Academic Year 2018/2019 will now see more than two residential fellows in each residential college.
At every RC, the Rector and the Assistant Dean are responsible for shaping the residential life and character of the RC. Rectors lead the intellectual and cultural life of the college through educational talks such as the Rector's Tea, amongst other programmes that seek to enhance the student live-in experience. Assistant Deans provide advising to students in the area of personal development and social well-being. Working with them are the residential fellows, which consist of faculty members and staff.
Rector of Cendana College Neil Clarke, who is also Associate Professor of Science (Life Sciences), has been living in Cendana since the College campus was first opened in 2015. He stayed there as a residential fellow before becoming Rector of Cendana College in August 2016.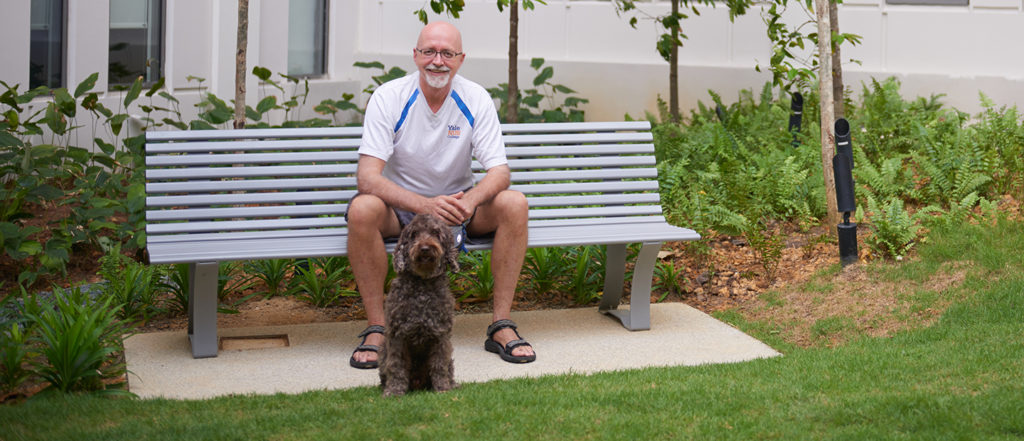 Rector Neil Clarke and his dog Pedro. Image by Yale-NUS College. 
"To me, having been both a residential fellow and a rector, this (residential fellow) programme creates a slightly more age-diverse community, which I think makes the College just a bit more 'real-world'. It's incredibly exciting to live in an intense community of a thousand young people – but it's also nice to have a few people of different ages and experiences around," commented Rector Clarke.
Dean of International & Professional Experience Trisha Craig has stayed on campus as a residential fellow in Elm College since 2015. Some of the initiatives that she has conducted together with her husband, Tom Benner, includes hosting dinners for students, popping by the Elm buttery as a guest chef and teaching seniors how to host a dinner party on a budget.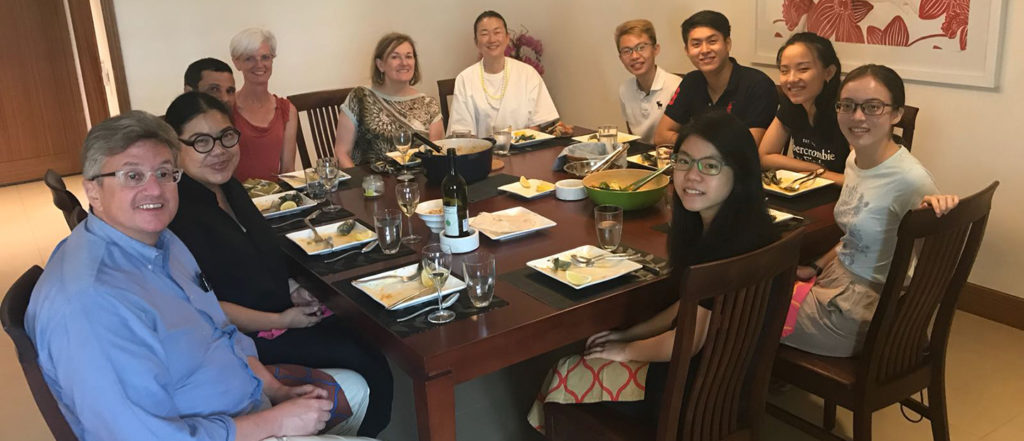 Lunch hosted by Dean Trisha Craig (centre of photo) and her husband Tom Benner (first from left) in their apartment, for guests, faculty members and students. Image provided by Dean Trisha Craig.
In terms of nurturing students' academic or career interests, she explained that Tom leverages on his job as a journalist to help aspiring student journalists build their professional networks by inviting them to industry events and connecting them with the relevant stakeholders. "Along with Justin Clark, who is the husband of another residential fellow, Assistant Professor of Humanities (Literature) Ma Shaoling, they have also held workshops for students on topics like freelance writing and pitching stories to the media."
Another residential fellow is Lecturer of Humanities (Writing) Lawrence Ypil who lives in Saga College. Originally involved with residential life as a writing fellow, he now focuses on the development of writing in the residential life of students. For example, in partnership with the Writers' Center, he has led academic writing workshops that explored the multiple aspects of writing, such as writing and wellness and writing and time. He has also collaborated with the NUS museum to conduct workshops on writing and art.
"This year, I hope to be able to host a number of writing salons where interested students are able to share ongoing works with each other, and to conduct at least one trip to the Peranakan Museum to explore the intersections between writing and photography," said Mr Ypil.
A new residential fellow is Assistant Professor of Social Sciences (Environmental Studies) Marvin Joseph Montefrio who is based in Cendana College. As a food scholar, he is interested in cultivating food-related initiatives for the school community. For example, he is part of an I'dECO (a Yale-NUS sustainability student organisation) project that focuses on creating urban farming spaces on campus.
"Currently, I help to coordinate activities to capture a part of our dining hall food waste stream to generate compost, which will be used to grow edibles in the emerging Cendana urban farming space. I am also inclined to organise events that are food related, such as cooking competitions and food tasting, and invite food scholars to share their expertise on some of the most important food issues we face today," shared Dr Montefrio.
To read more about residential living at Yale-NUS, click here.