By Lim Tian Jiao 
At Yale-NUS College, students are supported in their career exploration journey by a robust Career Services team. Part of the College's Centre for International & Professional Experience (CIPE), the team undertakes various roles, from advising students on their career options and supporting students on internships to organising workshops and career events.
CIPE's support starts with individualised advising for each student. Enabled in part through Yale-NUS' small cohort sizes, every student is assigned a CIPE advisor from their first year at College. Students can also arrange one-on-one advising sessions with any member of the Career Services team who specialises in a career pathway of interest to them. Advisors give students valuable insights into various industries, suggesting possible internships and soft skills students could develop during their time at the College. Where appropriate, they may also link students up with relevant seniors and alumni for further advice.
For Chu Jincong (Class of 2020), advising sessions have been invaluable in his journey towards a management consulting career. "In my final year, I was regularly in touch with the CIPE team, be it through a face-to-face meeting or a phone call," he said. "Furthermore, when I did receive job offers, CIPE's experience with recruitment, the management consulting industry and Singapore's labour policy helped me to make an informed decision."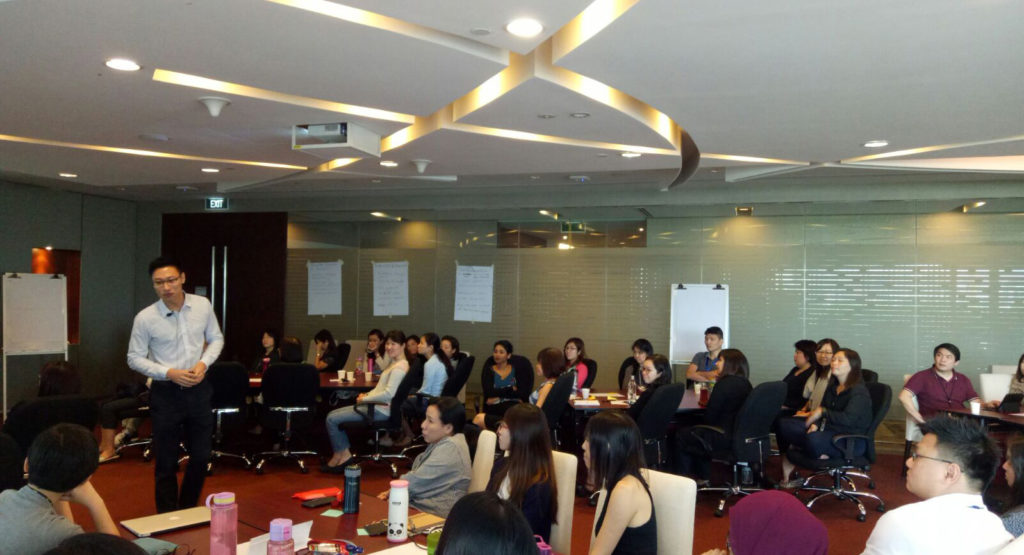 Chu Jincong (standing) delivering a presentation for clients while on a CIPE-coordinated internship with Eden Strategy Institute in 2018. Image provided by Chu Jincong. 
CIPE also links students with internship opportunities through a network of partner companies and advises students throughout their internship application process.
For example, Khang Huynh (Class of 2020) took on a CIPE-coordinated internship in content creation and data analysis with Jardine Lloyd Thompson Group, a multinational advisory and brokerage firm, during his sophomore summer.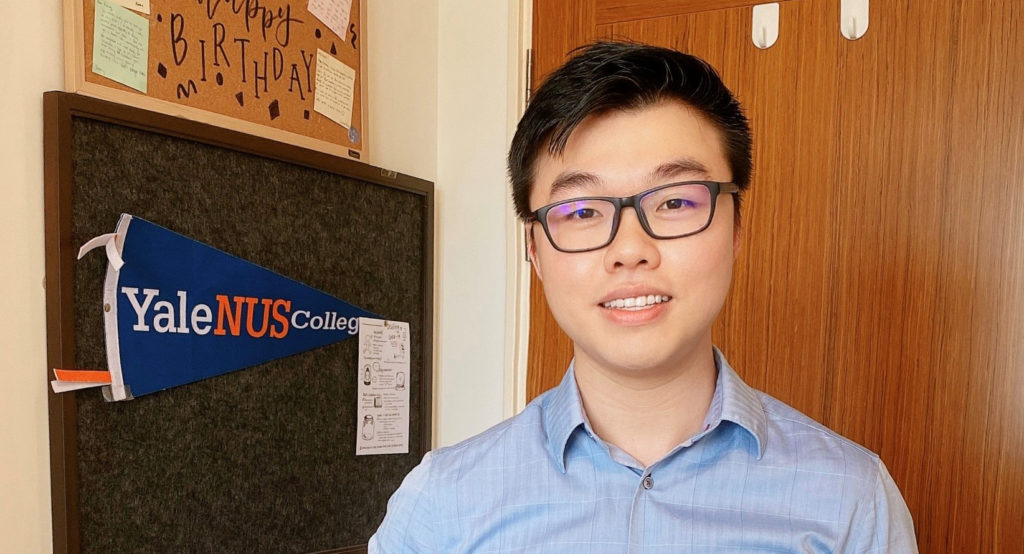 Participation in career workshops and summer internship has allowed Khang Huynh to gain valuable work related experience while in College. Image provided by Khang Huynh.
"I learnt to be flexible — to keep an open mind in trying new things and perform tasks that are outside of my comfort zone," shared Khang about his experience. "Flexibility also encompasses seeking advice and guidance from colleagues to enrich my professional learning and personal development."
Along with his participation in CIPE workshops and career talks, Khang's summer internship with the firm helped him to accumulate experience that later proved significant in his job search and eventual full-time offer with Facebook as an Account Manager.
Meanwhile, Rishab Gandhi (Class of 2021) has benefited from CIPE's internship advising. Deeply interested in the field of financial services and management consulting, Rishab approached Ms Alicia Chew, Senior Programme Manager (Career Services), to learn more about the internship application process for this sector, and for feedback on his resume and cover letters. Ms Chew also offered to conduct a mock behavioural interview with Rishab to further prepare him in the internship selection process.
"These meetings have helped me immensely," said Rishab. "Talking to CIPE allowed me to understand the opportunities available in the industry and the best way to go about the application process. Their feedback on my resume and cover letter was also very helpful. Further, the mock interview session not only helped me overcome my shortcomings, it also served to build my confidence through practice."
Besides supporting students in regular internships over summer, CIPE has also been running 'Mystery Internships' across Asia, Europe and the US since 2014. First- and second-year students are matched with companies and only told their destinations closer to the date of the experience, propelling them out of their comfort zones to adapt to new environments.
In his first year, Lim Wei Da (Class of 2021), a student interested in data science, did a 'Mystery Internship' with CarsDB, a car marketing start-up based in Yangon, Myanmar. "One of my main tasks was to clean up a massive data base of car licence data that enabled CarsDB to implement a new feature on their website," Wei Da said. "It was challenging as I was new to data science. I had to learn coding on the job and in my free time, and I am incredibly thankful for the understanding of my superiors and colleagues during the programme."
The Career Services team also arranges various workshops during term time, aimed at equipping students with tools to develop their career strategy plans, personal branding, job search and interviewing skills. These workshops left a lasting impression on many attendees.
"I attended many CIPE workshops in my sophomore and junior years," said Khang. "Two in particular were very impactful: a workshop on time management and organisational skills for university students, as well as a session by an external consulting coach on solving business cases and presenting the solutions. These workshops are crucial in bolstering us with skills and assets for our future job-search."
With CIPE's many offerings, the Career Services team encourages students to capitalise on these resources throughout their college journey.
"We encourage students to be open-minded, curious as they explore different career pathways," said Ms Chew. "Students are also encouraged to be proactive in scheduling advising sessions with the team so that we can co-create an action plan with them to explore and pursue their career interests."