By Melissa Wang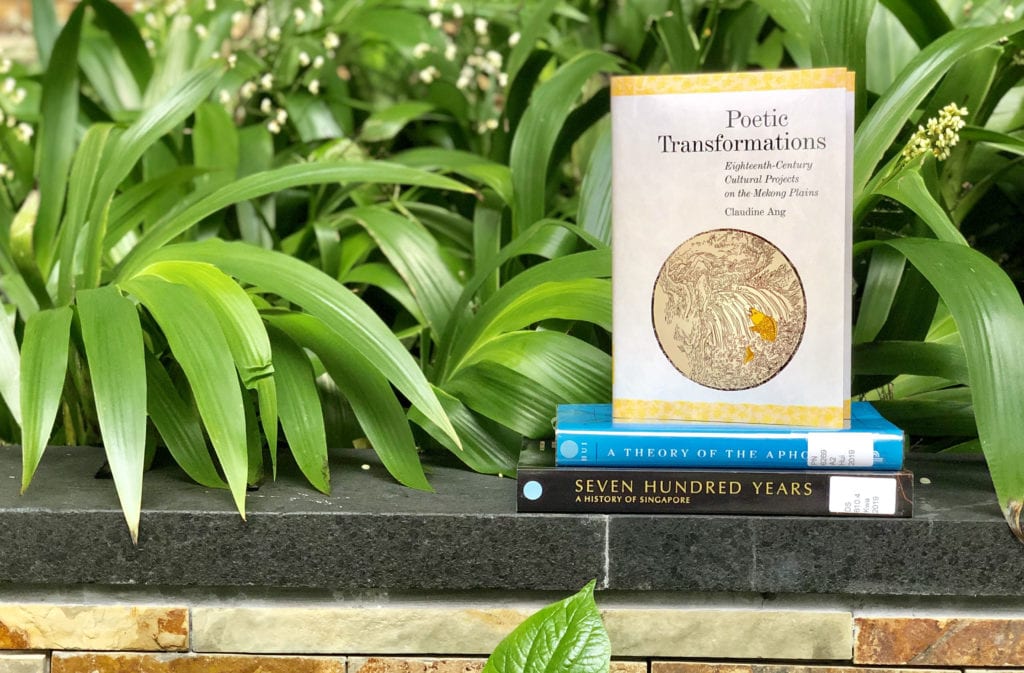 Image by Yale-NUS College. 
Several faculty members from the Yale-NUS College Division of Humanities have recently published new books, particularly those who specialise in History. One such professor is Associate Professor Claudine Ang, whose research interest is in Vietnamese, Southeast Asian and modern Chinese history.
Assoc Prof Ang's new book Poetic Transformations: Eighteenth-Century Cultural Projects on the Mekong Plains was published last month by Harvard University Asia Center and is a combination of all of her interests in the various regions. The book is chronologically situated in the 18th century, at a time when the Mekong delta was a site on which a territorially expanding Vietnamese state crossed paths with a network of Chinese Ming loyalists closely affiliated with the coastal trading network.
Assoc Prof Ang, whose work straddles the disciplines of literature and history, said, "Both groups of migrants had political ambitions for the lands on which they had newly settled, and the educated among them produced literature that not only captured these conflicting visions but also aimed to transform the frontier regions by the very act of cultural production."
The book is divided into two sections – the first features a study of a bawdy play, composed in the Vietnamese demotic script, in which a lascivious monk turns his charms on an unsuspecting nun. Assoc Prof Ang sought to understand how the play served a larger purpose of persuading new Vietnamese migrants to fight against other local groups competing for the same lands. In her book, she argues that the play acted as a vehicle for differentiating Vietnamese lowlanders from their neighbors, and in doing so, urged them to defend their cultural identity and new lands.
The second section studied landscape poems composed by Ming loyalists on the Mekong delta. These poems were sent to poets in southern China and other parts of Vietnam via the coastal trading network, and the recipients composed matching poems and sent them back on the trading junks with the changing of the monsoon winds.
In the process of reading and translating these poems, Assoc Prof Ang discovered in them secret messages aimed at founding a new Ming loyalist stronghold in the Mekong delta.
"My close reading of these literary works uncovers a historical moment of overlapping visions, frustrated schemes, and contested desires on the Mekong plains," she said.
Reading these literary works was, at the same time, an act of translation and of interpretation. Assoc Prof Ang spent years learning the languages in order to accurately do so. She first started studying the Vietnamese language as a second-year undergraduate student at the National University of Singapore. When she went to Cornell University to pursue her PhD, she studied classical Chinese and the demotic Vietnamese script.
"Ultimately, my work examines the ability of language to bring order to the world, investigates the power of the imagination in crafting political projects, and observes the subtle art of dismantling one's opponents' cherished dreams," she said.
Associate Professor  of Humanities (History) Jessica Hanser also published a book last month. Mr. Smith Goes to China: Three Scots in the Making of Britain's Global Empire, by Yale University Press, delves into the lives of three Scottish private traders—George Smith of Bombay, George Smith of Canton, and George Smith of Madras—and uses them as lenses through which to explore the inner workings of Britain's imperial expansion and global network of trade, revealing how an unstable credit system and a financial crisis ultimately led to greater British intervention in India and China.
Looking beyond British imperial expansion in the meantime is President and Professor of Humanities (History) Tan Tai Yong's book, Seven Hundred Years: A History of Singapore which he co-wrote with three other prominent historians, Mr Kwa Chong Guan, Dr Peter Borschberg and Dr Derek Heng. The book, which is an update of an earlier book, Singapore, a 700-Year History: From Early Emporium to World City, was released in conjunction with the Singapore Bicentennial celebrations. It looks historically beyond the time Sir Stamford Raffles, who is commonly recognised as the founder of Singapore and British Malaya, arrived in Singapore, and suggests that Singapore's history started way before that, tracking the historical trajectory of the island state over the past seven centuries.
Apart from faculty members who pursue history, Associate Professor of Humanities (Literature) Andrew Hui's second book, A Theory of the Aphorism, was published by Princeton University Press earlier this year. He describes it as "a short book on the shortest genre of all: the short saying". The book, studies the ubiquitous yet under-explored form of the aphorism [philosophical short sayings] demonstrating how they open new lines of inquiry and horizons of interpretation.
Assoc Prof Hui, who recently became the first Yale-NUS faculty member to receive the NUS Young Researcher Award, shared that the thinking behind it all probably began in his first year at the Santa Fe campus of St John's College, but that he wrote the book at Yale-NUS. Assoc Prof Hui expressed his gratitude to many of his colleagues, some of whom helped read individual chapters of the book during the writing and publishing process.
He also quipped that the book was "written during the sometimes halcyon, sometimes hectic days between my wife's pregnancy and my daughter's first birthday".
"Having an infant around the house meant that the intense concentration required for reading epics or philosophical tracts was all but impossible, so I had to resort to a much shorter form."