By Raynold Toh | Images as credited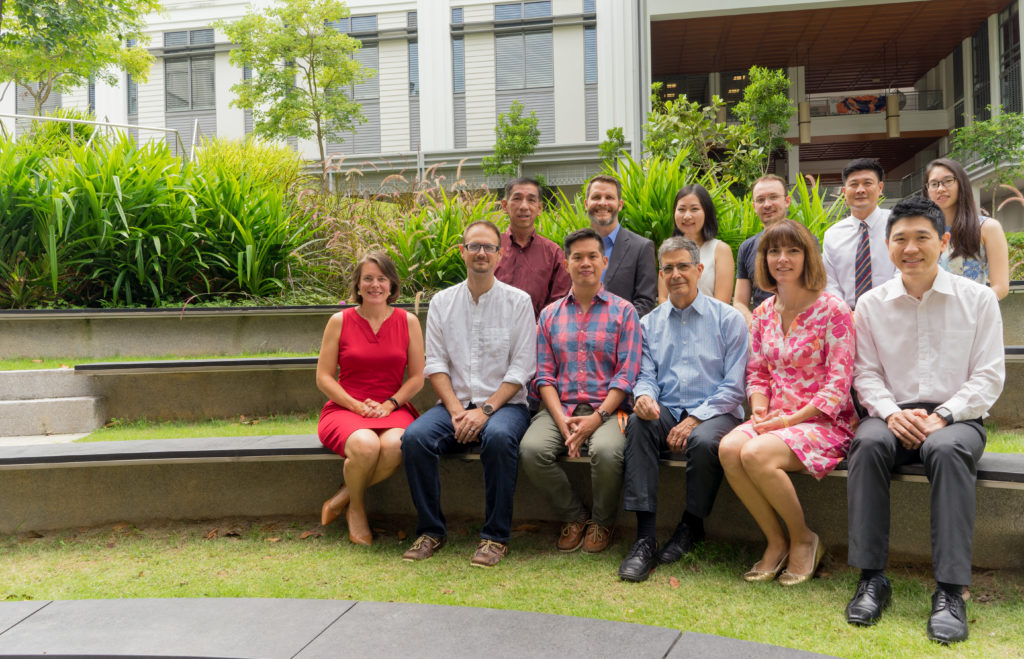 Image by Jessica Sam.
Last year, Yale-NUS faculty and staff came together to give back to Yale-NUS College by participating in the College's Faculty & Staff Giving (FSG) campaign. Led by Giving Ambassadors from various departments across the campus, the annual campaign ended with a high percentage participation of 38.5% in 2017—an increase from 22% in 2016.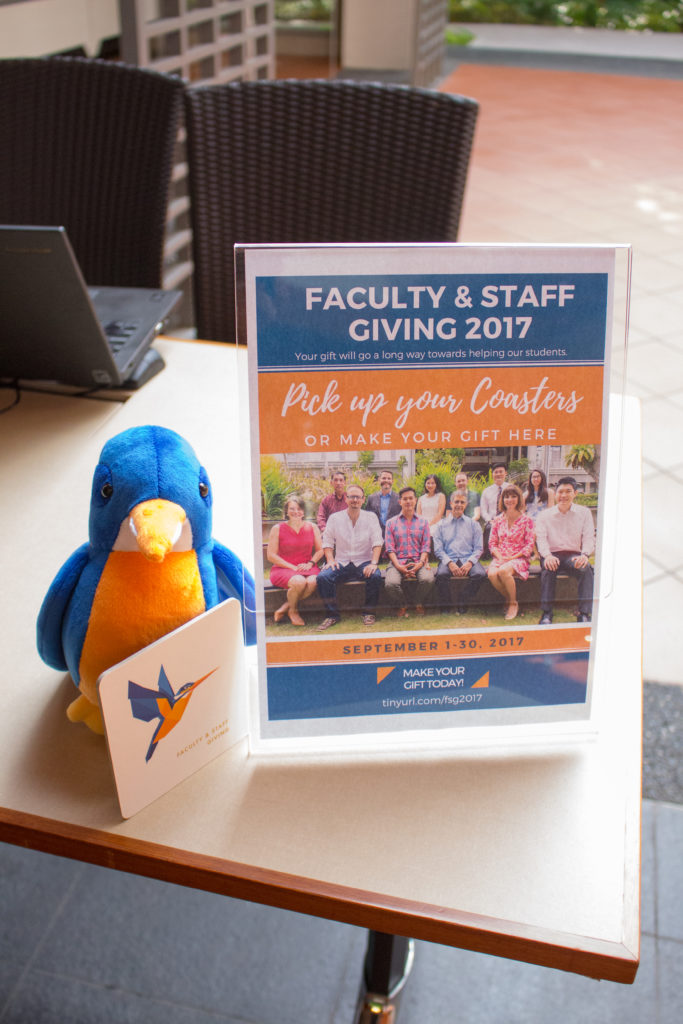 The Development Office set up a Breakfast Table during a Faculty and Staff Breakfast to encourage faculty and staff to make their gifts and pick up a commemorative coaster. Image by Anthony Wong. 
As part of FSG 2017, the Development Office launched its inaugural Faculty & Staff Giving Month, where efforts to encourage participation were concentrated in the month of September. The campaign saw a total of 15 faculty and staff from different departments sign up as Giving Ambassadors to spread the message of giving within the community through various means. One of them was Assistant Professor Stanislav Presolski from the Division of Science.
"Giving helps us reach our goals faster and bring in deserving students who do not have the means to pay on their own," he said. "I spoke up at the full faculty and Science Division meetings to encourage my colleagues to give, answering any questions they had immediately after, as well as reminding friends at lunches and other social occasions about the importance of giving," Dr Presolski shared.
Another initiative was the Team Giving Challenge, an idea originally mooted as a friendly challenge between the Admissions & Financial Aid department and the Dean of Students' Office in 2016. In 2017, the challenge was contested by four other teams – Senior Administration and the Dean of Faculty Office; the Division of Science; Infrastructure, Safety & Security; and the Centre for International & Professional Experience. The teams vied to achieve the highest rate of participation, and for the second year running, the Admissions Team emerged victorious with 93% participation and were recognised for their efforts during the Chinese New Year celebrations for faculty and staff.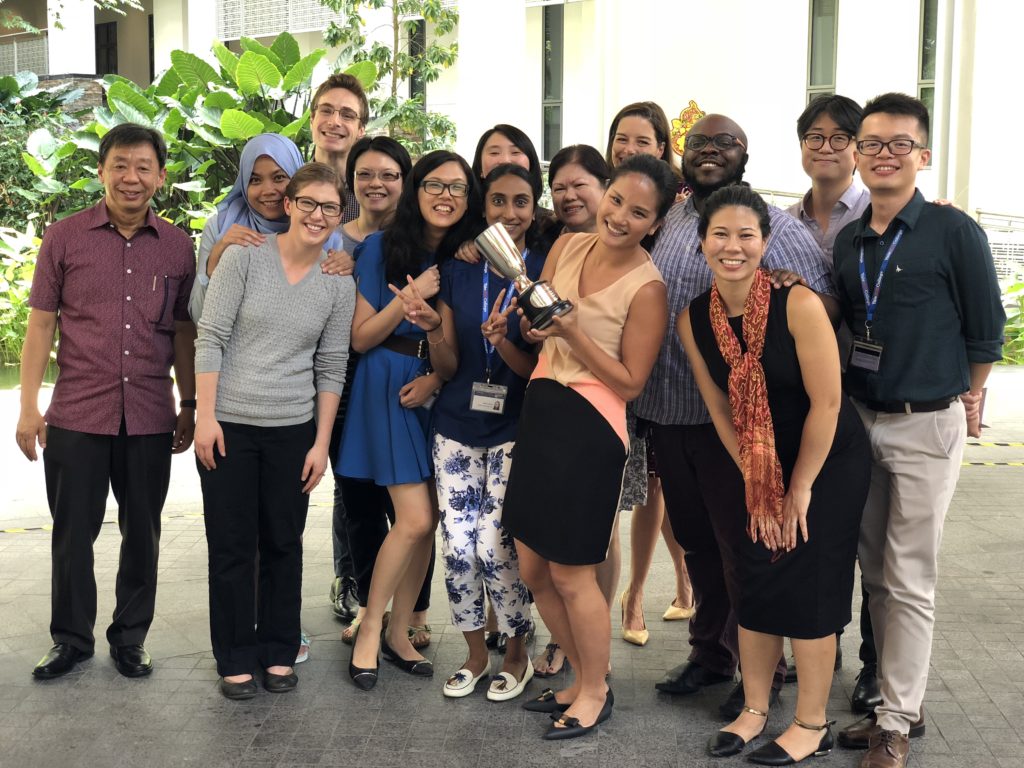 The Admissions Team poses with the Team Giving Challenge trophy. Image by Alyson Rozells.
Associate Dean (Academic Affairs) and Associate Professor of Science Khoo Hoon Eng, who has made gifts to Yale-NUS annually for the past few years, shared that she was motivated to pay it forward by supporting future generations of students. "My tertiary education was completely supported by financial aid made possible by generous donors. That is the reason for my wanting to do my part to support others," she said.
"I have always believed that it is possible to change society for the better through education and activism," she added. "If my contribution can help facilitate young people's educational journeys toward their success, then I will be very happy."
Assoc Prof Khoo recalled that she first gave towards the Bernard Bate Prize in memory of her late colleague, Associate Professor Bernard Bate, as well as to the Yale-NUS Alumni Study Award, which supports financially needy Yale-NUS students. "An old friend from the National University of Singapore started the first Yale-NUS Alumni Study Award. I then gave towards supporting two such study awards," she explained.
However, spreading the message of giving has not been without its challenges. "One of the biggest obstacles is when people do not know where the money goes or how it is used, especially so when they see no direct benefit to themselves," said Ms Fionn Tan, Senior Executive of Human Resources, who also serves as a Giving Ambassador.
Another challenge is the perception that many faculty and staff have regarding giving back to their place of employment. Dr Presolski recalled trying to convince colleagues who felt that giving back to one's employer was "weird" – a feeling he previously shared.
"Working at Yale-NUS is not just a job," he said. "It's a mission to redefine liberal arts education that needs all the support that it can get in the form of creativity, passion and stamina, but also cash and participation."