By Jeannie Tay | Images by Yasunari Watanabe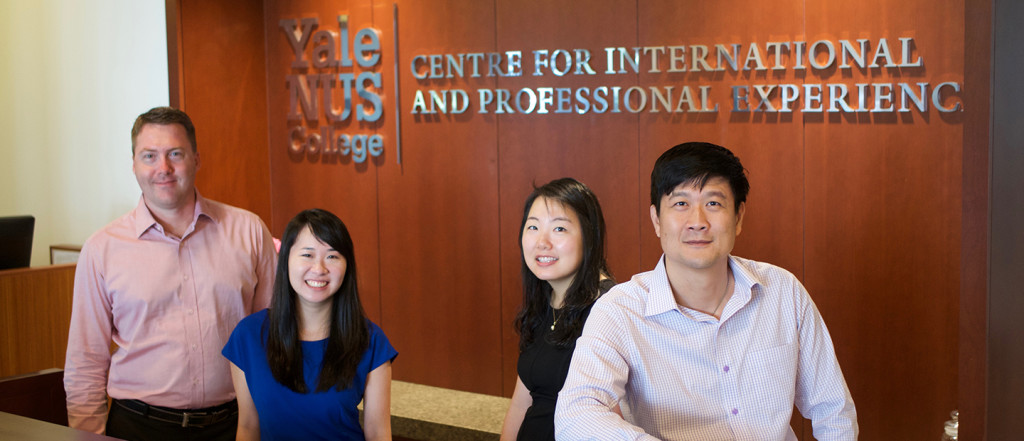 In six months, Yale-NUS College will be graduating its first class of students. As the College prepares for its first graduation event in 2017, the Career Services team (photo above) at the Centre for International & Professional Experience (CIPE) has been steadily intensifying its programmes, especially over the past year, to provide career-related support to the upper-level classes, especially graduating students.
The career services available for students include advising, internships, and providing resources such as career information and toolkits, workshops and events such as talks by companies and recruitment fairs.
In addition to the existing programmes, CIPE's Director of Career Services Norvin Ng and his team also rolled out new initiatives in 2016 such as the Self-Sourced Internships, in-class career sessions for specific majors for the graduating class, on-campus recruitment events, and a Students' LookBook. The LookBook is a database that provides an overview of the inaugural class in a more personalised format than a traditional resume, this will be shared with selected employers and partners to showcase the diversity of interests and skills of Yale-NUS students.
On internships, Mr Ng explained these comprised internships that are coordinated by CIPE as well as those sourced directly by students. Yale-NUS students have displayed a wide range of interests, so CIPE has piloted the Self-Sourced Internships programme, where students source for their own internships with support from CIPE.
For self-sourced internships, students are encouraged to do a self-assessment and identify job functions that would be a good fit for them. Thereafter, they undertake their own search for these opportunities, and CIPE would step in to provide support through funding, reviewing of application materials, and pertinent advice.
The pilot Self-Sourced Internships programme has been very popular with students. Recognising the importance of empowering students in the process of researching, exploring and planning their internships, CIPE is looking to enlarge the number of places in the programme next year.
Mr Ng said: "Besides coordinating internships for students, we also encourage them to source for their own internships. We believe in putting students in the driver's seat and letting them take the initiative to research on what they want to do and identify opportunities that are aligned with their interests." He added that exploration and taking ownership of one's life long career are important life skills and they tie back to the career skills that CIPE is trying to equip the students with through its various programmes.
In 2016, CIPE also hosted a number of industry professionals for talks and career events on campus. These events provide students with different perspectives from a variety of industries, and insights into the professional world. Some of the organisations include Walt Disney International, Kimberly-Clark, Bank of America Merrill Lynch, Citibank, Microsoft, Channel NewsAsia, and more.
With the impending graduation of the pioneer class of Yale-NUS, the CIPE career services team has started a series of in-class career information sessions for the seniors, specially tailored to their majors. Through these sessions, the CIPE advisor keeps students informed of the career opportunities relevant for their respective majors and works with them to identify their interest areas and provides support for those who want to enhance their job hunting skills.
Christopher Tee, a Literature major from the pioneer class, found the new initiatives innovative, especially the in-class career services talks because the graduating seniors had to practise introducing themselves in a networking setting. In addition, the CIPE advisor also provided helpful advice on the different industries that they could look at.
"The breadth of industries covered both the 'traditional' and 'non-traditional' ones because he (Norvin) matches our skillset as literature majors to current job openings. He also talked us through the next steps that CIPE was going to take, and how we could use the centre in the months to come," added Christopher.
Elaborating on how Yale-NUS tailors its career services offerings to students, Mr Ng said: "Leveraging on our small class size, we are able to customise and tailor our support for freshmen to seniors, and take into consideration their diverse interests and needs. Furthermore, as students have different starting points, our ability to offer regular 1-1 sessions will allow our students explore their interests, equipping them with skills such as resume writing, interviewing, or supporting them in practical areas such as internship placements and targeted career counselling."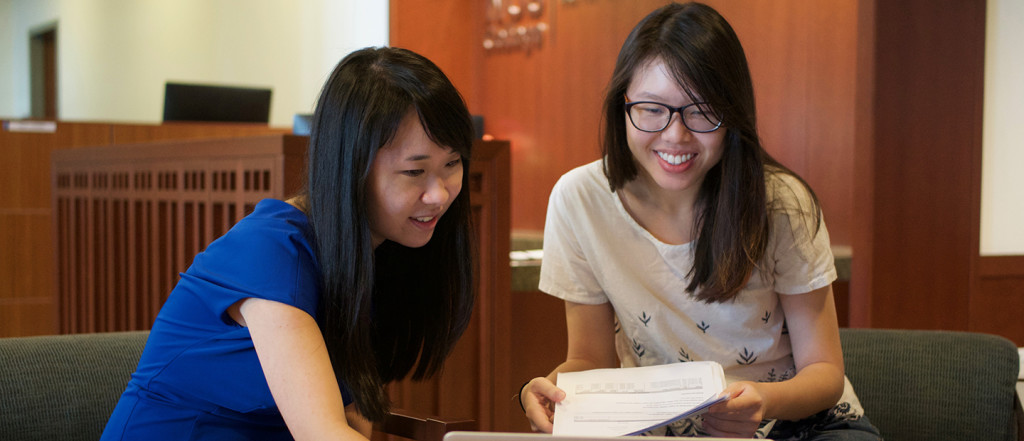 In Yale-NUS, every student is assigned a CIPE counsellor who will work with the student to craft an individualised portfolio of learning opportunities. CIPE counsellors will provide support for navigating the available opportunities, help identify areas for improvement and connect students with the best matches for maximising their growth.
Over the next few months, the CIPE career services will continue its employers' outreach efforts and prepare the Class of 2018 for their summer internships. The new Students' Look Book for the Class of 2017 has been launched and employers can write to CIPE at cipe@yale-nus.edu.sg to request for a copy of the LookBook.
To find out more about career services at Yale-NUS, visit https://cipe.yale-nus.edu.sg/career-services/