Text and image by Melissa Wang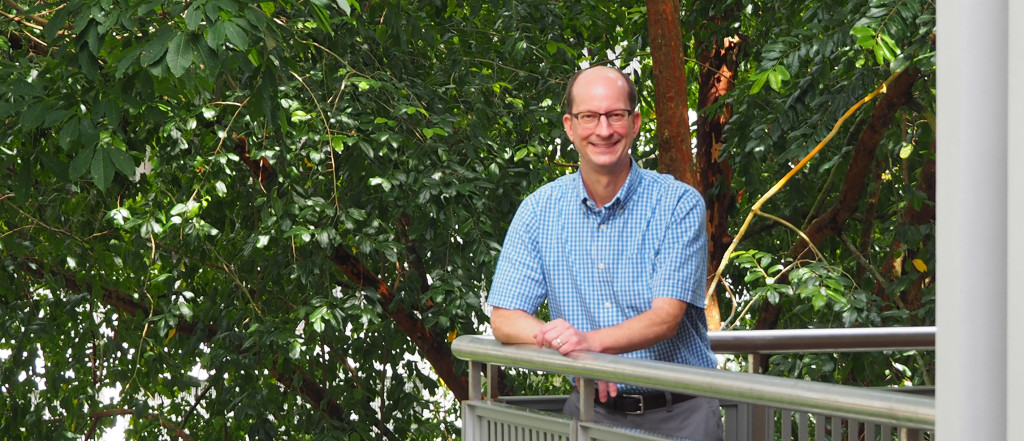 Only a month into his role as Director, Division of Science at Yale-NUS College, Professor Mark Bussell has already embarked on several ambitious plans as the College's inaugural class presses closer towards graduation.
One such project is to continue developing the capstone projects for final year students, where the learning in each major culminates in a yearlong research project. While challenging, Professor Bussell points out that this responsibility was one of the factors that attracted him to his new role. Focusing on building up Science research at Yale-NUS College, he shares: "We are working closely with faculty on developing the research infrastructure and laboratory facilities to create capstone opportunities for the students."
As a Professor of Chemistry for 26 years, Professor Bussell brings with him rich experience in developing research programmes for undergraduates. At Western Washington University where he has dedicated almost his entire academic career to, Professor Bussell also served as the Director for the Advanced Materials Science and Engineering Center, an interdisciplinary programme that offers extensive interdisciplinary research in the field of Material Science. Professor Bussell will be leveraging on his experiences to develop a vibrant Yale-NUS research programme.
Elaborating on the importance of research in a Science curriculum, Professor Bussell says: "Capstone projects enable students to work with faculty on original research challenges, providing open-ended problems for which answers are not known. This type of experience, in which students work on hands-on research with faculty, is one of the signature offerings of a liberal arts and sciences education."
Other items on Professor Bussell's plate include the enhancement of the Science majors, increasing the number of students majoring in the Sciences, and improving on the courses in the Common Curriculum based on the feedback of students and faculty.
"Reflection upon the full slate of courses in the majors will provide an opportunity to optimise both the required and elective courses in the Science majors that best prepare students for a full range of careers in and outside of Science," he remarks.
To any student who is thinking of pursuing Science here, Professor Bussell, who is a liberal arts graduate himself, stresses that "liberal arts colleges are unique and wonderful places to do Science majors".
He explains: "The smaller student-to-faculty ratio means that Science students are able to work closely with faculty, not only in course work and research, but also in the laboratories, where they get to experience what it is to do research and the excitement of discovery while working on a problem that has not been solved before." He highlights that this is more difficult to do in larger research institutions which typically have graduate students to take on most of the research work.
Professor Bussell also highlights the essential communication skills that a liberal arts student develops – a skill he finds very important but often neglected amongst Science students and academics. This is particularly critical when it comes to presenting scientific research at conferences for example.
"It is also so much more fun if you are able to communicate to people what you are doing, and to share the enthusiasm and excitement of Science," he adds.
This move to Yale-NUS College is Professor Bussell and his wife Professor Kristi Lemm's first experience living in Southeast Asia. He considers it an adventure to take on this role in this part of the world where the idea of a liberal arts education is still new.
"The opportunity to come to Singapore and participate in the next stage of development of science in Asia, through liberal arts and sciences education and the creativity it cultivates, is a once in a lifetime opportunity.  Combined with the chance to explore the culture and geography of Asia, this is an adventure that I could not pass up," he concludes.
In his free time, Professor Bussell likes going on runs to enjoy the nature together with his wife Kristi. They are also keen on exploring Singapore and the region, and learning about the culture here.