By Wisha Jamal
On 24 September 2019, Yale-NUS College, in partnership with the National University of Singapore (NUS), organised the Humanities and Social Sciences (HSS) Collaborative Workshop. Held in the College's Tan Chin Tuan Lecture Theatre, the event was attended by around 60 Humanities and Social Sciences faculty members from both institutions.
Research is a central aspect of academic life at Yale-NUS for both students and faculty. The College supports research endeavours by facilitating research projects and grant applications, organising knowledge sharing events, providing opportunities for students and faculty to carry out joint investigations and creating dedicated spaces for these projects to come to fruition. Examples include the Behavioural Laboratories to facilitate experimental psychology, human-computer interaction, or human neuroscience research as well as the Fabrication Studio to support projects and prototypes. The HSS Collaborative Workshop is another such platform that enables faculty members from NUS and the College to share their work with peers in the Humanities and Social Sciences.
The HSS Collaborative Workshop was started in March 2019 at NUS by the Office of the Deputy President (Research & Technology) (ODPRT) to provide a platform for faculty members to present and share their recently completed projects, as well as a forum for exploring collaborative synergy within the HSS ecosphere.
At this event, Yale-NUS College continued this collaborative spirit with presentations by Yale-NUS faculty members on research projects ranging from digital historical maps and the origins of Chinese urbanisation, to parenting in Singapore and the Russian Orientalism.
"By bringing together the institutes and faculties which constitute the HSS landscape, we aim to facilitate the creation of strong multidisciplinary teams for joint grant proposals to tackle multifaceted real-time problems," said Yale-NUS College Executive Vice President (Academic Affairs) Professor Joanne Roberts.
NUS Deputy President of Research and Technology Professor Chen Tsuhan, who gave the opening remarks at the workshop, emphasised the importance of the work done in the Humanities and Social Sciences fields and cited Artificial Intelligence (AI) as an example of a field where Humanities and Social Sciences has important relevance.
"Artificial Intelligence is useful but it can also be misused. At the end of the day, who are the people who will come in and calibrate all these technologies and try to make sure that AI is used in the right places? It's people in this room. I believe that AI can make us more human if used in the right ways. Who are the people who will make sure it's used in the right ways? The humanities and social sciences – the people in this room," said Professor Chen.
In this regard, the event is also an opportunity to showcase and appreciate the necessity of the research carried out in these fields.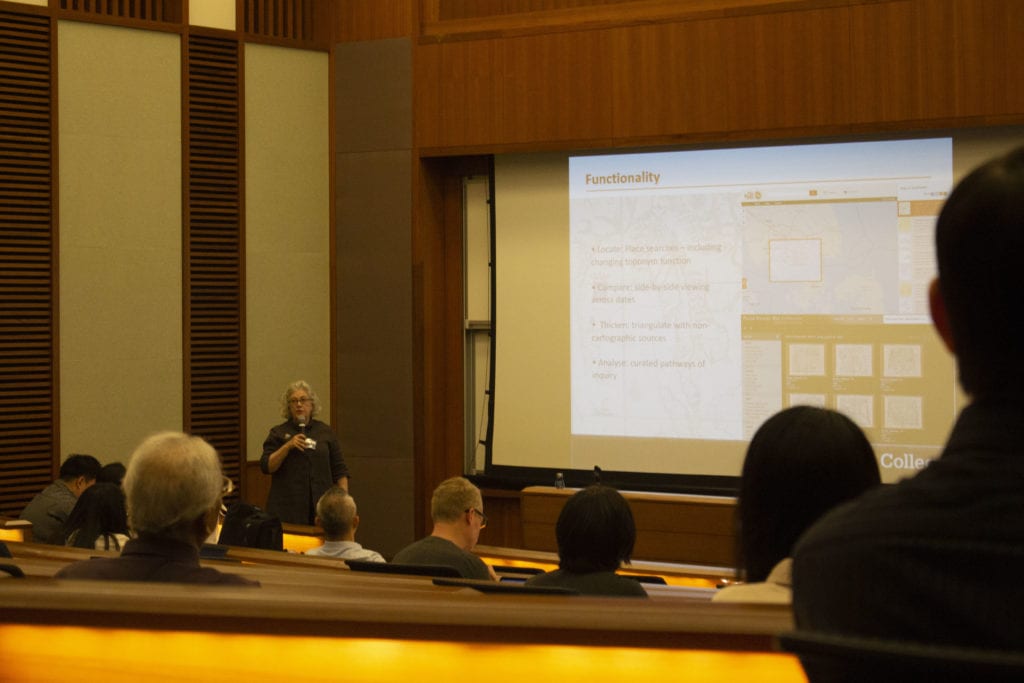 Yale-NUS Professor of Social  Sciences (Urban Studies) and Head of Studies for Urban Studies Jane M Jacobs sharing her project at the workshop. Image by Yale-NUS College. 
Among the presenters was Yale-NUS Professor of Social Sciences (Urban Studies) and Head of Studies for Urban Studies Jane M Jacobs who shared on her project, 'Digital Historical Maps of Singapore and Southeast Asia'. Prof Jacobs' project focuses on developing and testing pilot digital platforms for sharing map assets within four partner libraries, namely National Library (Singapore); the Bodleian Libraries (University of Oxford); the Beinecke Rare Book and Manuscript Library (Yale University), and the Map Collections of Leiden University.
Prof Jacobs' project studies historic maps of Southeast Asia and Singapore as well as capacity building in the area of digital humanities within Yale-NUS. Her project was awarded the 2018 Social Science Research Thematic Grant by the Social Science Research Council (SSRC) for its intellectual merit, and potential impact on and contribution to society and the economy.
Another project, titled 'Indian Ocean Trade and Roman Consumer Culture', by Yale-NUS Associate Professor of Humanities (History) Ernst Emanuel Mayer, investigates the spread and facilitation of Roman consumer culture through Rome's trade with India. The project utilises material remains such as Roman latrines around Europe and Roman gold coins in India as its pool of evidence.
Explaining how such historical research contributes to our understanding of the modern world, Assoc Prof Mayer said, "It is, of course, not something that translates immediately into policy advisement. You may not necessarily be able to look at Roman tariff wars and then see how the trade war with China makes sense. But I think what we can try to understand is how world systems of trade are created and how they are maintained."