By Daryl Yang | Image by Aleithia Low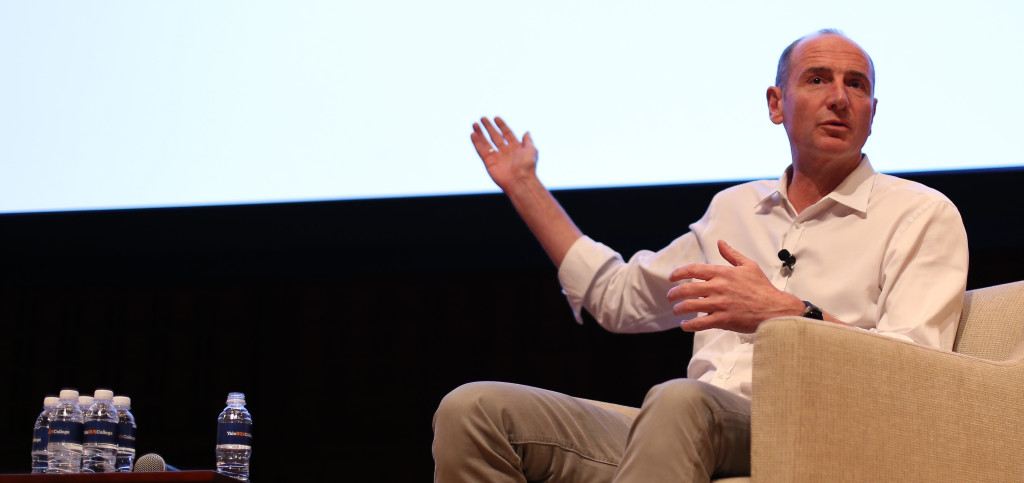 "What does 'international' mean to you?"
This was the key question posed by Walt Disney International Chairman, Mr Andy Bird to the audience at the Yale-NUS Performance Hall on 7 March 2016.
"I have been traveling across the globe and I still cannot find one place that I can call 'international'. Every market and place has its own perspective and industry leaders in each market have their unique views of the region. There is no one international market, only a vast collection of diverse and dynamic local markets," he explained.
Titled "The Importance of Localisation: Establishing Disney's Place in the Global Marketplace", Mr Bird's talk focused on the importance of being locally relevant in establishing a brand in the global marketplace and how his educational background has equipped him in the world of broadcast and media.
"Rather than Walt Disney China or Singapore, the question we should be asking is, "How do we become the Chinese Walt Disney or the Singaporean Walt Disney?" Mr Bird suggested when asked about the company's strategy to be ranked top for global competitiveness on the Fortune World's Most Admired Companies list in 2016.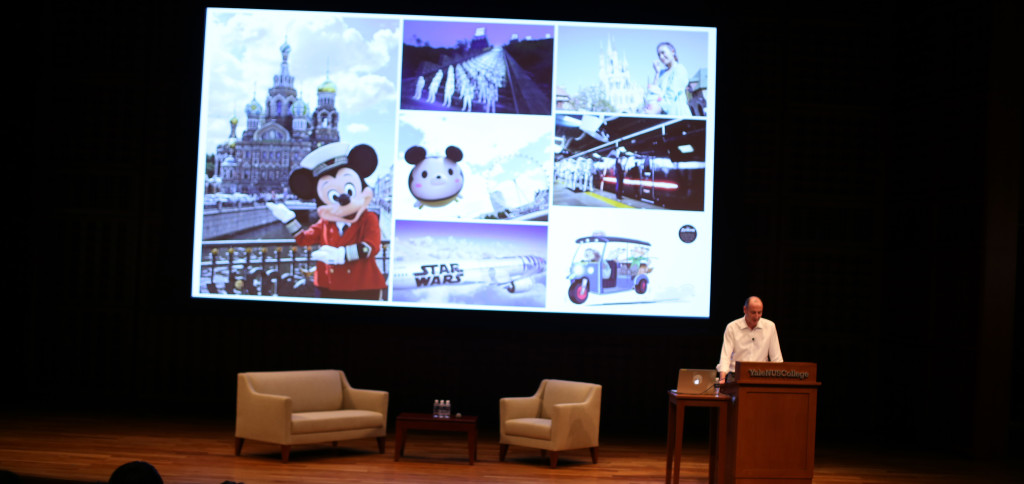 Mr Bird was at Yale-NUS College to speak on his experiences as Chairman of Walt Disney International at the invitation of the College's Centre for International & Professional Experience (CIPE).
After joining The Walt Disney Company in 2004, Mr Bird greatly expanded Disney's presence around the world, such as launching free-to-air Disney Channels in Russia, Turkey and Spain. Prior to joining Disney, Mr Bird spent close to a decade with Time Warner, joining in 1994 as senior vice president and general manager of Turner Entertainment Networks Limited.
A graduate of the University of Newcastle Upon Tyne, where he earned a Bachelor of Arts degree in English language and literature, Mr Bird also shared how his college experience and subsequent professional experiences were driven by an innate curiosity and the impulse to act on it.
"So many people have that curiosity, but far too often, fail to act on it. Opportunity and success can come from anywhere and to anyone. All you need to do is think beyond what is, imagine what could be, and then make it happen and have fun while you are at it."
CIPE Dean Trisha Craig said that her team regularly invites speakers who can share with students not just about what they are doing but also the steps that they took along the way and the challenges they faced, so as to inspire students as they think about forging their own paths.
"Being the Chairman of Disney International, which has an interesting story to tell about its global strategy, the fact that his background was studying literature made us think that his message would resonate with the Yale-NUS community. What especially spoke to me was his story of taking the initiative to go to his local radio station and work as an intern for no money just so he could soak up what he needed to know and gain the experience," Dr Craig shared.
For Roger Ko (Class of 2019), what interested him about this event was the chance to hear from the leader of one of the most successful companies in the world. "Disney is a powerful brand, and I wanted to know more about their business strategies on the global market. I also really wanted to know what makes a successful entertainment company tick," he said.
Similarly, Soh Wee Yang (Class of 2017) wanted to learn more about the man behind one of the world's largest international entertainment conglomerate. "I wanted to see the person running the company, which has been quite a big part of my childhood, and find out what qualities he would have."
The event ended with a question from Ziyad Bagharib (Class of 2018) who asked Mr Bird for his favourite Disney movie.
"It has to be 101 Dalmatians, though I think Toy Story, being the first fully animated feature film, was also amazing," Mr Bird answered enthusiastically.