Written by Clare Isabel Ee | Image by Samuel He for Yale-NUS College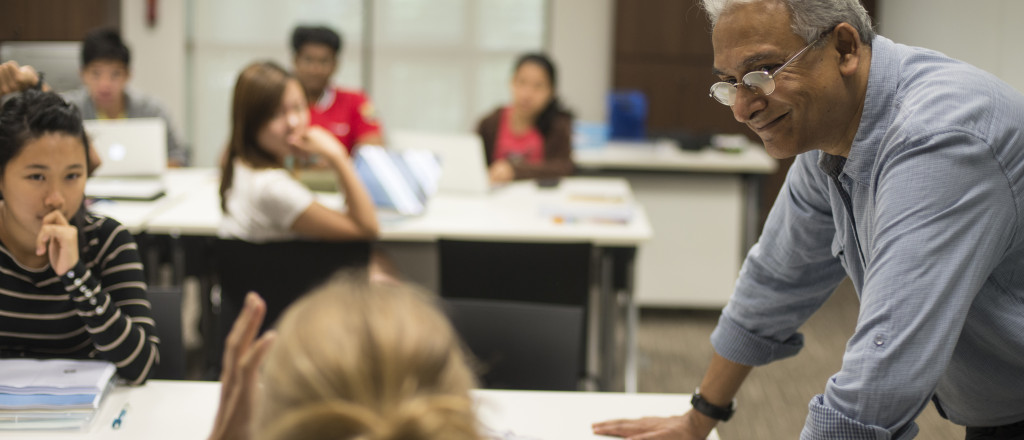 Whether you are a general reader or someone interested in the interface between modern arts and colonial history, Professor Rajeev Patke's latest book, Modernist Literature and Postcolonial Studies (Edinburgh University Press, 2013), is an enlightening read. In it, he discusses and highlights certain developments in postcolonial writing as an effect of Western modernity, and explains the connection between the two.
Currently, Professor Patke is the Director of the Humanities Division at Yale-NUS College, but his long-term relationship with English literature dates back to the 1970s. His myriad of work over the last 30-odd years is an undeniable testament to his passion and enthusiasm for higher education and literature. However, the reason behind writing his latest book was, in his words, "not so romantic".
"There has been a need for a book that would link literary modernism with postcolonial studies," he explained, "and when the invitation [from the series' editors] came along, it was a nice chance to make a contribution to a field that has opened up only recently."
Prior to this, Professor Patke has authored three academic books, co-authored a fourth, co-edited even more, and has written many chapters in books, conference papers, and academic journal articles. All the experience has helped him to refine his book writing process over the years, especially when he was working on his third book, The Routledge Concise History of Southeast Asian Writing in English (with Philip Holden, Routledge, 2009).
"I used to take a long time struggling with drafts and revisions," he shared. "Work on my third book helped develop a method that involves simple sentences, and an approach that is less fussy with nuances of phrasing and constant revisions."
Still, he would spend an estimated eight to 10 hours a day on the computer when preparing work for a new book, preferring to write chapter-by-chapter "in concentrated spans of activity" rather than spreading the work out over a longer period of time, a tip aspiring writers may want to try.
Review of Modernist Literature and Postcolonial Studies (2013):"This slim and attractive study by Rajeev Patke contributes to the intellectual reassessment of the ways in which modernist literary culture is inflected by colonial and imperialist history across the globe. […] the author deftly demonstrates the relevance of what might be considered Eurocentric debates (Gyorgy Lukacs's disagreement with Theodor Adorno over the politics of realism in the modernist novel, for example) to the emergent anti­colonial literatures of the 1950s and onwards. Abstruse critical debates over the nature of terms such as 'national allegory' and 'Third World literature' are rendered lucidly. The final section of the book offers three comparative case studies that invoke familiar examples in familiar ways – as in the case with Jean Rhys's Wide Sargasso Sea – alongside more original texts and treatments: the bringing of Kafka's In the Penal Colony into dialogue with the writing of Naguib Mahfouz, J. M. Coetzee and Derek Walcott produces a fascinating genealogy stretching from Hugo von Hofmannsthal and Walter Benjamin to the postcolonial literary fiction of the present day. Also remarkable is the careful consideration, under the heading 'Modernism and Faith', of the lesser-cited writing of the Philippine novelist Nick Joaquin and the Indian poet Arun Kolatkar."
— The Times Literary Supplement (October 2013)
Review of Postcolonial Poetry in English:"The highlight of the book is the fine balance it maintains between cultural and formal analysis. Patke provides just the right mix of cultural and theoretical wherewithal to appreciate and analyze the poems, a commendable effort in a field that so often tempts scholars to lose sight of their archival primacy in their rush to converse with a rich and complex body of theoretical debates. The author appears fully conversant with the larger questions about postcoloniality but never allows them to overwhelm or overdetermine his poetic analysis. Rather, he gently allows his fine and sensitive reading of specific poems to illuminate relevant cultural and theoretical concerns. The result is a gem of an introduction to postcolonial poetics—aesthetically attuned, critically engaged, and felicitously written."
— Modern Philogy (The University of Chicago Press, 2010)
Modernist Literature and Postcolonial Studies is available at the Yale-NUS Library.