By Evan See 
Yale-NUS College alumnus Ms Charis Lim (Class of 2019), a User Experience (UX) designer at GovTech Singapore, loves that her job lets her work with technology and design, while giving her the chance to make an impact in the social services as well.
As part of the Yale-NUS Womxn in Business (WIB) Social Impact Month held in October to December this year, Ms Lim had the opportunity to share her career experiences with students. This was a series of four industry-related talks covering different aspects of the intersections between the social impact and the business world, featuring professionals whose work involves different areas of social impact.
Ms Lim's talk, entitled "Using Technology for Social Good", discussed the potential of technology to improve social services and accessibility. As a UX designer, her job allows her to take a socially-focused approach to the digital space, harnessing technology to create more accessible products through GovTech.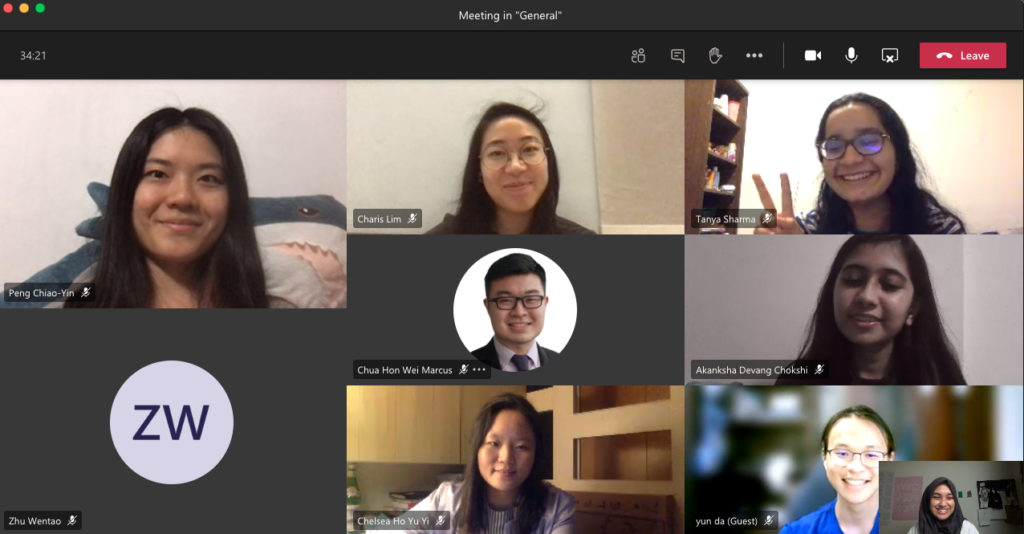 Virtual session titled 'Using Technology for Social Good: Fireside Chat with GovTech', featuring Yale-NUS alumna Ms Charis Lim. Image provided by Yale-NUS Womxn in Business.
"The social sector in Singapore is usually playing catch-up to other sectors," she explained. "Imagine the technology of our financial services five years ago, and you can get a glimpse of what the social sector is like now."
"I eagerly await the day that our social services are technologically on par with everything else," Ms Lim added. "I hope that I can be part of that journey as well."
The event, organised by Yale-NUS Womxn in Business (WIB), aimed to provide participants with a look into the intersections of business and social impact, and to discover how they might get started within this space.
Yale-NUS Womxn in Business is a student organisation which aims to "provides a network of support for womxn interested in Finance, Tech, Entrepreneurship, and Policy," shared its President Akanksha Madan (Class of 2023),
"Our welcoming community of womxn and allies is united by our commitment to gender equality in all industries," Akanksha said.
At a liberal arts and sciences college like Yale-NUS College, students have a wide range of interests, career aspirations and communities that they wish to impact.
"As such, our events were designed to familiarise participants with a wide range of skills and experiences," explained Tanya Sharma, the lead organiser of WIB's Social Impact Month. Tanya is also head of Womxn in Entrepreneurship, a committee within Yale-NUS WIB.
Still, such experiences might do more than just opening up career opportunities for students. They also help students become more aware of how they can find opportunities to integrate social impact in their future careers.
Akanksha Chokshi (Class of 2024), who attended Ms Lim's talk, appreciated the series of thoughtful programming. "As someone who is really interested in creativity, technology and social impact, this talk really helped me understand how the intersection of the three fields can be incredibly powerful in shaping experiences, creating meaningful products and making an impact on as many people as possible," she said.
Ms Lim believes that liberal arts and sciences students have a great ability and potential to create meaningful change.
"I think lessons I've learnt from philosophy or the humanities have shaped the way I think and how I approach certain problems. Bringing that into the tech space has helped me introduce new and innovative ways of thinking and doing things," she said.
Sure enough, the "Humanities in Entrepreneurship" talk proved the value of interdisciplinary learning. The talk featured Yale-NUS alumni Ms Izzy Ngo (Class of 2020), Ms Adila Sayyed (Class of 2019) and Ms Guadalupe Lazaro (Class of 2020), all of whom majored in the humanities and went on to make a social impact through their technology start-ups. Ms Ngo and Ms Sayyed founded VERE360, a platform that uses Virtual Reality (VR) technology to make educational experiences more accessible, while Ms Lazaro founded Ease, a start-up that makes access to sensitive healthcare services more convenient.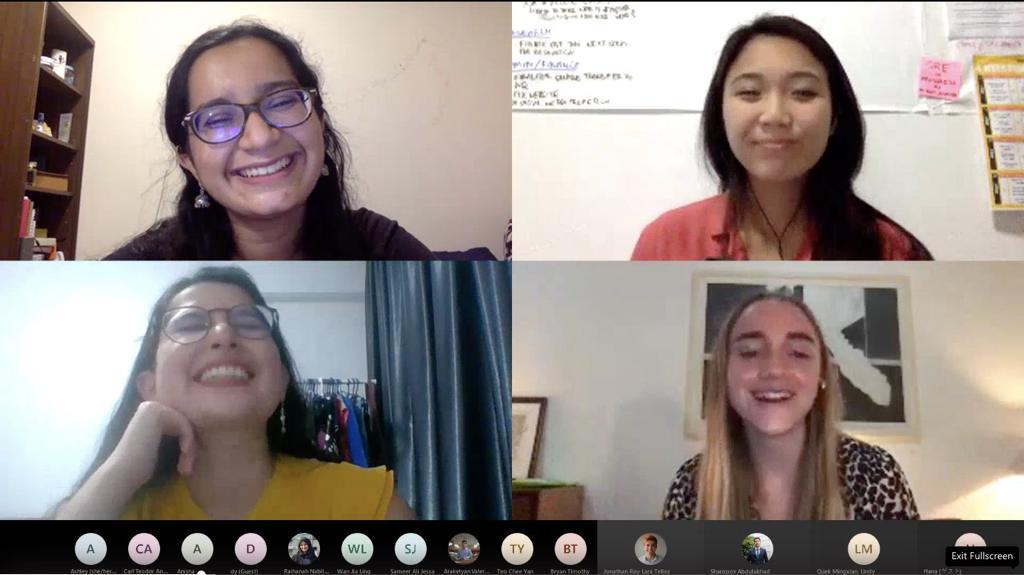 Virtual session titled 'Humanities in Entrepreneurship', featuring Yale-NUS alumni working in public health and education, Izzy Ngo, Adila Sayyed (VERE360) and Guadalupe Lazaro (Ease Healthcare). Image provided by Yale-NUS Womxn in Business.
This was followed by the "Social Entrepreneurship 101 Workshop", designed to introduce participants to the basics of starting an impactful organisation. Finally, the series concluded with the panel "Fitting Social Impact in Your Life: Career and Beyond", featuring speakers from various industries about incorporating social impact into our lives regardless of industry.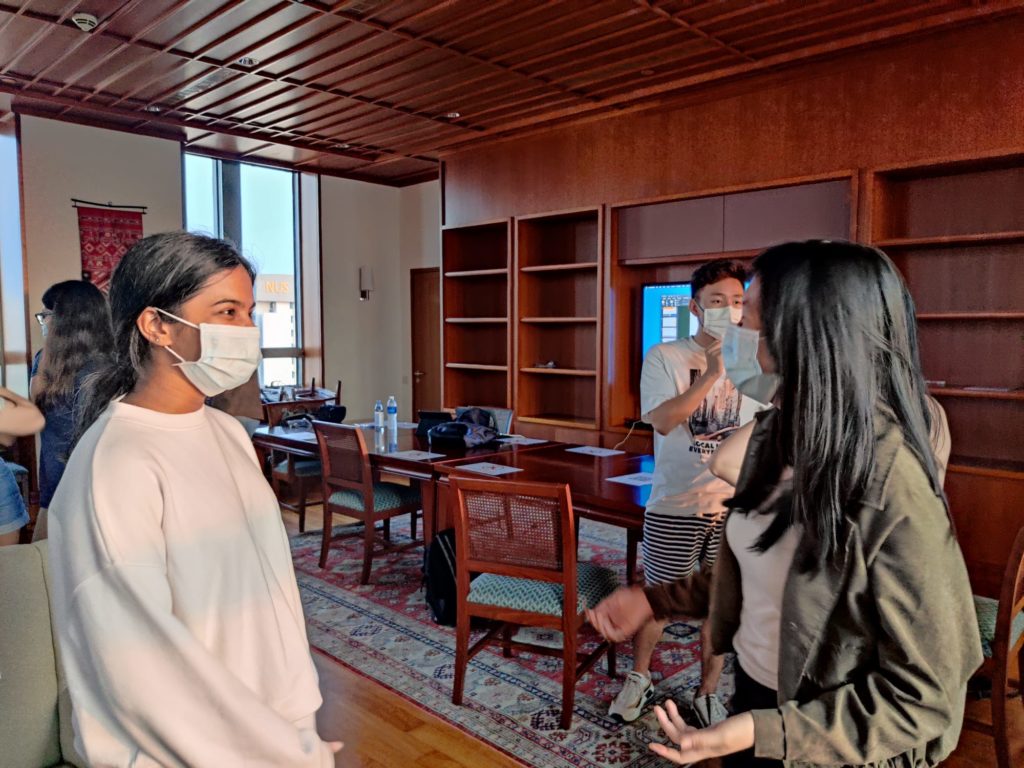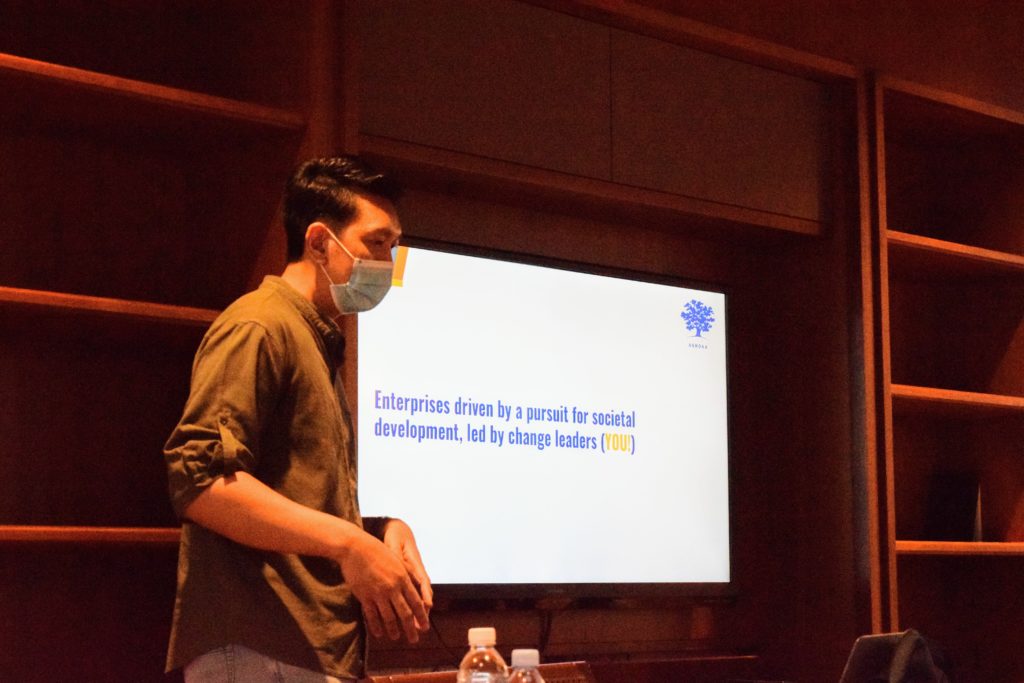 Social Entrepreneurship 101 workshop, organised in collaboration with Yale-NUS CIPE and Ashoka Singapore. Image taken by Anjali Venketram.
Heavily involved in organising the latter two events was Ms Nurul Hussain, Programme Manager for the College's Centre for Professional & International Experience (CIPE). In addition to moderating the panel 'Fitting in Social Impact Within Your Life', Ms Nurul gave the student organisation suggestions on the panel speakers as well.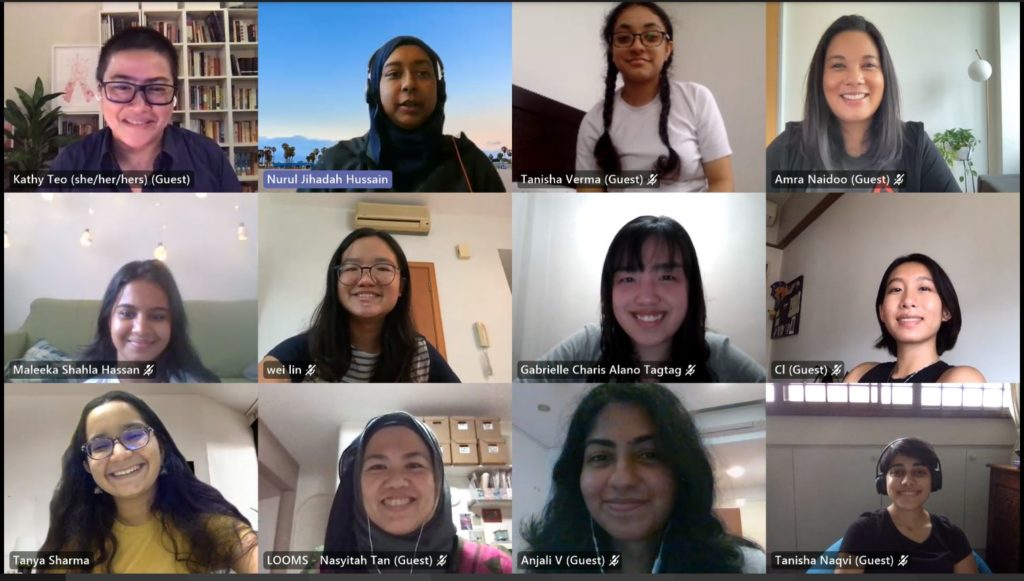 Virtual session titled 'Fitting in Social Impact Within Your Life', featuring Kathy Teo (Xpointo Media), Amra Naidoo (Accelerating Asia), Nasyitah Tan (LOOMS), and Nurul Hussain (Yale-NUS CIPE and Codette Project). Image provided by Yale-NUS Womxn in Business. 
Ms Nurul emphasised that the events such as Social Impact Month are keenly encouraged by the College.
"CIPE wants to co-create career journeys that will help students bring their entrepreneurial skills to organisations and corporations that will help them to create and amplify change, and we have been supporting events that are aligned with this objective, in addition to our own programming," said Ms Nurul. She added that CIPE has ongoing collaborations with other student organisations like Global China Connection, United Nations Society and entrepreneurship related organisations.
Looking forward, WIB plans to build on the possibilities for social impact that this event has introduced.
"WIB's main goal is to provide a safe space for our members to explore their professional interests," said Akanksha Madan, president of WIB. "Many of our members have been interested in the social impact space and, through this series of events, we were able to ultimately fulfil our purpose of being a community and network that grows and learns together."