By Denise Tan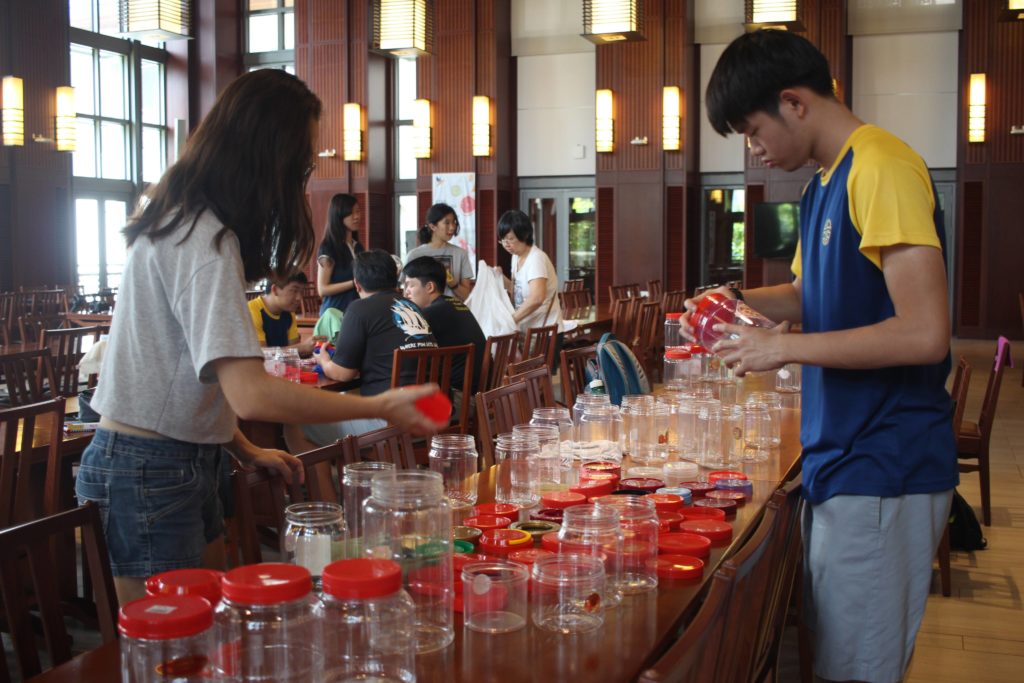 Image provided by Nabilah Abdul Rahman.
The Yale-NUS community has started several initiatives around the Yale-NUS campus in efforts to raise awareness on climate change and to promote environmentally sustainable living. From starting plant-based diets to organising pop-up thrift stores, students have been engaging in activities to spearhead the eco-conscious living movement.
Among the various activities was the first WasteLess Week, which was held from 16 to 22 March. A week of activities to encourage waste reduction, the event aimed for students and staff to waste less and to go "wasteless" at the same time.
WasteLess Week was jointly organised by I'dECO, Yale-NUS' student sustainability group, and Sodexo, the provider of on-campus dining services. One of the week's notable initiatives was WasteLess Agora, or the removal of disposable cups from Café Agora (the on-campus café run by Sodexo). Students had to bring their own mugs or rent a reusable cup for a $5 deposit under the Rent-A-Tumbler scheme. Other activities included cooking classes, quizzes, and a donation drive for used food containers which were then washed and recycled.
Not only did WasteLess Week shed light on students' concern for sustainability, it also allowed the two organisations to trial environmental initiatives before deciding on the ones worth adopting.
"We were more apprehensive about certain initiatives, like Rent-A-Tumbler and WasteLess Agora, because they affected students more, but were heartened to find that many students adapted to the system quickly and came to appreciate it," said Coco Oan (Class of 2022), vice-president of I'dECO and one of the key organisers of the Week.
"Students became more conscious of the waste they generate and got more used to bringing their own mugs. They found ways to integrate such habits into their own lives, such that these habits became less inconvenient and more routine," she added.
Mr Richard Ellison, echoed these sentiments. "I believe the week was a success. We did see a small amount of resistance, but this is to be expected whenever there are changes to peoples' lifestyles," he said.
"Though WasteLess Week was a small effort in the grander scheme of things, the idea was to create awareness among the community, and hopefully to create a change in behaviour moving forward."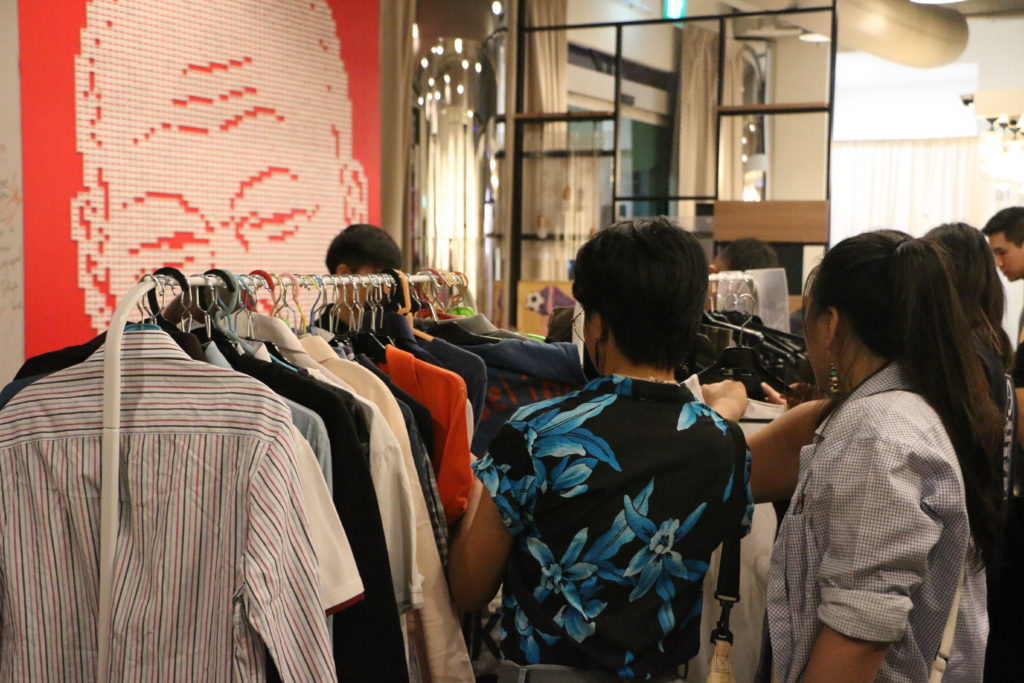 Image provided by Tammy Gan.
Beyond temporary initiatives, students have taken a softer approach to create change: by appealing to their peers' lifestyles and interests. Tammy Gan (Class of 2021) founded Conscious Living Collective (CLC), a student-run sustainability advocacy group with a specific focus on consumerism and the fast fashion industry. Their goal is to educate their peers on sustainability issues and empower them to make lifestyle changes.
CLC has organised three pop-up thrift stores so far, in which students donate used items of clothing and can purchase others' donated clothing. Its second pop-up thrift store featured menswear exclusively and was held in partnership with Youth Corps Singapore, an organisation under the Ministry of Culture, Community and Youth that promotes youth volunteerism, at the organisation's headquarters, The Red Box. Response to the pop-up thrift stores have been favourable, with about 300 people per event.
"I think the eco-conscious movement is so important because Singapore and Yale-NUS are such privileged spaces to be in – we really have to take advantage of that, and of what we have, to push our communities to be and do better, especially since the problem is so urgent," Tammy said.
During WasteLess Week, I'dECO partnered the Centre for International and Professional Experience (CIPE) to organise a Corporate Social Responsibility panel. Professionals from sustainable finance and sourcing, corporate communications, and inclusive recruitment provided insights on leading systemic .
"It is important that students can be exposed to, ask questions and learn more about how individuals in private and public corporations strive for environmentally conscious processes. Allowing students to understand the thought processes and perspectives of these individuals is crucial when it comes to analysing and reflecting on their current academic pursuits and post-graduation plans, whether in the workforce or elsewhere," said Teo Shien-Min, Programme Manager (Career Services) at CIPE.
Outside of WasteLess Week, I'dECO founded Chili Padi Academy in 2015, an environmental leadership and accelerator programme for high school students in the ASEAN region. They also have an Urban Farming team that has grown and cooked their own vegetables, as well as made their own compost with fruit peels collected on campus.
More recently, it organised a flea market event on 2 May for students moving out of their campus housing to sell pre-loved clothes, books and other items, giving these a new lease of life and allowing others to enjoy them too.
These broad initiatives not only influence, but reflect, changes on the individual level. Alumnus Mr Peter Lewis (Class of 2018) made the switch to veganism during his time at Yale-NUS. Prior to entering the College, Mr Lewis was a self-proclaimed "meat-lover". An assigned reading during his second year highlighted the issue of environmental damage from meat production and fishing. After experimenting with vegetarianism and "flexitarianism", a diet of reduced meat consumption, Mr Lewis decided to become vegan. He documented his reasons for embarking on veganism in an article which was published on national news website TODAY.
"Learning about animal agriculture's environmental impact on all of the major planetary boundaries (greenhouse gas emissions, land use, water use, water pollution, biodiversity loss, deforestation, and nitrogen and phosphorus loading) opened my eyes to the crucial importance of our food system," he said.
Despite having graduated, hearing about the College's growing eco-conscious movement gives Mr Lewis "a lot of hope" in the youths' abilities to "make a meaningful dent" in plastic waste generation and the fast fashion industry.
Watch the video below to find out more about eco-conscious initiatives by faculty, staff, and students at Yale-NUS!