By Daryl Yang | Image provided by Karen Ho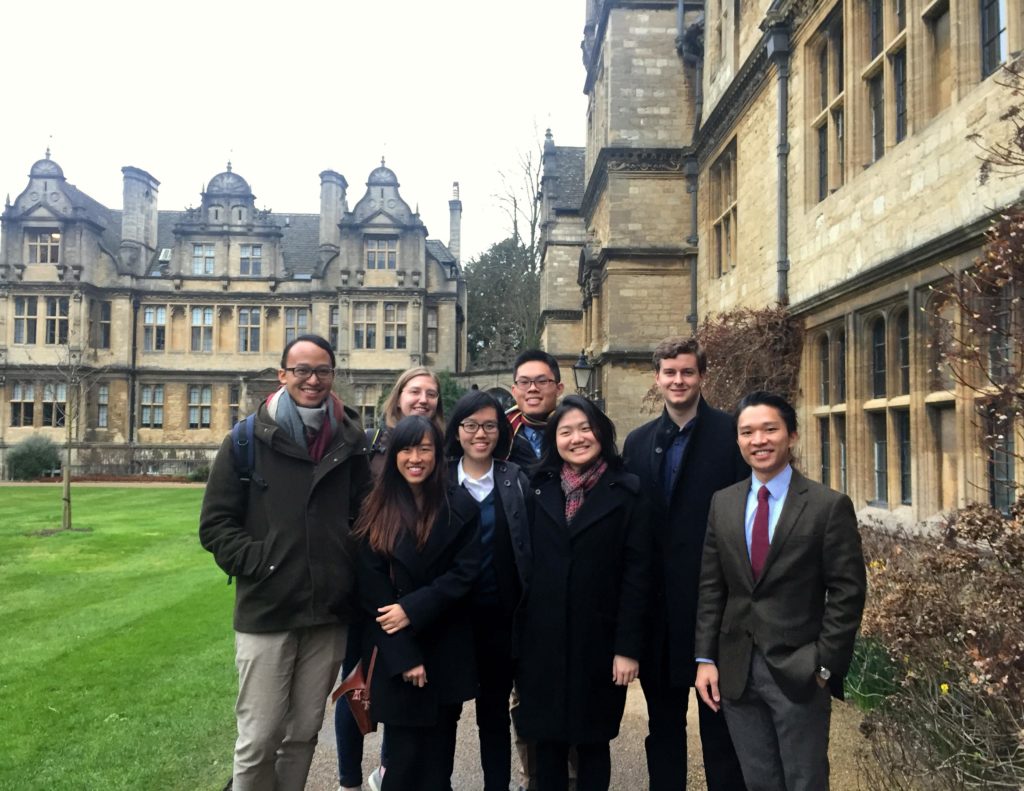 Three Yale-NUS students – Karen Ho (Class of 2017), Min Lim (Class of 2018) and Ng Qi Siang (Class of 2019) – presented their research at a symposium organised by Trinity College at Oxford University. Titled 'Conversations in Singapore History', the one-day symposium aimed to bring together different academic disciplines to present diverse perspectives on the history of the country.
Karen, a history major, presented on her capstone project titled 'Another Singaporean Song: Xinyao and National Identity in Singapore'. Seniors at Yale-NUS College complete a capstone project that span their final year to fulfil their major requirements.
Karen's capstone is focused on Xinyao, a Mandarin youth music movement in 1980s Singapore. "I'm looking at how the movement conversed with the government's attempts to impose a national narrative, and how Xinyao, in response, influenced and articulated the people's conception of national identity," she explained.
Her interest in this topic was sparked after finding out about Xinyao a year before. "I was thrilled to realise that there was once a time in Singapore where the voices of young people stirred the nation. I was really excited to find a ground-up movement – started by students younger than I am now – whose echoes have reverberated through the decades," Karen reflected.
Each senior is attached to a faculty who serves as capstone advisor. For Karen, it was Executive Vice President of Academic Affairs and Professor of History Tan Tai Yong.
"I'm extremely fortunate to have Professor Tan as my advisor. He has provided much insight into the way I approach my topic. He gave me many crucial areas for consideration as I went about my capstone and also linked me up with professors, librarians and others that have played a huge role in shaping my capstone," Karen noted.
For Min, who is also a history major and had previously taken a class on 14th century Temasik, the symposium was "a great way to deepen my understanding on various histories and debates on Singapore". Temasik is an early recorded name of Singapore.
Min's presentation focused on the defensive structures of 14th century Temasik. She explained, "This mainly focuses on the wall and moat – key structures at that time – and is coincidentally quite relevant given recent global issues and discussions: what is the significance of a wall? What purpose can it serve, apart from keeping people out?"
Qi Siang presented on the de-emphasis of colonial violence in Singapore history textbooks, a topic he became interested in during his Modern Social Thought (MST) class, which is part of the Common Curriculum.
"This research was part of some independent research I conducted in December to kill time over the holidays. However, I built very heavily on the work I did in MST to produce this paper. I would also like to acknowledge my MST professor Dr Rochisha Narayan, for getting me interested in post-colonial history, which ultimately inspired me to write this paper," Qi Siang shared.
On what she was most excited about before the symposium, Min shared that she "looked forward to meeting fellow peers who are passionate and involved in research and experience the act of presenting at an academic symposium". For Karen, this opportunity to share her research ideas at such a forum similarly excited her: "I never thought I'd get to present a paper of my own within the Oxford walls!"
Qi Siang shared that he felt nervous and excited about this opportunity to present at a symposium for the first time: "Oxford is an important centre for historical research and to get the opportunity to present there as a sophomore is a great honour."