By Daryl Yang | Image provided by Aleithia Low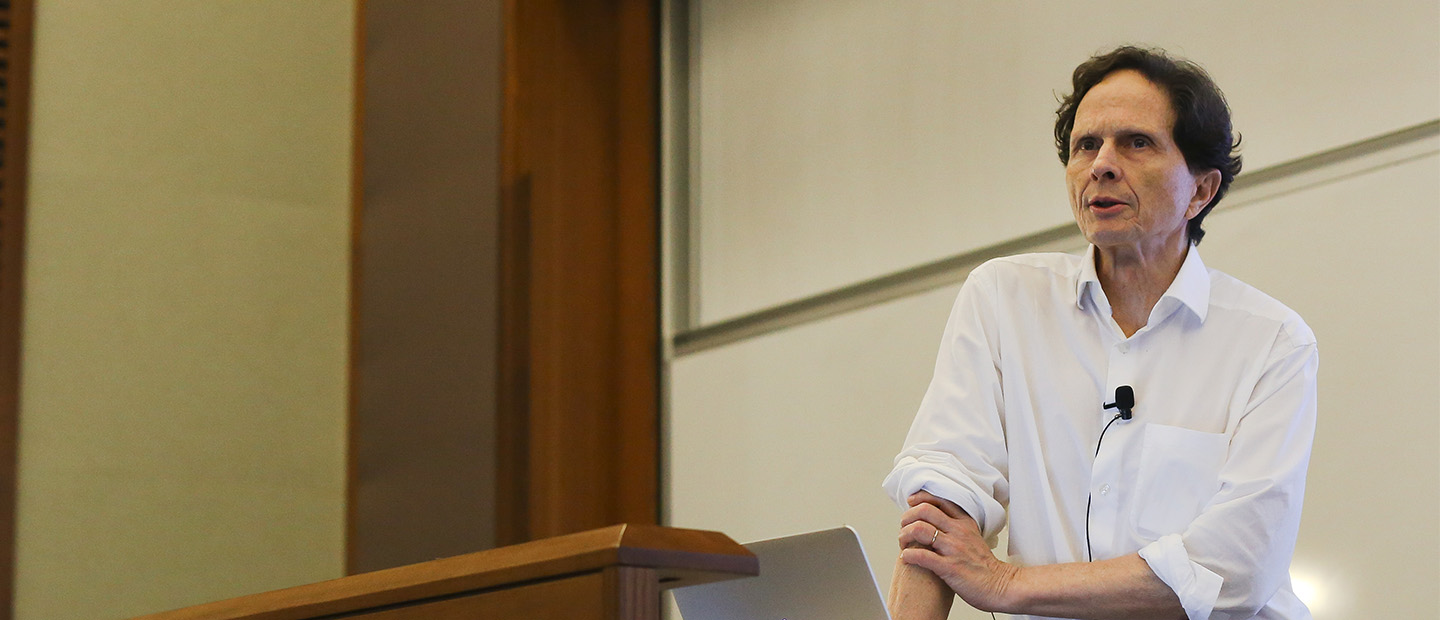 On 16 November 2016, the Yale-NUS Global & Public Health Alliance (YGPA) hosted a public lecture by Professor David L. Heymann, chairman of the World Health Organisation (WHO) Emergency Committee on the Zika virus.
Professor Heymann is a professor of Infectious Disease Epidemiology at the London School of Hygiene and Tropical Medicine. He is also Head of the Centre on Global Health Security at Chatham House, London; and Chairman of Public Health England, UK.
During the lecture, Professor Heymann shared WHO's response to the global Zika outbreak and discussed his experience from a critical public health perspective. He also talked about the local Zika epidemic and the response by the Ministry of Health in Singapore. For instance, he observed that the local strain of Zika in Singapore is  different in its makeup as compared to the strain that was causing microcephaly in infants in countries like Brazil.
One of the students who attended the event was Lim Wen Kin (Class of 2020), who was interested in public health and health emergency management. He found Professor Heymann's discussion on the decision-making process that public health experts go through to be very insightful.
"What I found most interesting from the talk was how officials, doctors and experts make decisions to respond to emergencies like the Zika virus outbreak and how they form an applicable structure and series of steps to follow in order to minimise the impacts and emergencies," he shared.
"This problem solving approach was extremely interesting as it saved many lives and was made under international pressure with very limited resources."
The lecture was organised by YGPA, a new student group set up to build a relevant, supportive and professional network for students to cultivate their interest in the field of public and global health.
According to Lim Chu Hsien (Class of 2018), she and the other co-founders decided to establish the group due to an existing gap in the Yale-NUS community.
"We do not currently have an organisation that serves to educate and discuss issues pertaining to public health. Our group will be the first in Yale-NUS College to provide exposure to the field of public health," she explained.
In addition, she noted that a health-centric perspective has often been overlooked in a myriad of academic fields, such as urban planning, global affairs, natural sciences and environmental studies. The group hopes to rectify this.
"The Yale-NUS curriculum, particularly the Common Curriculum, has trained us to integrate different perspectives from various academic disciplines in understanding a specific issue. Such training has motivated us to seek out more perspectives from other disciplines that were not specifically covered in our curriculum."
"YGPA will serve to build on the liberal arts programme here at Yale-NUS and provide a more holistic educational experience for students," she shared.
The group aims to "put health at the forefront of the Yale-NUS community" and has four different arms: health promotion; advocacy and policy; education and research; and community service.
The lecture by Professor Heymann is part of the education and research arm, which also aims to organise future programmes relating to public/global health and epidemiological issues by inviting relevant experts from academia, governments and the private sector.
With regard to the group's community service programmes, they plan to reach out to health-related humanitarian organisations to engage the larger community. They also want to learn more from experts and volunteers on how to be more involved in this field.
In the long run, Chu Hsien hopes to see YGPA as a home for Yale-NUS students who are interested in pursuing global and public health as a career. Other founding members of YGPA include Matthew Ware, Nyang Bing Lin (both Class of 2018), Sara Rotenberg and Vasudha Kataruka (both Class of 2019).