By Kelly Ng | Images provided by Andrew McGeehan and James Bromley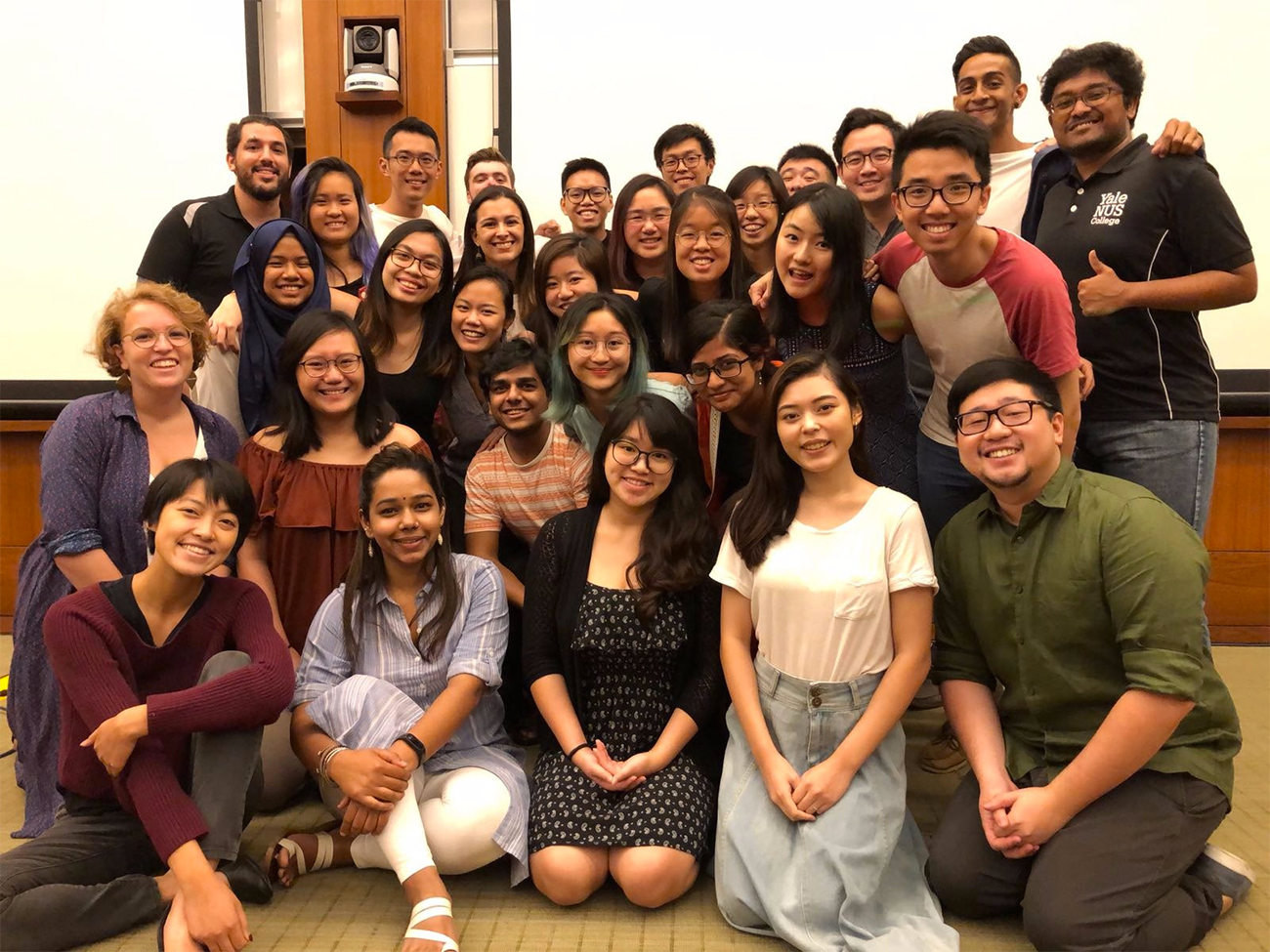 Over the summer break, a new batch of Dean's Fellows (DFs) and Residential College Advisors (RCAs) underwent intensive training to prepare for their roles as mentors and advisors for the Yale-NUS student body.
The DF programme was incepted in Academic Year 2013/2014 to complement the existing residential support for the Yale-NUS student body. DFs serve as role models for students while contributing to the development of the College's programmes and initiatives. In addition, they undertake an associate position tied to one of the various offices in the College.
This academic year, the latest batch of DFs comprises a combination of returning DFs as well as new ones from Singapore and across the globe. Among the new DFs are James Bromley who graduated from NYU Shanghai and Isabella Peralta who graduated from NYU Abu Dhabi.
James shared that it was the many cross-cultural experiences he had experienced during college that inspired him to be a DF. "I want to share these rich experiences with the students at Yale-NUS," he said. James also works with in the Admissions office as an associate and is excited to help in the recruitment of the next batch of Yale-NUS students.
For Isabella, her time as a resident assistant during college and her interest in higher education made her decide to be a DF. "I am a big believer in self-care and I would like to foster a more encouraging and self-loving Yale-NUS community," she added.
Among the returning DFs is Rachel Tan. For Rachel, she had decided to stay on as a Dean's Fellow as the role allows her to develop values and practices of the educator she aspires to be  . She also believes in a "pedagogy that focuses on student-wellness and creating an inclusive, safe and educational environment for them."
Besides serving as a mentor to students, Rachel also holds an associate position with the College's Centre for Teaching & Learning (CTL). "In my associate role, I hope to be able to contribute to the CTL's initiatives on developing context-specific, diversity and inclusivity-informed pedagogy for and with faculty.  I am also looking forward to organising a programme centred on community engagement and social justice issues," she said.
Complementing the role of the DF is a group of students called Residential College Advisors (RCAs) who provide focused support to first-year students. Now in its second year of implementation, the RCA programme will assign an RCA, who is either a junior or senior student, to a group of first-year students for the entire year.
"This year, we have shifted some responsibilities so that RCAs can spend more time focusing on their specific group of first-year students. The RCAs will continue to mentor and support first-year students, facilitate connections between them and upper-class students, and also serve as a first responder for all crisis situations," explained Andrew McGeehan, Acting Associate Director in the Dean of Students Office.
For Vasudha Kataruka (Class of 2019), her own experience as an international student made her understand that transitioning into college can be a challenging period. "Each incoming class adds even more to the existing diversity of nationalities, languages, ethnicities and identities that we have at Yale-NUS. I wanted to be a RCA to help others navigate the first-year experience," shared Vasudha.
Echoing similar thoughts, Melody Tay (Class of 2020) said, "I love welcoming people and watching them grow into their own. I also love the fresh energy and positivity that first-years bring with them," she said.
For Vasudha, mentorship is never an easy job. "The possibility that someone comes to me with a completely different lived experience than anything I have been through is a daunting one. As a senior, I too have to look forward to preparing for life after graduation."
Melody added, "This is a job that involves many interpersonal relationships where I play all kinds of different roles; that is, friend, colleague, advisor and mentor. I will have to learn how to navigate these positions. There's going to be a lot of joy and fulfillment, and possibly, tears too."
Both Melody and Vasudha see their new RCA role as an invaluable opportunity for them to grow individually as a person as they help their fellow schoolmates navigate college life.