By Daryl Yang | Image by Weave for Yale-NUS College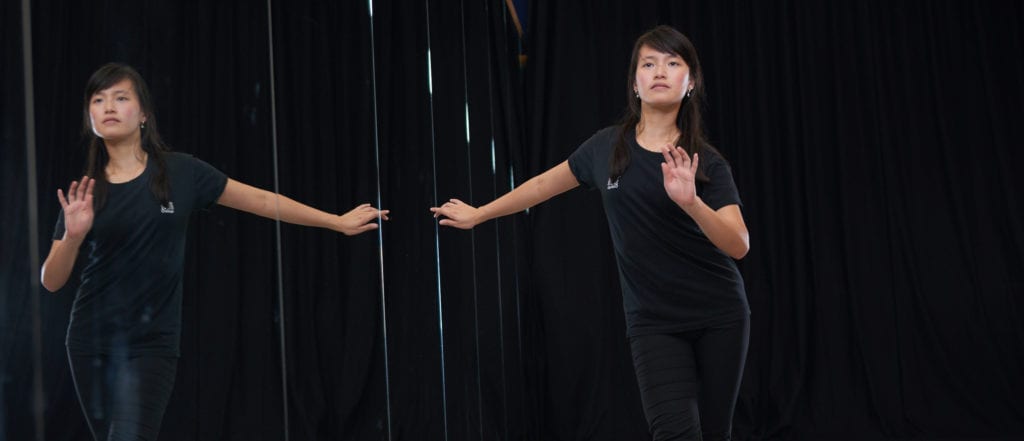 While Joan Danielle Ongchoco (Class of 2017, above) will be graduating from Yale-NUS College later this year with the rest of the inaugural class, her connection with Yale-NUS will continue as she heads to Yale University to pursue a PhD in Cognitive Psychology.
"I was choosing between Yale and two other amazing universities, and it was a really tricky decision. In the end, it was actually a speech delivered by President Lewis during his final town hall that made me so proud to be part of this Yale, NUS and Yale-NUS College community that made me decide to go to Yale. I look forward to being back in New Haven as a proud Yale-NUS College graduate," she shared on her decision to return to one of Yale-NUS College's parent institutions.
Like Joan, many other Yale-NUS seniors have been offered post-graduate studies programmes in top universities across the globe. For instance, Rohan Naidu (Class of 2017) has received offers from Yale University and at least five others, including Caltech, Harvard, Yale, UC Berkeley, UC Santa Cruz, and the University of Arizona to pursue a PhD in Astronomy or Astrophysics.
"All these universities have produced leaders in the field, and boast some of the best facilities to study astronomy on the planet," he shared.
"I visited some schools over spring break to figure out where I fit best, but returned even more confused and wanting to enrol at all of them, " Rohan remarked. He eventually made the decision to enrol at Harvard.
Similarly, Clarissa Leong (Class of 2017) has received offers to pursue a Masters in Public Policy (MPP) from several universities but has yet to make a decision. A recipient of the Singapore Government Scholarship (Open) from the Public Service Commission, Clarissa will return to serve in the Singapore Civil Service after she completes her Masters programme.
"My decision to pursue an MPP cannot be separated from my interest in policy making in Singapore as one way to make positive change in the country. This interest was reaffirmed through a class I took in Yale-NUS called 'Key Debates in Urban Planning and Policy'. I really enjoyed the process of identifying the root of the issues, understanding the values underlying each solution and implications of different policy approaches," she reflected.
"Yale-NUS has trained me to conduct research, synthesise evidence and construct arguments. I hope to develop a more specialised set of skills through an MPP that includes quantitative policy analysis, impact assessment and writing policy memos to be better equipped to enter the civil service of Singapore."
For Rohan, his decision to pursue a PhD in the field of Astronomy can also be traced to a class he had taken at Yale-NUS College.
"I am certain I would have ended up a Literature major if not for Professor Charles Bailyn," he reflected. Professor Bailyn was the inaugural Dean of Faculty at Yale-NUS College and served as a Professor of Science (Astronomy and Physics) during his term with the College. He is also the A. Bartlett Giamatti Professor of Astronomy and Physics at Yale University.
"I took a seminar on black holes in my second semester with Professor Bailyn, and that was my first real introduction to astronomy. The following summer, I accompanied him to an observatory up in the Chilean mountains, an experience which was very formative."
Joan noted that the education she received at Yale-NUS College has prepared her well in pursuing her PhD. "My four years at Yale-NUS College have been building towards this decision. I had the opportunity to start conducting research as early as my first year. Here, I also realised just how much I love teaching — it is at Yale-NUS and teaching dance to my classmates that I found this passion," she shared.
When asked what advice she would give to other Yale-NUS students, Joan shared a quote that has guided her through high school: "Snowmen fall from heaven unassembled".
"On one hand, things fall into their proper place in due time. We can only ever do what we can with what we have and what we've been given. On the other hand, it it's really up to us to put the snowmen all together. And this making of snowmen from snow—this is the best part."
For Rohan, pursuing a PhD was also related to being immersed in an engaging community of learning. "I think wanting to go to graduate school comes naturally from being surrounded by such passionate faculty, who are daily reminders of how satisfying a life dedicated to creating new knowledge might be," he said.
Clarissa shared that of her undergraduate experience at Yale-NUS College, the opportunity to live and grow with an engaging and driven community is what she will miss most.
"I will really miss the people I've grown and learnt with through these four years. It's been such a special opportunity to live and grow with a talented, inspirational bunch of people who are always game to talk about anything and everything at any time of the day," she shared. "I will definitely cherish the friends and memories made here for a long, long time."