Written by Kelly Tan | Image by Samuel He for Yale-NUS College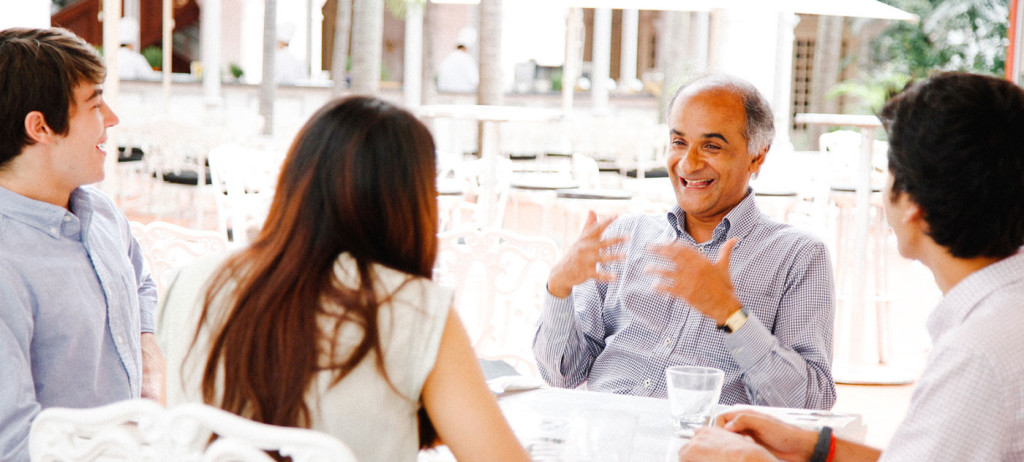 "Home is in the heart," said writer Mr Pico Iyer to a packed audience of Yale-NUS students, faculty, and guests on 14 November 2013. A guest of the President's Speaker Series, Mr Iyer is an acclaimed travel writer whose essays, reviews, and other writings have appeared in Time magazine, the Financial Times, the New York Times, amongst many others. His books include Video Night in Kathmandu, The Lady and the Monk, Cuba and the Night, Falling off the Map, and The Global Soul. Before joining Time magazine in 1982 as a writer on world affairs, he taught writing and literature at Harvard University. Currently based in Japan, Mr Iyer's writings range from the surreal disconnect between local tradition and imported global pop culture to how travel can help us regain our sense of stillness and focus in a world where our devices and digital networks increasingly distract us.
At the public lecture and reading, Mr Iyer read passages of his poetic prose which were connected by a common theme of how home has "grown invisible, portable and mobile", in an increasingly globalised world. Demonstrating wit and insight, Mr Iyer guided the audience along his own personal journey to finding home, offering his fascinating perspectives on writing, traveling, and creativity along the way.
The world, Mr Iyer noted, is changing, and few people have as much personal experience with that change as he does. Hailing from India, he grew up in the United Kingdom where he was educated at Oxford and Harvard. Now, he chooses to spend his life shuttling between stimulating California and the quiet of rural Japan. His professional and personal interests also propelled him to travel to scores of countries over decades, giving him a vivid awareness of how globalisation was shaping the identity of individuals and states. Noting that Singapore's cultural explosion in recent years mirrored his own personal growth, Mr Iyer said, "I feel as though we've grown up together." He applauded Yale-NUS College as a symbol of the convergence of East and West, part of the rethinking of Western institutions by Asia.
Globalisation, Mr Iyer said, has resulted in more and more people living between cultures and attempting to construct an identity out of the various pieces of different places. In his first reading, an aching account of his home in California being burned down in a wildfire, Mr Iyer described how he constructed for himself, a new sense of home without a house. Having lost a lifetime's possessions in the blaze, Mr Iyer determined that "home is a place in the soul, rather than a place in the soil". While you may never be "fully at home anywhere, you are never fully a stranger anywhere".
To Mr Iyer, writing is his way of trying to interpret the world's complexities. Hence, he writes about different subjects to make his books as different as possible. Remarking that Yale-NUS boasts some very talented writers, Mr Iyer encouraged students to write if they have any interest in doing so. During this visit to Yale-NUS College, Mr Iyer conducted a craft talk for budding writers and the three winners from a recent student essay competition spent an afternoon chatting with the renowned writer at their favourite cafe. Read more about their experiences at http://mmoorejones.com/2013/11/17/a-lunch-with-pico-iyer/.
—
Pico Iyer's public lecture was held as part of the Yale-NUS President's Speaker Series, aimed at showcasing accomplished and talented luminaries from around the world. The public lectures are designed for a broad audience, enabling the community to learn from and engage with some of the brightest academics and practitioners in a diverse range of disciplines on contemporary issues in our world today.