By Daryl Yang | Image by Aleithia Low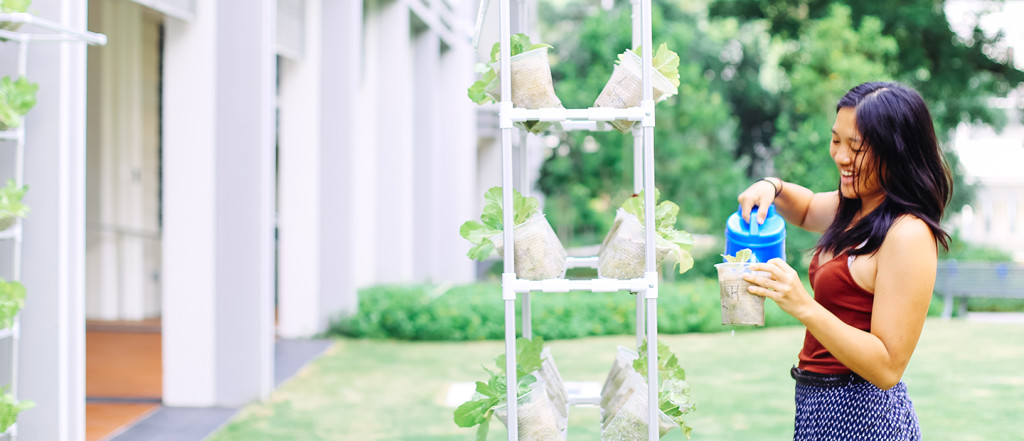 As their classmates spend time in the classroom for lessons, three Yale-NUS students have been out in the sun this past semester tending to lettuce and other vegetables in various vertical gardens around campus. Elizabeth Heng (Class of 2018), Tan Mei-Mei (Class of 2018) and Toh Hui Ran (Class of 2017) were doing this as part of the "Food Ecology and Evolution" course facilitated by Dr Jennifer Sheridan and Dr Michiel van Breugel, both assistant professors of Environment Studies at Yale-NUS College.
According to Dr Sheridan, who specialises in conservation biology, the course was a collaborative effort with Dr van Breugel, whose research focuses on forest ecology. The two had conceptualised the syllabus together, combining their respective expertise to offer an interdisciplinary pedagogical experience.
Dr van Breugel added that they had wanted "to combine our similar backgrounds to create something which is more than the sum of the parts". For instance, Dr Sheridan focused primarily on food sustainability while Dr van Breugel focused on agroforestry and ecology.
"The course sought to introduce students to the connections between agroecology and sustainability and we wanted to emphasise the need to focus on ecology when studying sustainability," shared Dr Sheridan.
As part of the class, students were required to draft a proposal to the college administration to improve food sustainability on campus. Part of the research involved studying the impact and implications of growing food on campus. The three students set up a series of vertical gardens around the college to examine the effectiveness of such an initiative. The results from their experiment were then used as pilot data in their proposal, highlighting the projected amount of resources and output required to increase food supply from on-campus sources.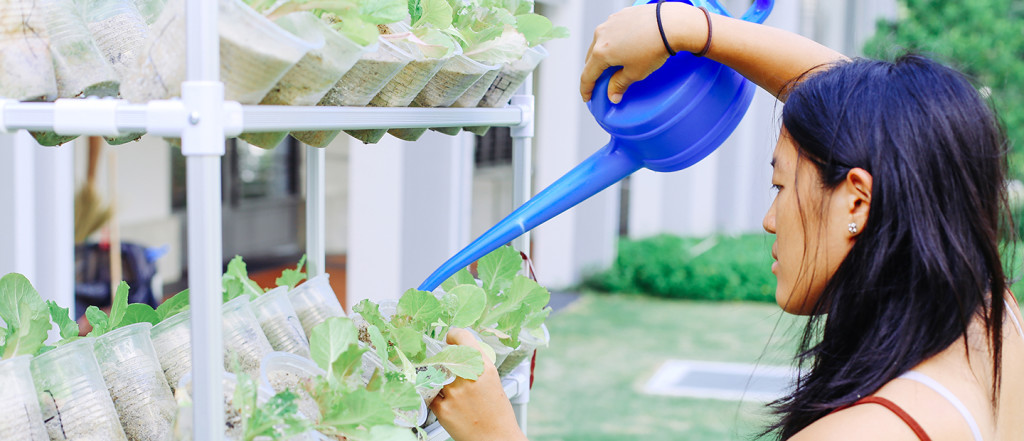 Elizabeth felt that the course taught her how to view farming and food systems from a much broader perspective than she did previously, and helped her understand how to construct a food system that is environmentally, socially and economically sustainable. Some classes were also held outside the campus, at local farms where students were able to observe how farmers organise and run their businesses, and understand the challenges they face as farmers in land-scarce Singapore.
However, knowledge was not the only fruit that she had harvested from the class as Elizabeth also successfully harvested vegetables that she and her classmates had grown from scratch. "Tending to the plants has been a lot of work, but it was also been very rewarding. There's something about seeing the lettuce and cabbage grow from seedlings to full-sized plants that's fulfilling — it shows that our nurturing has paid off!" she shared.
Dr van Breugel noted that this course was one of the first interdisciplinary initiatives outside of the Common Curriculum, a set of interconnected courses taken by all Yale-NUS students, and hopes that it will encourage more such course offerings in line with Yale-NUS' broader cross-disciplinary pedagogy.