By Daryl Yang | Image by Aleithia Low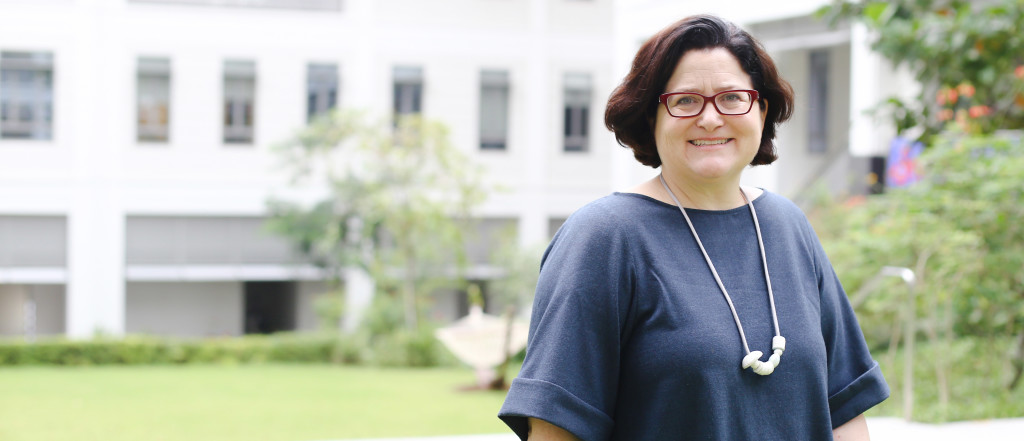 As Yale-NUS College enters its fifth year, it is not only the pioneer class that will leave the college grounds. Some pioneering leaders of the College, including Founding President Pericles Lewis, have similarly passed the torch and left the College in the good hands of a new wave of leaders.
One such leader is Dean of Faculty and Professor of Social Sciences, Joanne Roberts. Professor Roberts took over on 1 June 2017 from renowned chemist and Professor of Science, Steven Bernasek, who has been appointed Executive Vice President (Academic Affairs) at the College. Since joining Yale-NUS College in July 2015 as Divisional Director of Science, Professor Bernasek has been involved in the planning for and annual review of the Science division and the review of the Common Curriculum. He succeeds Professor of Humanities Tan Tai Yong, who will be appointed the next President of the College on 1 July 2017.
An esteemed public economist, Dean Joanne Roberts did her undergraduate training at the University of Waterloo and her graduate work at Queen's University in Canada. Prior to joining Yale-NUS as Associate Dean of Faculty (Faculty Development), she taught at the University of Toronto, and the University of Calgary. No stranger to Singapore, she previously spent two sabbaticals at the National University of Singapore as a Senior Visiting Fellow –in 2011 and again in 2015.
On taking up the appointment as Dean of Faculty, Dean Roberts notes that she has big shoes to fill in succeeding the sterling work of both Professor Bernasek and inaugural Dean of Faculty Charles Bailyn.
"I am following in the footsteps of some very strong Deans of Faculty. So, I expect that in a lot of ways, I will continue their legacy – I hope to be very accessible, approachable, and deeply engaged with students and faculty," she shared.
A public economist by training, Dean Roberts has previously conducted research on higher education, which was published in the Review of Economics and Statistics. "I looked at how financial incentives provided by State governments to upper administrative levels at universities were unintentionally transmitted to researchers and actually affected the nature and quantity of their research outputs," she explained.
With her research interests focused on questions of how incentives affect behaviour, Dean Roberts's expertise in this field will also influence her leadership style as Dean of Faculty.
"I think my training as an economist does affect me.  I do believe that we create institutions that ultimately give rise to important incentives for our community.  It is therefore extremely important for senior administrators to recognise this and try to cultivate and support those activities that we value the most – excellence in teaching, and research, and a deep intellectual engagement to bring these two things together meaningfully," she reflected.
Dean Roberts has observed that there is no "ideal" Yale-NUS faculty because each individual contributes in unique and different ways to the institution. "As with our students, what makes our faculty so dynamic and exciting is the diversity we have here.  Everyone who joins us has a different background, experience and area of expertise," she shared.
Nevertheless, she notes some common features amongst Yale-NUS faculty members, "I do think there are characteristics that they all share in common – that openness to new people and experiences, the shared values of acceptance and tolerance, and of course a deep curiosity about society and the world."
Having recently completed a significant recruitment of new faculty members, Dean Roberts notes that the College "will continue looking out for opportunities to hire a few more faculty members."
"We will also continue try to have a dynamic and interesting set of visitors from Yale and elsewhere every year," she shared.
Dean Roberts has taught several economics classes thus far, namely Game Theory, Intermediate Microeconomics, and Law and Economics, but will not be taking on teaching duties in the near future. "I will not be teaching in the next year as I adjust to my new responsibilities, but I do love to teach and would really like to get the chance to teach Comparative Social Institutions sometime soon," she remarked.
On some of her memorable moments at Yale-NUS thus far, Dean Roberts excitedly lists out a wide array of experiences, "I was blown away by the sYNCD dance showcase, have loved playing lunch tag with students, and had so many spontaneous run-ins with faculty – my favourite late night spot is on the Kent Vale rooftop."
As the new academic year arrives, Dean Roberts looks forward to her new appointment and working closely with both faculty and students, "I am looking forward to getting know more people on campus, their interests and the things that excite them."