By Wen Kin Lim | Image provided by Swarthmore College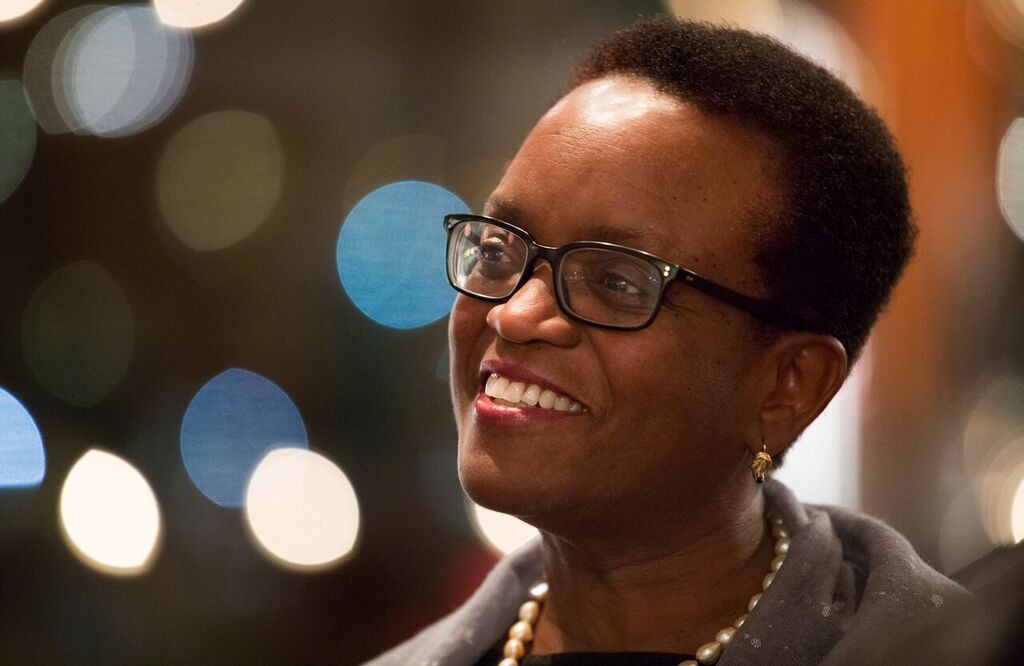 On 9 January 2017, Valerie Smith, President of Swarthmore College – one of the top liberal arts colleges in the United States – was at Yale-NUS College to give a talk to students on the relevance of a liberal arts education.
President Valerie Smith is a distinguished scholar of African American literature and culture. Before taking on her role at Swarthmore, she was the Dean of the College at Princeton University and was the founding director of African American studies centre at Princeton.
The talk was held at the Student Commons at Elm Residential College, and the venue provided an informal and relaxed setting for students to engage the speaker and ask questions.
President Smith spoke about the value of a liberal arts education, drawing on her own experience studying liberal arts at Bates College, and the place of social justice within higher education. She also highlighted three key ways that a residential liberal arts college prepares students for the future.
Firstly, she said a liberal arts education teaches students "to think critically, to sort out fact from fiction and truth from facetious claims", an increasingly important skill given the rise of deceitful news in social media.
Dean's Fellow Salman Safir is a recent graduate from Swarthmore College, and studied there under President Smith's leadership. He said: "The liberal arts prepares and expects you to innovate. By providing you a broad based curriculum, you are exposed to a wide variety of cross connections that help you see individual issues in different perspectives. You are exposed to truths made visible only through the interconnected view of the world; and therefore, the solutions that you create are by necessity, innovative."
The second way the liberal arts can benefit students is that it can "prepare students for the unexpected in contrast to a more vocational or technical education", according to President Smith. She added that it also offers students a less targeted and more expansive preparation that expands their  intellectual horizons.
To put this pedagogy into practice, Swarthmore College initiated the President's Environmental Sustainability Fellow programme which allows students to conduct research in a range of fields to improve the Swarthmore campus. As part of the programme, students utilise their learning in multiple fields such as behavioural economics and environmental studies in waste assessment.
"By forging interdisciplinary collaboration and independent research, these students are exposed to the breadth of skills needed to advance sustainability," said President Smith.
As world issues become increasingly complex, President Smith argued that a liberal arts model is a powerful way to educate young people because many of the solutions needed in these areas can only be found in bringing together divergent disciplines.
Safir concurred, and added: "The innovation that liberal arts creates is essential to many, if not all social problems we are facing and will continue to face, so we need leaders of President Smith's nature to continue to emphasise their value."
On the third benefit of liberal arts, President Smith said that "a liberal arts education develops productive and responsible citizens through providing opportunities for personal, professional and intellectual growth".
Through living on campus, being involved in extracurricular opportunities and experiencing the wide diversity of nationalities and cultures, residential liberal arts colleges like Swarthmore and Yale-NUS provide rare opportunities to work, play and live with people different from oneself, she said.
On the unique position of Yale-NUS College as the first fully residential, liberal arts college in Singapore, President Smith said students and faculty at Yale-NUS have an extraordinary opportunity to invent traditions and build an institution from the ground up.
President Smith said: "You are writing your history in a moment… Both locally and globally, the eyes of the world will be on what you are doing so I hope you are able to embrace the excitement of the project you are doing."