Written by Melissa Wang | Image by Melissa Wang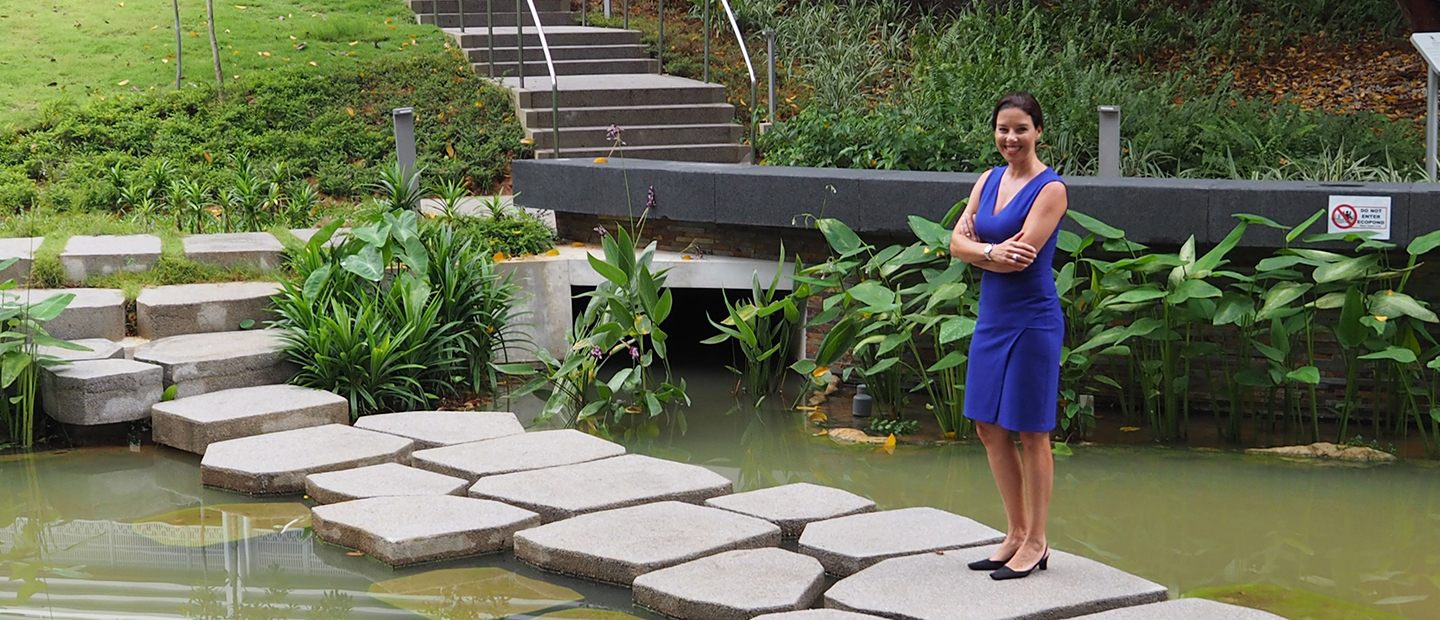 On 31 August 2015, Yale-NUS College further strengthened its leadership team with the appointment of Ms Kristen Lynas as its Executive Vice President (Administration). Ms Lynas will be managing Finance, Human Resources and Admissions for Yale-NUS, succeeding existing EVP of Administration Mrs Doris Sohmen-Pao who will be moving on her new role as Executive Vice President (Institutional Affairs) where she will focus more on external relations for the College. 
Formerly the Director of Executive Programmes at INSEAD, Ms Lynas brings with her more than 14 years of experience within the higher education industry. She has assumed a variety of diverse roles in higher education, having lectured on finance at INSEAD and at the Institut d'Études Politiques de Paris as well as taking on senior leadership responsibilities at INSEAD since 2009. During her time at INSEAD, Ms Lynas was responsible for the executive degree programmes in France, Singapore, and Abu Dhabi, as well as a partnership in Tsinghua University.
"I have been captivated by this historic partnership between Yale University and the National University of Singapore since it was first announced just over four years ago," Ms Lynas shared. "I am thrilled to now play a part in bringing its innovative liberal arts and science curriculum to Asia and abroad."
A liberal arts graduate herself, Ms Lynas speaks of the exposure and diversity that a liberal arts education affords. Having had a hand in marketing, admissions, career management and human resources, Ms Lynas is a true testament to the myriad of job opportunities that are available to liberal arts graduates. She notes that her career transitions were made possible because of key skills such as critical thinking and reasoning, built through her education. This has stood her in good stead in the course of her career and afforded her the professional flexibility she enjoys.
"I look forward to sharing the best practices I have developed over years of working in finance, human resources and academic administration with the school and I hope to contribute significantly to the growth and development of the college," she added.
With her BA in Philosophy from the University of Michigan and her MBA from the University of Chicago, Ms Lynas has a strong commitment to and understanding of the liberal arts, which will help her in fulfilling the "social engineer" role she foresees herself playing in the College.
"As the EVP of Administration, my main objective is to facilitate the learning and research goals of the Yale-NUS community while also ensuring that Yale-NUS College is a great place to work," Ms Lynas noted.
"I'll be working to build a culture amongst our faculty and staff, where we collectively strive towards a common vision, mission and objective," she added.
On what excites her about the College, Ms Lynas highlighted several points, including the opportunities that Yale-NUS students are presented with, particularly with the support of the Centre for International and Professional Experience (CIPE), as well as the residential living experience. Ms Lynas believes that these will cultivate a rich exchange of ideas, as well as a deeper and wider exploration of subjects that extend beyond the classroom. These extra-curricular aspects of the college life will help to complement classroom learning for students, breaking down the walls between the two to help build broader perspectives.
But the biggest draw for Ms Lynas is the prospect of a young college like Yale-NUS.
"I'm excited to be joining the College, particularly because of the pioneering spirit," she highlighted.
A big fan of nature and the great outdoors, you will often find Ms Lynas and her family engaged in activities that get them on their feet and getting active. So don't be too surprised if you catch her cycling or rollerblading to campus!