Text and images by Kevin Low
Upon graduation, Yale-NUS alumni are required to move out of their residential colleges. International students tend to return to their home country, while many Singaporeans go back to living with their families: a common practice in land-scarce Singapore.
Some Class of 2017 graduates, however, opted to keep the spirit of residential living alive and moved into shared apartments together. While many of them are a diverse range of international students who are working in local companies, several are Singaporeans who have chosen to strike out on their own.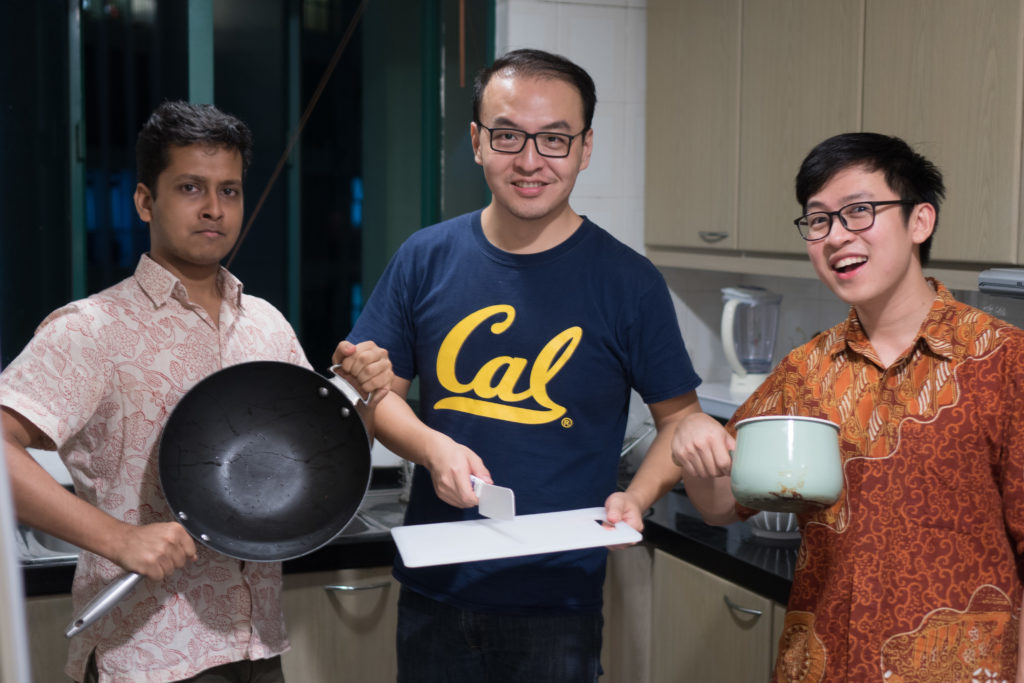 (From left) Anshuman Mohan, Xie Yihao and Joshua Wong enjoy cooking in their new apartment.
Many alumni liked the fact that Yale-NUS College's residential experience had given them a preview of what sharing an apartment would be like. "We already know what it's like to share a living space with other people, so we already know how to navigate that balance between the personal and the social spaces," said Xie Yihao.
Jolanda Nava enjoys the warmth of a community that she can come home to. "It's nice to come back and have people around you. You don't even have to be talking to them; they can be doing their own things, but it's nice to not come home to an empty house."
Others were also happy with the access to additional amenities that were not available on campus. "We like to cook, and it's definitely great that we can have our own kitchen," said Anshuman Mohan. "One of my favourite things about sharing a place is that I can enjoy Yihao's cooking."
Kei Franklin, who previously went to school in Swaziland, enjoyed the fact that living together allowed her and her housemates to share one another's cultural backgrounds much more intimately than they could while living on campus. "We learn a little bit more about each other through the home-cooked food that we make for communal meals, or when our families come to visit," she said of her housemates Annette Wu and Hoa Nguyen. "It was a very rewarding process for me to find that middle ground between our identities growing up, our Yale-NUS identities, and then this shared identity of us living together."
For Singaporean Hamid Roslan, living away from his family allowed him to maintain the independence that he enjoyed while living in college. "The decision to move out was important in establishing a distance between myself and what I was comfortable with, in order to figure out what I wanted for myself and to take ownership of my own life," he shared.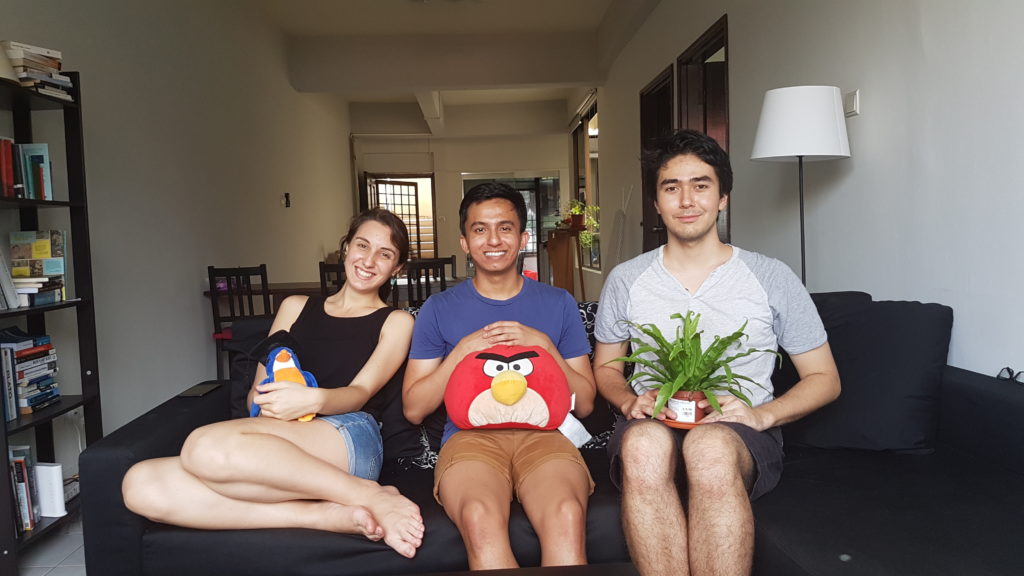 (From left) Jolanda Nava, Hamid Roslan and Matthew Bolden relax in their new home.
While moving into a rented apartment might have some similarities with suite living on the College's campus, there were some differences as well, and many alumni said they had to face a few challenges along the way.
Many of the new graduates had to overcome practical difficulties and deal with multiple simultaneous sources of stress. Yihao said, "We had to juggle furnishing the house and setting up the Wi-Fi network, and at the same time I had run into some trouble with my employment pass application which I had to settle. It got pretty overwhelming sometimes."
Others faced more inter-personal issues that may not have cropped up during college residential life. "I grew up in a household where the women were very particular about doing domestic tasks a certain way," said Hoa. "After moving here, I had to learn that it was okay for my housemates to do things differently from the habits I grew up with and had been ingrained in me."
Joshua Wong had to confront similar issues of identity. "I like my personal space, but my flatmates like having guests over, so I had to learn how to accommodate other people's preferences."
"At the same time, we grew to understand that Josh needs some alone time," shared Anshuman, "and that we shouldn't keep trying to get him to join activities that we enjoy, but that he might not enjoy so much."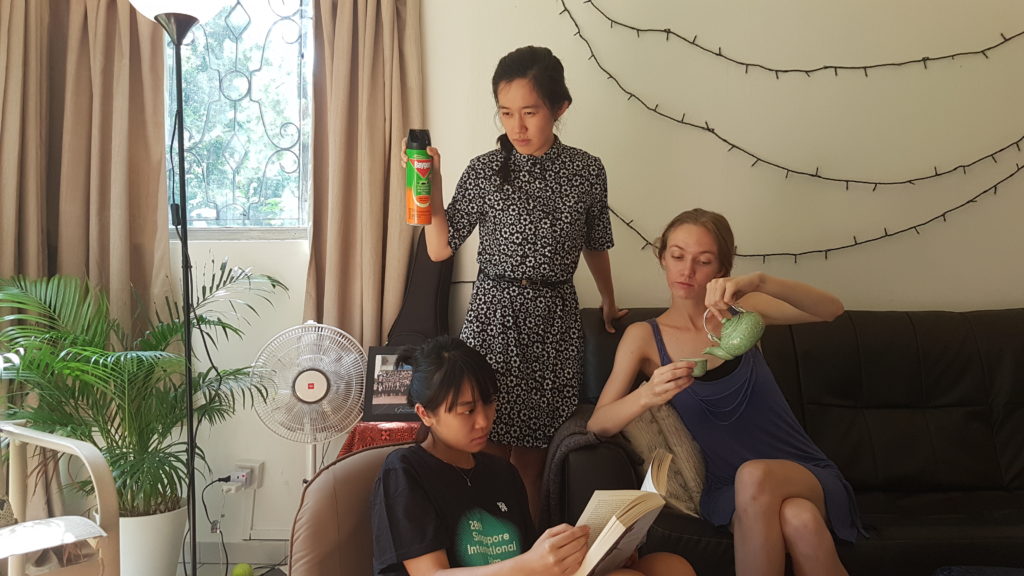 (Clockwise from top) Hoa Nguyen, Kei Franklin and Annette Wu share one another's cultural backgrounds.
When asked if they had any advice they could offer to members of the next graduating class who might be looking to rent apartments soon, the alumni had many helpful words for the Class of 2018.
Anshuman recommended planning early. "This is a bit more than just moving into a new room every semester. It's a pretty big life decision, and you shouldn't leave it till the last minute." Kei echoed a similar sentiment. "It's good to start thinking about what you want your life to look like in the years after graduation, because that might affect the people you choose to live with and the places you want to live in," she said.
Proper communication was another common suggestion. "Be awkward early," Annette suggested. "Have those difficult conversations with your housemates before you even move in, so you can focus on the more enjoyable aspects of living together." Matthew Bolden agreed. "Set the ground rules and expectations for how you want to live with each other," he said. "Getting that out of the way helps you deal with the day-to-day stuff."
"Excel spreadsheets will be your best friend!" he quipped.