By Daryl Yang | Image provided by Japanese Speech Contest 2016 at The Japanese Association, Singapore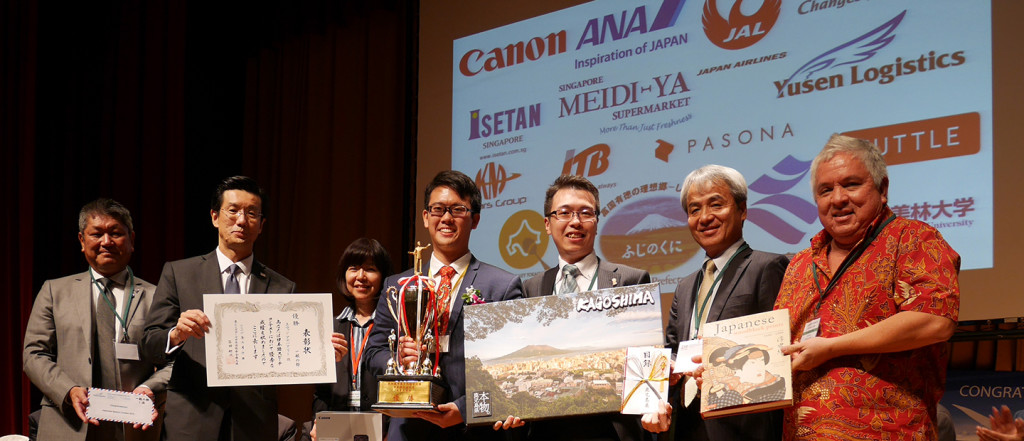 Evan (centre) received the top prize at the 2016 Japanese Speech Contest 
"Instead of asking people, 'where do you come from?', ask 'where is your home?'" Evan Asava Aree (Class of 2017) suggested at the end of his speech at the 2016 Japanese Speech Contest organised by the Japanese Association of Singapore.
His speech, on how his concept of home has changed over the years, led Evan to clinch the Japanese Ambassador's cup for winning the first prize in the Open category.
In the preliminary round, participants were required to submit an original manuscript. Contest judges then selected 20 semi-finalists, who were required to submit a recorded speech. After making it through both the preliminary and semi-final rounds, Evan was selected to speak at the finals held at the Japanese Association.
Evan decided to write about the concept of home after he tried writing an introduction about how he was assumed to be Singaporean despite being a Canadian, because he sounds and looks like a Singaporean.
"I was reminded that identity, to me, is a matter of the heart, and the definition of home cannot just be about looks, or where you were born," he explained. "Instead, it has to be expanded to encapsulate your experiences, your feelings, and that's what I tried to get across in my speech."
Having studied the language for the past three years, Evan's interest in Japanese was first piqued when his mother showed him an NHK documentary called The Professionals about the spirit of Japanese professionals.
"I developed a deep respect for the Japanese and wanted to learn Japanese so that I could one day talk to them in person," he shared.
Since then, Evan has been learning Japanese at the Centre of Language Studies (CLS) at the National University of Singapore (NUS) and Nanzan University in Japan. "My 2 years of study at CLS and Nanzan University gave me a good foundation to build upon as I prepared for the finals of the speech competition."
One of the reasons Evan chose to participate in the contest was the opportunity to maintain his Japanese even after coming back to Singapore because finalists were provided with a mentor with whom they would work with on the speech.
"I met my mentor for the first time 10 days before the finals and we proceeded to practice every single day," he said. "She cleared out her schedule so we could work on my pronunciation, getting my message clear and correcting my pacing. I also received advice from friends she invited to practice sessions just to listen to me."
Some of the most memorable experiences he had from this experience were between breaks during practice sessions with his mentor.
"We talked about anything and everything, from her family, to my family, life in Japan and Singapore and what I want to be in the future," he shared. "Being able to express all that in Japanese, without reservations, was quite a refreshing experience."
Through this experience, Evan also realized that clarity is crucial to communication. "To be clear of what you're saying, you have to know and engage with your own story. Most people are overcome by nervousness, but for me that went away the moment I knew I had my story down."
The attractive prizes Evan won includes a homestay in Kagoshima, Japan, which he plans to embark on over the upcoming recess week break in September.
"I am really excited to see how the locals live," he said. "I want to know their traditions, the food they make (because I love to cook too), the way they talk to each other, and of course explore the beautiful scenery in Kagoshima."
Watch Evan's winning speech:
[jwplayer mediaid="6687″]