Written by Clare Isabel Ee | Image by Alyson Rozells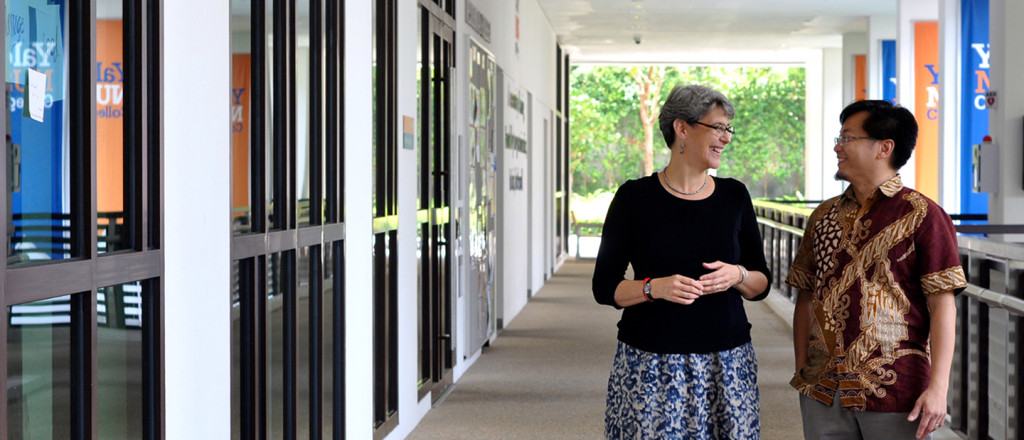 On 2 April 2014, President Pericles Lewis gathered the entire Yale-NUS College community of students, faculty and staff to make an announcement on the Residential Colleges.
"I am very happy to announce that the College has just appointed two new Rectors," President Lewis said with a smile. "Professors Sarah Weiss and Derek Heng will be joining our inaugural Rector, Professor Brian McAdoo, in shaping the community at Yale-NUS College!"
Applause and cheers from the excited community filled the Dining Hall as President Lewis elaborated. Associate Professor Sarah Weiss will take office on 1 January 2015, while Associate Professor Derek Heng's appointment will begin on 1 July 2015. Both will serve as Senior Fellows of their residential colleges until they move in as Rectors. Each of the three Rectors will live with their families in one of the three residential colleges in the new campus when it is completed in 2015.
Rector McAdoo welcomed his fellow Rectors in a short speech, and expressed his happiness at working together officially with the two new Rectors very soon.
"The beauty of what we have right now is that we have a fantastic team. This is my dream team to have – we've got an artist, a social scientist and a natural scientist. We've got diversity in gender and nationality," he said. "I hope this will continue to be reflected in the College, lots of diversity and lots of equality!"
Associate Professor of Humanities Derek Heng is a History professor born and raised in Singapore. He has a keen personal and academic interest in the historiography of Singapore's past and the internationalisation of Singapore's history. Professor Heng also sits on the National Heritage Board and authored the book Sino-Malay Trade and Diplomacy from the Tenth through the Fourteenth Century (Ohio University Press) in 2009. This will be the first time he is serving as Rector and he is looking forward to engaging with students to create a culture that is unique to Yale-NUS.
He will be taking up residence in the new Residential College 3 with his wife, Wendy, three daughters, Bethan, Lauren and Megan, and son, Keane. Professor Heng is very excited to contribute to the College as Rector, and already has plans to implement small-scale organic gardening in future.
"I would like to see us begin to produce some of the food we consume, through the installation of sky gardens that are sustainable," he said, when asked on his plans. "It is not so much for self-sufficiency, which we will clearly never be able to achieve at such a small scale, but rather an appreciation of the efforts required in the production of food, and also an appreciation of the different tastes and culinary experiences that can come from knowing where your food comes from. Organic small scale gardening would hopefully be something that will mark the Residential College as unique."
Associate Professor of Humanities Sarah Weiss, an American, was a former residential fellow for Calhoun College at Yale University from 2010 – 2013, and has much experience to share with the students both in and out of the classroom. Her first book titled Listening to an Earlier Java, published in 2007, examined an old, almost vestigial performance style used as part of the accompaniment in old-style wayang or shadow puppet performance in Java. Since arriving at Yale-NUS, Professor Weiss has made her indelible mark on residential life by organising music events open to the College community and the public, such as a workshop conducted by a visiting Hindustani musician, and by starting an after-hours a cappella group, The Lecture Notes, comprising Yale-NUS faculty and staff.
As Rector of the future Residential College 1, Professor Weiss wishes to continue her musical endeavours, and she will be living with her husband, Tony, son, 15-year-old Sam, and their dog, Milo.
"Cooking and eating together are excellent ways to build communities," she shared, on activities she might implement in future. "I'm thinking of organising 'get to know you' lunches for first-year students; cooking together in the Rector's apartment with second-year students; third-year dinners with faculty and community members who are fellows in the college and who may become contacts for graduating students; and presentation opportunities for students working on capstone projects for fourth-year students."
She added: "Outreach from the college to the community will be an important project that should be jointly coordinated between the college admin and students in the college. We can do a lot of good in our community and the region."
Yale-NUS students all cheered for the three Rectors and were excited to see these latest developments for the College.
Student Nur Qistina is looking forward to learning from and interacting more closely with the two new Rectors. "I've been on a Week 7 study trip with Professor Weiss and she's awesome. She's very interesting to learn from, and I'm excited to be able to live in the same building as her!" Qistina said. "Professor Heng is really knowledgeable about history – when you speak to him, everything just pieces together. For me, someone who had not studied history before, that was an amazing learning experience."
Reuben Su, a fellow student, was also very happy at the announcement, and is excited that the community is growing so quickly.
"I think all the Rectors are amazing," he said. "They've contributed so much to Yale-NUS so far, and I hope to see a very vibrant community and a lot of interaction between students, faculty and staff in future!"