By Kevin Low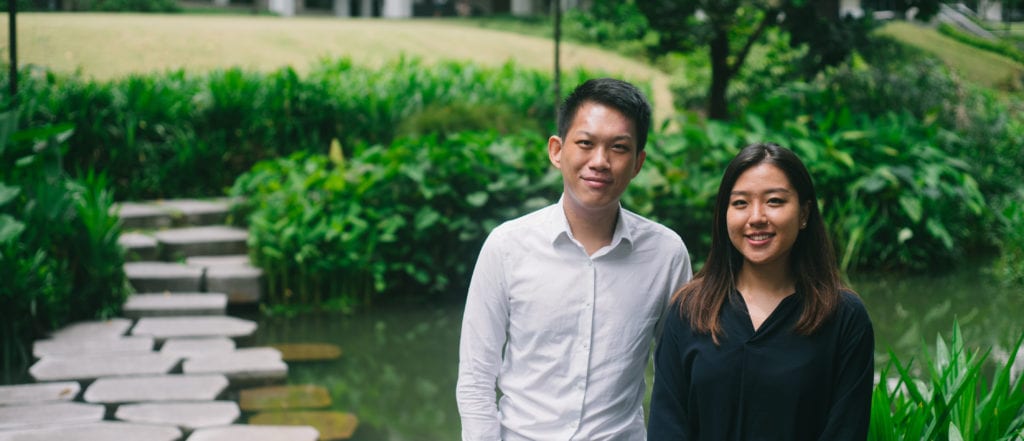 Lim Wei Da (Damon) and Lucy Kuo, two of the three team members who placed third in the essay competition. Image by Darren Ang for Yale-NUS College.
On 18 November, Lucy Kuo (Class of 2020), Lim Wei Da (Damon) and Ng Yi Ming (both Class of 2021) placed as second runners-up in the 2019 The New York Times – Association of Pacific Rim Universities (APRU) Asia Pacific Student Case Competition.
Their essay, an 800-word policy brief providing recommendations for solving air pollution in the ASEAN region, placed third out of 55 submissions from 26 universities. The competition was judged by senior university leaders from member universities of APRU and staff from The New York Times, and the results were announced at an awards ceremony held at the University of Hong Kong (HKU) on 18 November 2019.
Participants were tasked to write a policy brief to a leader in their economy outlining the threats to health from air pollution. Lucy, Damon and Yi Ming wrote about Singapore's perennial problem with transboundary haze, explained why existing eco-certification schemes were ineffective, and proposed the "GreenProduct Tax", a market-based mechanism which would tax palm oil and pulp-derived consumer products lacking eco-certification.
According to the students, their proposed tax, coupled with comprehensive communication with companies and enhanced public awareness campaigns, would exert pressure on palm-oil companies to ensure that their products are not derived from processes which involve forest fires. "As a major commerce hub with strong governance, Singapore can effect change beyond its borders by levying this tax on cross-border supply chains," they wrote.
The students' essay will be featured in the competition booklet of top-ten entries which will be posted on the APRU website, and shared widely among APRU's network of 51 leading research universities across the Asia Pacific region.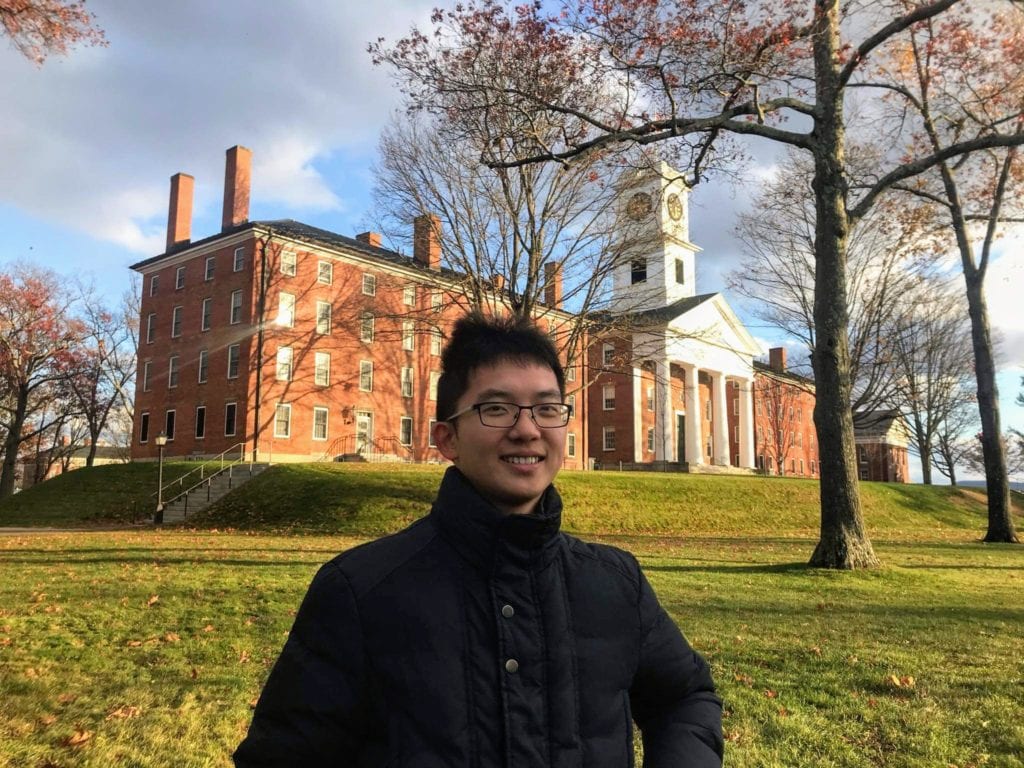 Ng Yi Ming is currently on a semester abroad at Amherst College in Amherst, Massachusetts. Image provided by Ng Yi Ming.
The team decided to focus on Singapore's air pollution situation despite the country not being a major source of air pollution in the region, because they realised that Singapore was in a unique position to make significant impact in the region through policy-making. Additionally, the competition presented them the opportunity to investigate a current issue in Singapore that is very salient to most Singaporeans.
"I had recently helped organise a Datathon which challenged participants to find data-driven insights on the haze in Southeast Asia, and I thought the policy angle was one I could make relevant contributions to," added Damon.
Although the three students are studying different academic disciplines – Damon is an Anthropology major; Yi Ming is majoring in Philosophy, Politics and Economics (PPE); and Lucy is majoring in Economics – they shared a strong interest in addressing environmental issues, and found that their differences complemented one another during the writing process.
"I feel that each team member brought a specialised skill to the table, from writing skills to experience with policy memos," said Lucy. "I am thankful to have worked with Yi Ming and Damon, learning from their strengths and complementing their skills with my own."
Overall, the team felt like they gained a greater appreciation for the intricacies and complexities of policy-making. "It was a challenge to rethink traditional forms of government oversight while adequately justifying the feasibility of our novel solution," said Yi Ming. "Our final solution, which builds on an existing environmental monitoring framework, bridges the gap between theory and reality."
Also placing in the top ten entries for the competition was Yang Pei-Wei (Benjamin) (Class of 2022), who proposed amendments to Taiwan's Air Quality Standards to align them with the World Health Organisation's (WHO) Air Quality Guidelines.
You can read the top ten essays of the competition here.