By Wen Kin Lim | Images provided by Scott Lee Chua and Yasunari Watanabe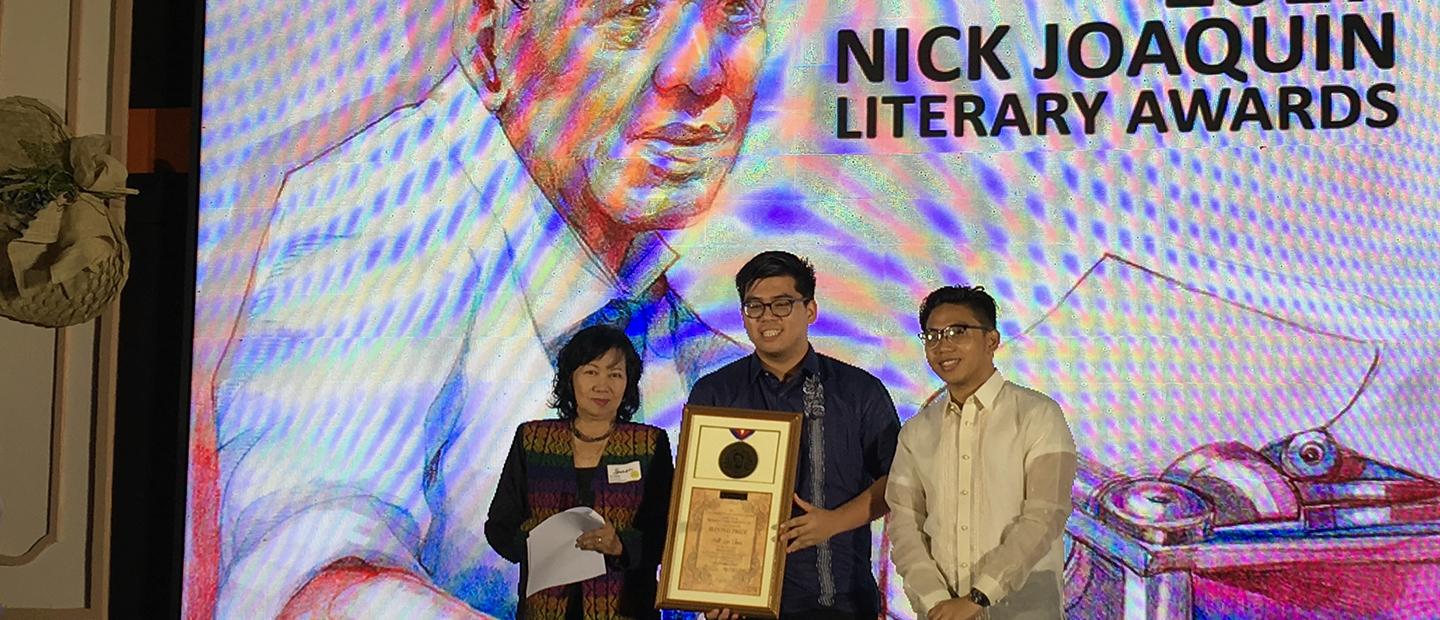 Amidst the usual flurry of college assignments, economics problem sets and student organisation activities, Yale-NUS student Scott Lee Chua (Class of 2020) managed to find time to work on a book about his home country, the Philippines. The graphic novel, entitled The Doorkeeper, was published by Summit Books and first launched in November 2017 at Komikon, a comic convention in Manila, Philippines. On 17 January 2018, the Yale-NUS Writers' Centre organised a book launch for The Doorkeeper, at the Black Box Theatre at Yale-NUS College.
This is not the first time that Scott's writings has been published – he penned a series of eight children's travel books, Top Ten Travels, which was nominated as a finalist for the National Book Awards. He also has a published collection of essays entitled My Take and writes a monthly column for a parenting magazine which has been running for more than two years. In 2017, he won second place in the Nick Joaquin Literary Awards for short fiction, awarded by The Philippine Graphic Magazine, a national publication for literature and poetry.
 His newest project, The Doorkeeper, is the story of an immortal being which meets different characters who play pivotal roles at different moments of history. It is a foray into Philippine history and myth, incorporating fantasy writing, visual storytelling and the idea of the 'butterfly effect' – the idea that huge consequences can stem from small, seemingly inconsequential choices.
Scott co-wrote the graphic novel with his childhood friend and they coordinated a team of artists to bring their vision to fruition. In their book, they imagined different historical periods from 19th century Manila to the 1970s Martial Law era.
On what inspired Scott to embark on the project to publish a graphic novel, he said, "A major inspiration behind the project was the idea that history is story – that there is no objective timeline so much as a fluid narrative told by many narrators." He revisited several foundational stories of Philippine culture from different lenses: the politically charged Martial Law era from a musician's perspective, the classic tale Florante at Laura from the antagonist's point of view.
"My grandfather used to tell me stories about growing up in the midst of World War II. I still remember them today–the one about the Japanese soldier who was impressed with his medals, the time he drove a calesa (a Philippine horse-drawn carriage] through a crossfire to deliver flour. Exaggerated and cinematic, yes, but ultimately true" he said. Scott's writing drew on personal experiences like this one, which inspired the second chapter of the novel in a bittersweet coming-of-age arc.
Scott credits the Yale-NUS Writers' Centre as a valuable resource for his writing projects, be it for his creative works or academic writing. While working on The Doorkeeper, he consulted Writing Lecturer Lawrence Ypil, who provided advice for his project.
With Mr Ypil, Scott earlier worked on an independent reading course entitled The Contemporary Filipino Voice: Reading and Writing from 20th Century Philippine Literature in English. The product of the course was actually the short story, Margarita, which won Scott second place in the Nick Joaquin Literary Awards.
Print copies of the book are being sold in the Philippines by Summit Books and e-copies are available for sale on Bugo.