By Kelly Ng
Creating impact in various fields is a key outcome of Yale-NUS College's educational experience. Some of our alumni have contributed their unique and creative works to the local poetry and music scenes.
Mr Hamid Roslan (Class of 2017)'s debut book on Singlish and English poems, parsetreeforestfire, was recently shortlisted for the Singapore Literature Prize 2020 alongside notable local poets like Marylyn Tan and Edwin Thumboo.
At a recent poetry recital "Wonders of Poetry" held on 30 August 2020, Mr Chia Yaim Chong, Mr Shawn Hoo, Mr Kan Ren Jie (all from Class of 2020), Ms Chrystal Ho, Mr Paul Jerusalem (both from Class of 2019) and Ms Min Lim (Class of 2018) collectively shared how their works honour legacy and transform tradition in Singapore. The recital, moderated by Yale-NUS Lecturer of Humanities (Writing) Mr Lawrence Ypil, was part of a collaboration between the Poetry Festival Singapore and the Yale-NUS Writers' Centre.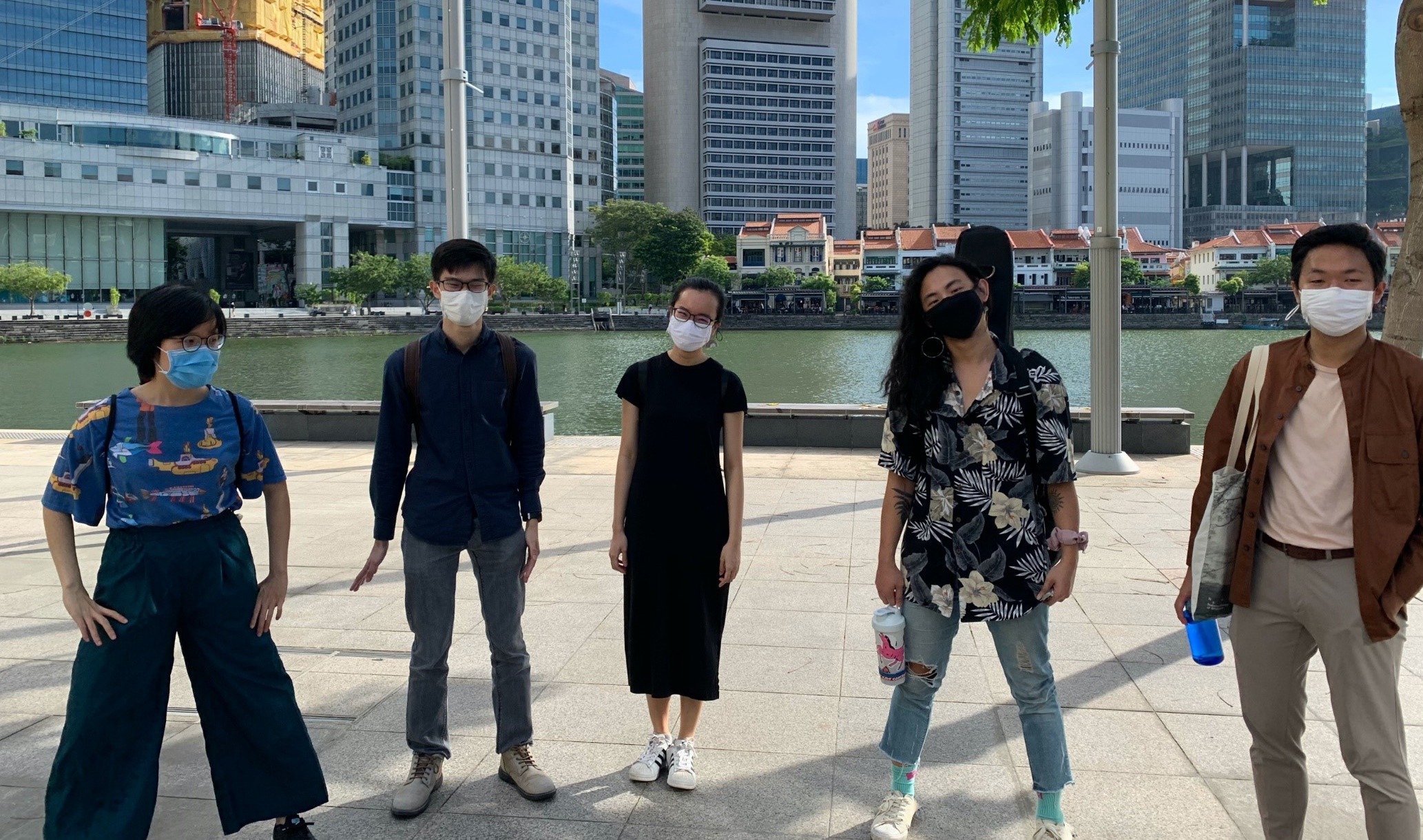 From left to right: Ms Min Lim, Mr Kan Ren Jie, Ms Chrystal Ho, Mr Chia Yaim Chong and Mr Shawn Hoo. Image provided by Mr Lawrence Ypil.
Mr Chia, Mr Hoo and Ms Lim, who have been actively creating new works, shared their love for poems and music and what inspired them to pursue their passion.
Ms Lim is a budding poet who enjoys writing about her daily experiences and love of bread.
"I first started writing poetry seriously when I joined SingPoWriMo in 2016, a Facebook group where we wrote a poem every day for the month of April, from prompts that senior moderators in the group issued. Before that, I never thought of myself as 'good enough' to write poetry, but the support I received from the community motivated me and made me more confident to keep writing," she shared.
Since then, Ms Lim has gone on to win the National Poetry Competition in 2016. She was also longlisted for the University of Canberra Vice Chancellor's International Poetry Prize in 2017.
She is currently working on her first manuscript. Inspired by Jennifer Park's Autobiography of Horse, she envisions a long-form piece that will use bread as an object to talk about her family and their bodies (including hers) as well as the histories of different bodies and families across distinct time periods.
Mr Hoo is another alumni poet who had an impulse to write from a young age. He was part of the Creative Arts Programme in junior college and was first inspired by local poets like Cyril Wong and Yeow Kai Chai. He has also won multiple awards, including the Merit Prize at the Singapore National Poetry Competition 2015.
Mr Hoo enjoys exploring the textures and music of language and believes that poetry works by "finding registers that cannot be found in ordinary speech". One of his favourite poems, which was written when he was a student in a Sinophone Literature class, is testament to this. Titled 'Deferred Sayings for Future Occasions', the poem is an elaborate linguistic joke inspired by how his grandmother used the phrase "Carrying the sand to fill the sea—a fool's work" to describe Singapore's Marina Bay Sands, turning what initially seemed like utter nonsensical writing into a "stunning critique of land reclamation, modernity, and hubris".
Similar to Ms Lim, Mr Hoo is also working on his first manuscript, provisionally titled 'The Forfeiture of the Wild'.
"My first manuscript focuses on the re-enchantment of our often stifling, urban present through an engagement with elements of our natural and environmental history. I am interested in exploring how research and historical sources can figure in the space of the poem, and in what ways poetry can absorb and transform non-fiction writing," he shared.
On the other hand, Mr Chia dabbles in multiple art forms, such as music, film and writing etc. This year, he released his debut extended play (EP) record, 'Inconsistent'. He started writing the EP over a year ago when he was going through a difficult time and had little motivation and energy to do anything.
Thematically, while the songs depict Mr Chia's struggle with trauma, sleeplessness and memory, the EP adopts an upbeat and energetic tone. Besides his EP, Mr Chia was also commissioned by National Gallery Singapore to write a song and film an accompanying music video for a self-portrait done by Malaysian artist Patrick Ng in 1958.
Looking back, all three artists have fond memories of their first forays into poetry, music and filmmaking and subsequently, the hard work and commitment that went into nurturing their respective interests.
For budding poets, songwriters, artists and filmmakers out there, Mr Chia left us with a simple yet powerful nugget of wisdom. "Keep making art; even if you don't feel like it's good enough! We are all always growing, and we owe it to ourselves to keep growing. If not for anyone else, make art for yourself!"