By Kelly Ng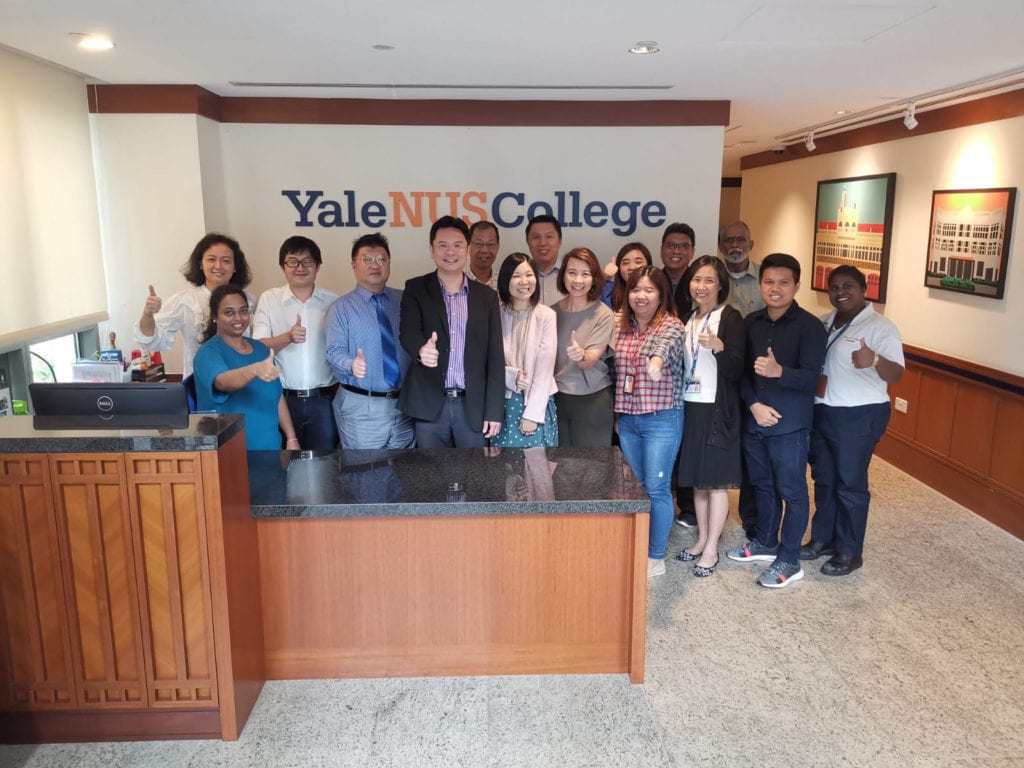 The Yale-NUS College Infrastructure, Safety & Security team, with Mr Dennis Aw fifth from left. Photo provided by the Yale-NUS College Infrastructure, Safety & Security Office.
With the first semester of the new Academic Year 2019/2020 in full swing, the College grounds are stirring with bustling activity once again as students, staff and faculty switch into full gear for the year ahead. But this first semester can also serve as a time of reflection and celebration on what the College has achieved in the last academic year.
This year, Yale-NUS College achieved two significant milestones, reflecting its emphasis on continual improvement and its strong commitment to the environment. In July, the College became the first-ever organisation in Southeast Asia to achieve the ISO 41001:2018 certification for its exemplary efforts in the area of Facilities Management. On 4 September, the College received an ASEAN Energy Award, Southeast Asia's highest award for excellence in the field of energy efficiency and conservation (EE&C) in buildings and green buildings.
The ISO 41001 certification was established by the International Organisation for Standardisation in April 2018, and is the world's first international standard for Facilities Management. The certification was awarded based on the College's commendable efforts in preventive maintenance, continual streamlining and improvement of processes, all of which have resulted in a reduced timeframe required to address reported incidents, as well as environmental sustainability initiatives.
Mr Dennis Aw, Director of Yale-NUS College's Infrastructure, Safety & Security Office (Infra), explained that the certification required an organisation to demonstrate the means taken to achieve the facilities management standards, beyond just focusing on conforming to recorded procedures. "Once we recognised this, we started implementing action plans to anticipate needs and setting targets to reduce the number of defective occurrences in the future; as opposed to just reacting and rectifying defects," he said.
One of the ways in which Infra revamped and innovated its facilities management method is its recent implementation of a low-cost, high-impact QR code and GPS tracking system. This replaces the previous manual check surveillance system which saw officers carry clipboards and patrol the college on foot to gather facilities defects. Since the new high-tech system was introduced, Infra has reported a 50 percent increase in daily patrol routes and double the number of observations made by officers.
The road to achieving an ISO certification usually requires eight to 10 months of preparation, execution and consolidation. However, according to Mr Aw, it took his team only two to three months of hard work to secure the certification requirements. "At the start of this certification journey, we already had the culture, staff, organisation and processes in place. We were delivering results and had the right work ethic, values and commitment needed. Being objectively assessed by an ISO certification body gave us an indication of how well our management model is working."
Besides this monumental achievement, Yale-NUS has also been awarded an ASEAN Energy Award, Southeast Asia's highest award for excellence in the field of energy efficiency and conservation (EE&C) in buildings and green buildings. In March 2019, Singapore's Building and Construction Authority (BCA) recognised the College as a powerhouse in the Facilities Management Industry and invited it to participate in the Awards as Singapore's representative.
Mr Aw mentions that a longstanding "culture of sustainability in the College is what has helped [it] continually embrace a positive attitude towards managing waste and energy efficiency". He also highlights the importance of engaging the community – Infra regularly collaborates with student organisations such as I'dECO, Yale-NUS' student-led sustainability movement, to develop and push out awareness campaigns and gather feedback from the ground. The recent rollout of the myInfra app, a "snap and send" mobile app also enables users to conveniently report building defects.
"When we give our users additional tools to efficiently make a report, communicate effectively and track its status together with us, we progressively build trust and create a culture of sustainability," Mr Aw said.
Testament to the success of the myInfra app, it has now been licensed out to the National University of Singapore's Yong Loo Lin School of Medicine. In the near future, Infra is looking into developing Phase 2 of the app. In this phase, the app may potentially have a range of capabilities at the back-end, such as the deployment of Artificial Intelligence (AI) in predicting defect occurrence.
With the desire to keep pushing boundaries and setting the bar high for facilities management in Singapore and beyond, Mr Aw affirms that Infra is committed to continually innovating. The team has just rolled out a new community engagement programme focused on sustainability in food consumption. Titled "Farm to Fork", it was launched in collaboration with Sodexo, the College's dining operator, and the Yale-NUS Urban Farmers, an interest group composed of students under the guidance of Assistant Professor of Social Sciences (Environmental Studies) Marvin Montefrio.
"In this new, fully subscribed programme, 10 students will have the opportunity to grow vegetables on campus. Under the guidance of the Yale-NUS Urban Farmers, they will learn advanced sustainable practices in soil-based and aeroponic organic farming. Then, after harvesting the vegetables, students will get to attend a sustainable cooking class by Sodexo's chefs," Mr Ibrahim Hussein, Food Services Manager at Sodexo, elaborated.
Adriel Yong (Class of 2023) is one of the 10 participants in the programme. As someone who enjoys cooking, he elaborates that he is keen on "learning more about the process of growing the ingredients" used in cooking.
"I would like to understand more about subsistence farming in a modern and land-scarce society like Singapore. I also strongly believe that food is a good way to bring people together, and as a first-year student, I'm looking forward to making new friends over farming and cooking together," he said.
Watch a sneak preview of the programme below!