By Melissa Wang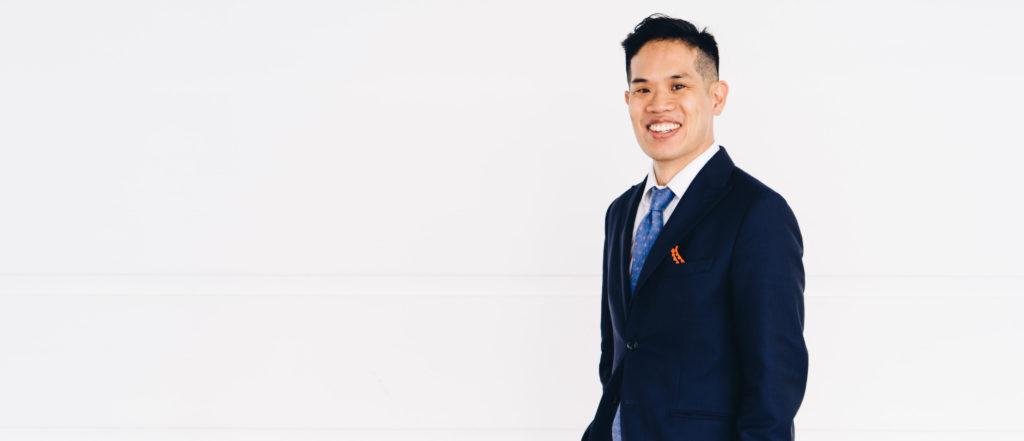 Photo provided by Andrew Hui.
"Everyone will get rejected from publishers, jobs, grant agencies. I like the formula: repetition + mastery = transcendence." This is the winning formula that Associate Professor of Humanities (Literature) Andrew Hui applies in his career as an academic; and it is one that has certainly worked for him. At the recent National University of Singapore's (NUS) University Awards 2019,  Assoc Prof Hui was conferred the NUS Young Researcher Award for academics below the age of 40, based on their impact and potential in cutting-edge research.
Assoc Prof Hui was jointly nominated by Dean of Faculty Jeannette Ickovics and Divisional Director of Humanities Rajeev Patke. In the citation submitted for the Award, they noted that Assoc Prof Hui is a "brilliant scholar working at the interface between literary studies, comparative literature, and art history".
Within six years of joining Yale-NUS College, Assoc Prof Hui has not only authored two books, scholarly journal articles, and several book chapters, he also won recognition in the form of several international fellowships and grants in Europe and the United States.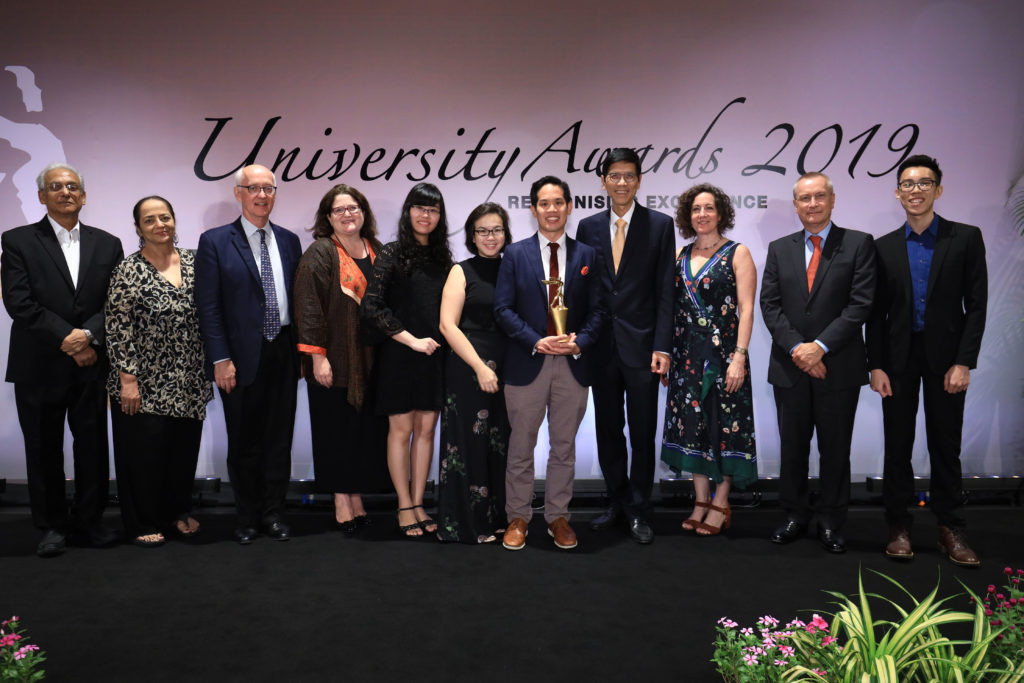 Assoc Prof Hui was jointly nominated by Dean of Faculty Jeannette Ickovics (3rd from right) and Divisional Director of Humanities Rajeev Patke (far left). Image provided by NUS Office of University Communications. 
Prof Patke found that Assoc Prof Hui's first book, The Poetics of Ruins in Renaissance Literature, helped establish his credentials as a Renaissance scholar whose linguistic capability is European in range and scope, tackling poets writing in English, Italian and French, while also showing awareness of the classical heritage of Greek and Latin languages and cultures. On Assoc Prof Hui's second book, A Theory of the Aphorism, Prof Patke noted that it breaks new grounds as the first truly global study of the aphorism, as Assoc Prof Hui's familiarity with classical and modern European literature and philosophy is brought into conversation with Chinese and Buddhist thought and writing.
"To have moved so rapidly from one book to the next also shows great energy and an appetite for creating new knowledge," Prof Patke added.
Dean Ickovics highlighted that this was the first time anyone at Yale-NUS received this award.
"[This] is a testament to Andrew's early career success and his promised trajectory. For the College, it is also a wonderful honour to have one of our own faculty members selected for such a prestigious award," Dean Ickovics said.
Assoc Prof Hui shared that he felt "incredibly honoured and humbled" to have clinched the award.
"It's a win for Yale-NUS, the liberal arts, and undergraduate education," he said.
At Yale-NUS College, Assoc Prof Hui teaches several modules spanning European Renaissance. As an Asian American, he finds "a sense of both resonance and dissonance with the materials".
For instance, Assoc Prof Hui teaches Literature and Humanities, a Common Curriculum course. The Common Curriculum is a set of courses which all Yale-NUS students study in their first two years, which introduces them to foundational concepts and modes of inquiry across the humanities, social sciences and natural sciences. Teaching the course has raised several questions for him.
"No one can claim that it is "their culture" precisely because what we read is so global and spans continents and chronology. We are all outsiders. But we are also all insiders because they speak to us about the human conditions and we are all humans. I always feel this way when I teach Homer, Dante or Shakespeare – who I am to transmit this cultural heritage when the culture is neither mine nor my students?" he reflected.
"But somehow it's been working so far," he said.
Keeping himself busy, Assoc Prof Hui is currently working on several new projects – a playful Borgesian encyclopaedia, A Fragmented Dictionary of the Universal Book, on divine alphabets, infinite texts, and universal libraries; and a monograph on Confucius the Stoic: The Encounter Between Chinese and Western Philosophy in the Age of Matteo Ricci.
Outside of his research, Assoc Prof also meditates – possibly contributing to the transcendence in the equation that he eventually achieved.