By Mathias Ooi
Four established writers within the Yale-NUS community have been awarded creative writing accolades both locally and abroad.
Lecturer of Humanities (Writing) Lawrence Lacambra Ypil was awarded the Gaudy Boy Poetry Book Prize in September for his most recent work, THERE, a collection of poems that explores early 20th-century photographs of Mr Ypil's hometown, Cebu, Philippines. The prize is awarded annually to an unpublished manuscript by an Asian poet residing anywhere in the world.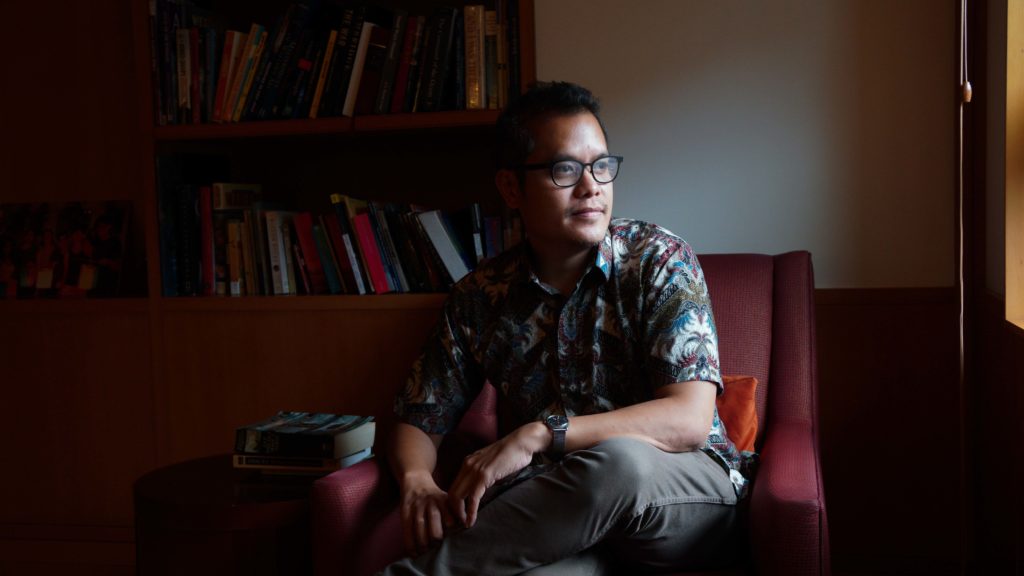 Lecturer of Humanities (Writing) Lawrence Lacambra Ypil. Image by Charmaine Chua for Yale-NUS College. 
"It is a book about photography but also about history and the ways in which our longing for home is simultaneously shaped by and subverted by the visual iconography of a place," Mr Ypil said. He added that he was "rabidly drawn" to details of life during the American occupation in the Philippines in the early 1900s, from "its beauty, to fashion, architecture, the look of a face, the fold of a dress."
Because history is the main source of inspiration for Mr Ypil's work, he pushes students in his creative writing classes at Yale-NUS to use historical documents, archival photos and art to shape their approach to writing and self-discovery.
"I suspect it is in these peripheral gazes that a different sense of the self gets revealed," he said. Mr Ypil treasures his time at the College, citing Learning Across Boundaries (LAB) and Week Seven projects as opportunities for him to continue his ongoing research on exclaves—portions of countries that are entirely surrounded by other countries.
Professor of Humanities (Writing) Robin Hemley is another faculty member who has studied and written about exclaves. He was awarded a coveted residency at The Rockefeller Foundation Bellagio Center at Lake Como, Italy, for his unpublished book Exclaves: An Exploration of Identity, National and Otherwise.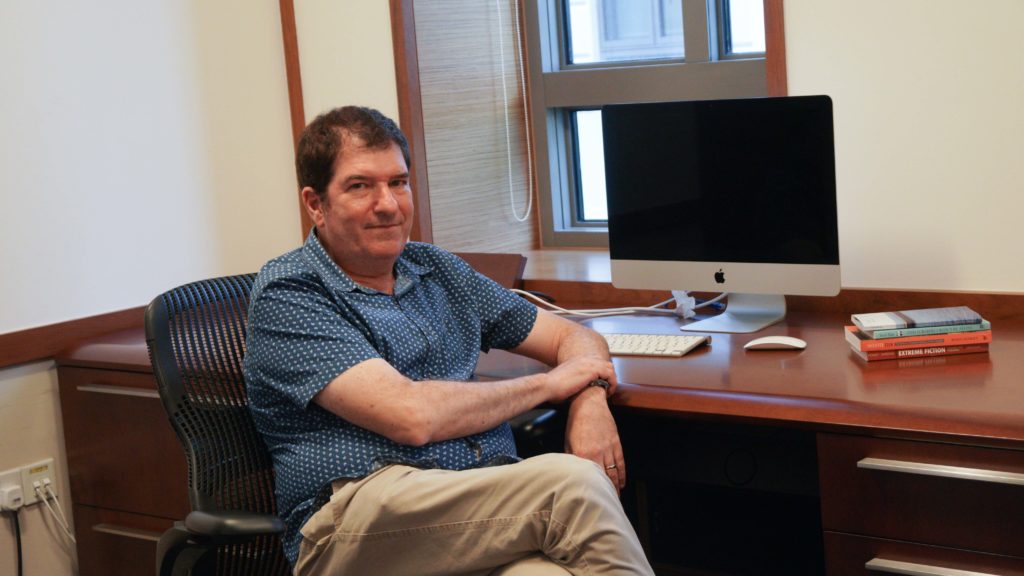 Professor of Humanities (Writing) Robin Hemley. Image by Charmaine Chua for Yale-NUS College.
The anthology of essays is inspired by places like Kaliningrad, Russia, which is cut off from the motherland by Lithuania and Poland, and Ceuta, a Spanish city claimed by Morocco and separated from mainland Spain by the Strait of Gibraltar. Professor Hemley visited the latter on a Week Seven trip with Assistant Professor of Humanities (Literature) Gretchen Head and a group of freshmen in 2016.
"These exclaves are intriguing spots on the globe for me to explore notions of belonging, nationalism and patriotism vis-a-vis my own experience moving away from America at a time of great division and turbulence in its history, as well as having long separations from my own family as a result of the move," Professor Hemley said.
During his upcoming month-long residency at the Bellagio Center, Professor Hemley will be undertaking the complex task of turning his essays into a cohesive narrative. He describes his envisioned end-product to be "part memoir, part meditation, part travel book".
Writing tutor Judith Huang and Lecturer of Humanities (Writing and Literature) Carissa Foo have made similar strides in the realm of fiction. The pair has been short- and long-listed respectively for the Singapore-based Epigram Books Fiction Prize. Ms Huang's debut novel, Sofia and the Utopia Machine, was a finalist in 2017. The work is set in a futuristic, dystopian Singapore and revolves around a young girl who accidentally creates a new universe in her mother's Biopolis lab and inadvertently has to go on the run from the government.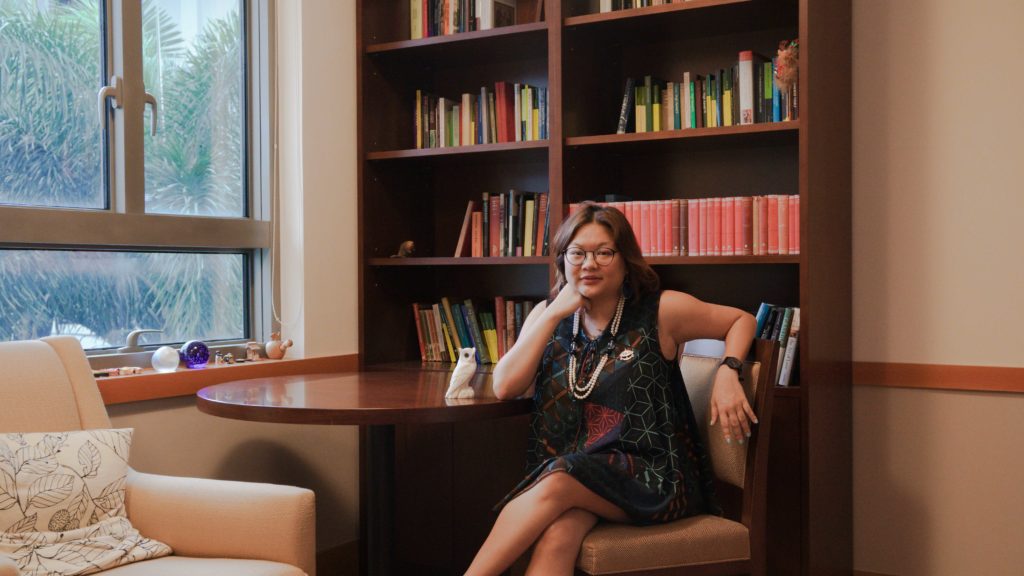 Writing tutor Judith Huang. Image by Charmaine Chua for Yale-NUS College.
"It's about politics, it's about science, it's about religion," Ms Huang said. She has also curated a Spotify playlist to accompany her work.
On her writing process, Ms Huang said, "I write using a fountain pen in a good notebook, then I do a first round of edits by inputting it into Scrivener or OmmWriter, then I may print it out or I will send it to friends—who are beta readers. Finally, I will have a manuscript which I will agonise over for a long time before getting [it to] an agent and publisher."
The entire process for Sofia and the Utopia Machine, which was published in May, took six years, excluding the editing period with Epigram Books. Aside from speculative fiction like her latest work, Ms. Huang also writes other genres of fiction, poetry and non-fiction. She hopes to explore film and video games as well.
Dr Foo's novel, If It Were Up to Mrs Dada, is also set in Singapore and follows a single day in the life of the elderly Mrs Dada. It began as a homage to Virginia Woolf's Mrs Dalloway.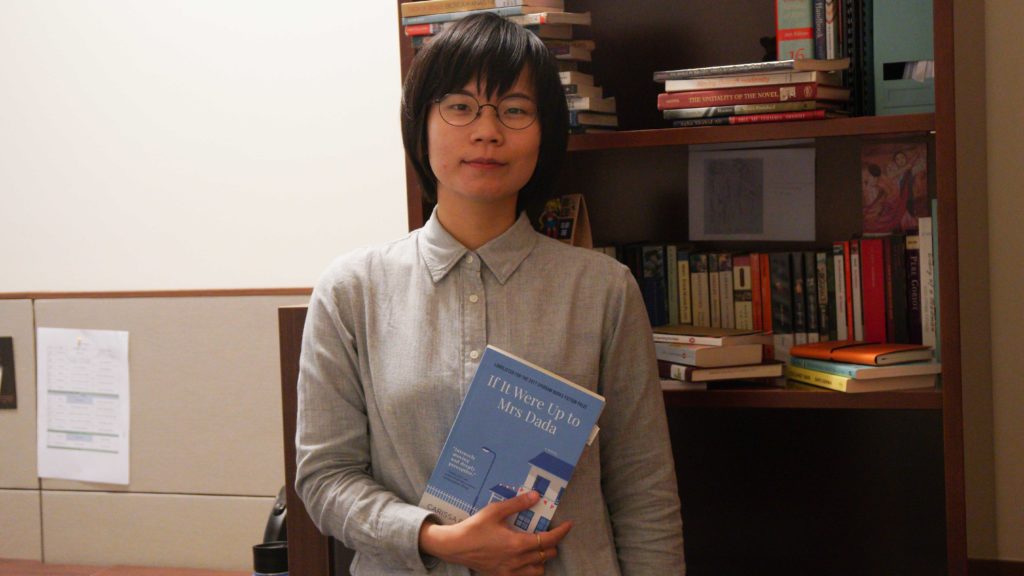 Lecturer of Humanities (Writing and Literature) Carissa Foo. Image by Charmaine Chua for Yale-NUS College.
Dr Foo said the book is a faithful representation of Singapore and draws on past traditions and local tongues.
"I wanted to write dialogues that I would hear in the presence of my grandmother and her friends, in the market or at the void deck," she said. "At the same time I didn't want these voices to seem pedestrian and crass, for they are actually rich and longsuffering, potentially beyond the understanding of Singapore's post-independence generation."
She began working on the novel shortly after returning to Singapore from England and writing it—usually between classes and meetings at Yale-NUS—helped her to slowly transition back into a Singaporean headspace. If It Were Up to Mrs Dada was published in September this year.