By Daryl Yang | Images as credited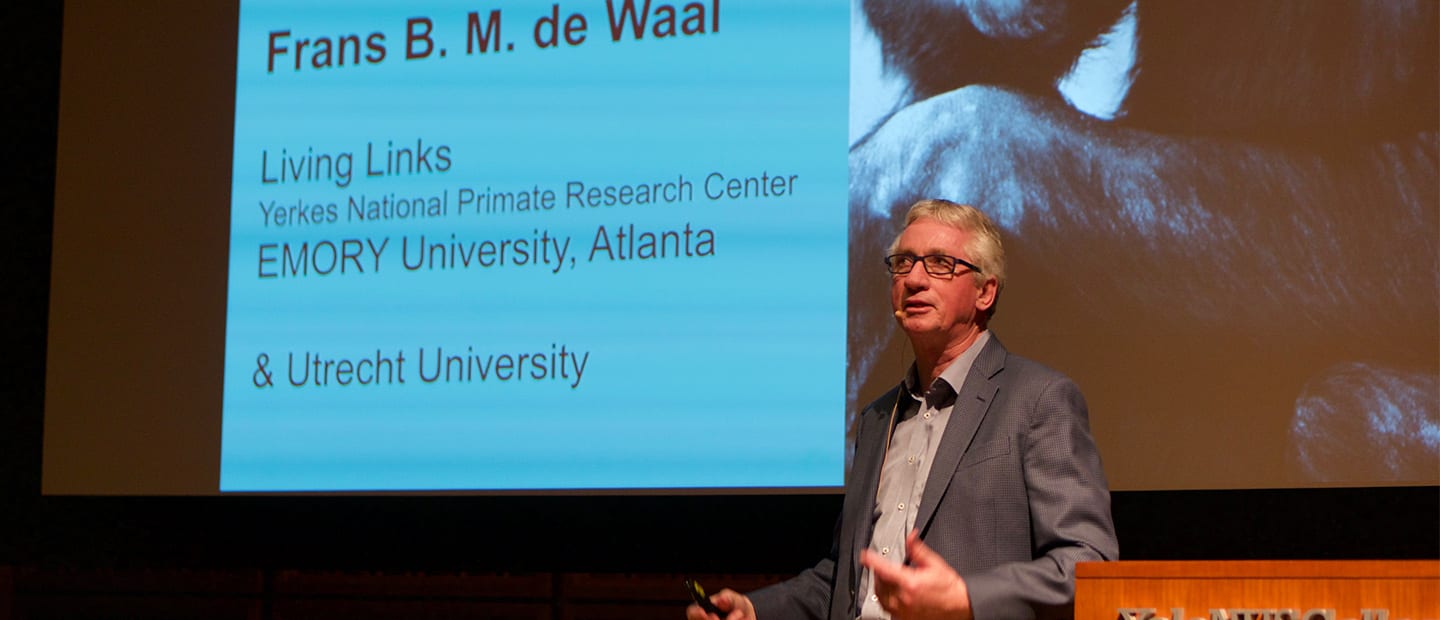 Prof Frans de Waal giving his opening address. Image provided by Yasunari Watanabe
On 6 March 2017, renowned primatologist Professor Frans de Waal gave a public lecture as part of the President's Speaker Series. Professor de Waal is a Dutch-American ethologist and biologist known for his work on the behaviour and social intelligence of primates.
Titled 'Are We Smart Enough to Know How Smart Animals Are?', Professor de Waal discussed how research findings increasingly support the idea that animals are capable of types of intelligence previously deemed unique to humans. His book with the same title was a New York Times bestseller in 2016.
The Yale-NUS President's Speaker Series aims to bring liberal arts to the community by showcasing accomplished and talented luminaries from around the world.
Professor de Waal is C. H. Candler Professor in the Psychology Department of Emory University and Director of the Living Links Center at the Yerkes National Primate Research Center, in Atlanta, Georgia. He is also Distinguished Professor at Utrecht University. In 2007, he was selected by Time as one of The Worlds' 100 Most Influential People Today, and in 2011 by Discover as among 47 (All-Time) Great Minds of Science.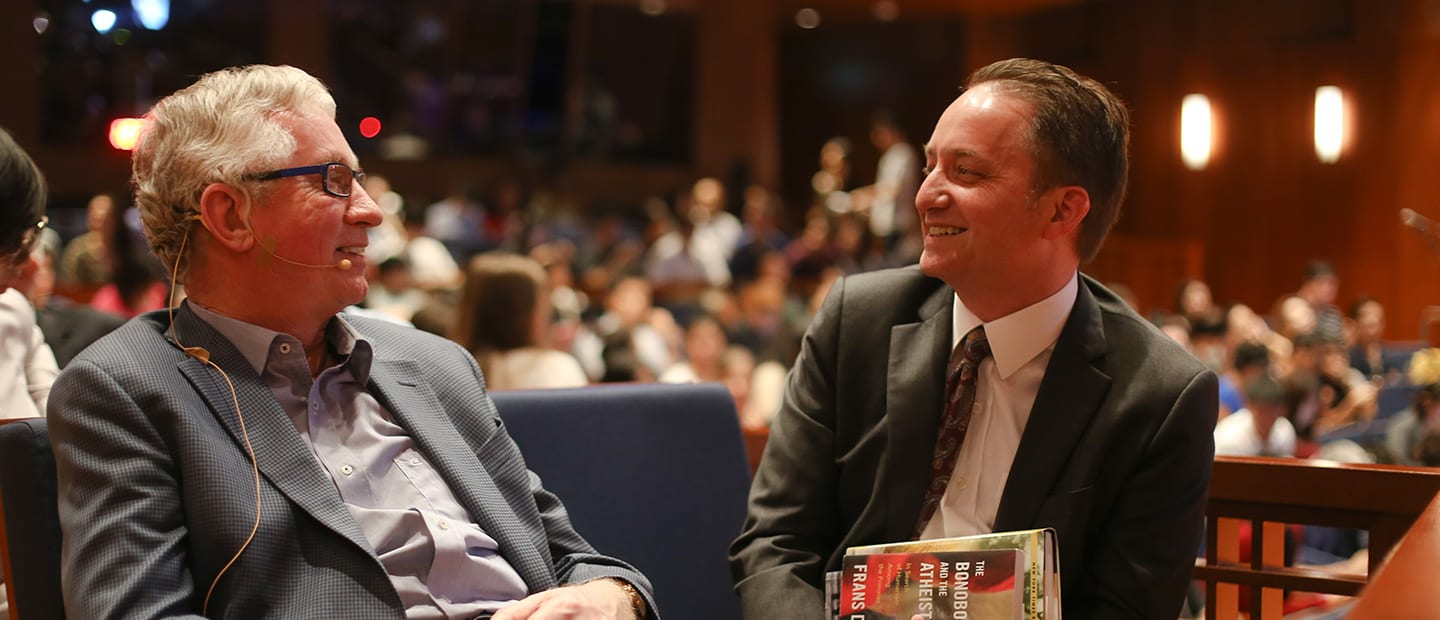 Prof Frans de Waal and President Pericles sharing a few words before the session. Image provided by Aleithia Low
In his introduction, President Pericles Lewis noted the prolific writing that Professor de Waal had done, having published 13 books thus far. Many have been international bestsellers and these include Peacemaking Among Primates, which was awarded the Los Angeles Times Book Award in 1989, The Bonobo and the Atheist (2013), The Age of Empathy (2009) and Primates & Philosophers (2006).
During his lecture, Professor de Waal showed many video recordings of animals completing tasks that were previously thought to be possible only by humans. From elephants displaying mirror self-recognition to capuchin monkeys protesting against unfairness, Professor de Waal recounted at least 25 claims of cognitions unique to human that have since been refuted by mounting scientific findings.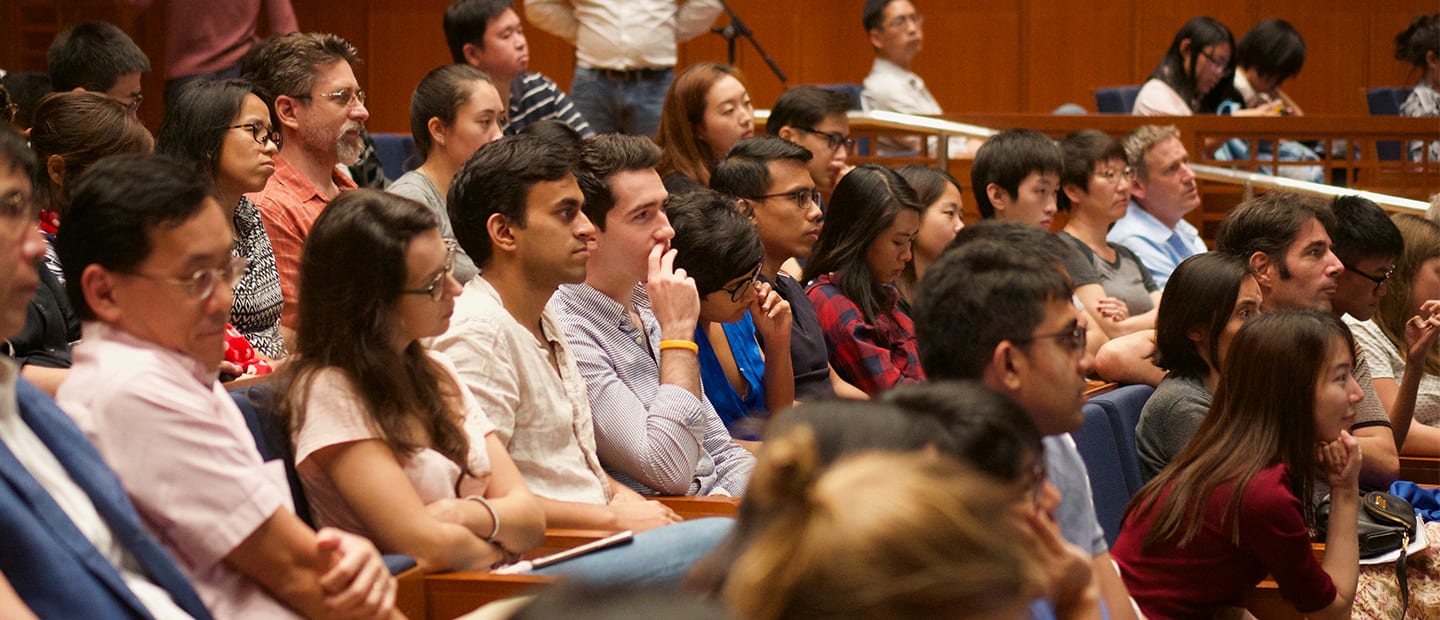 The session intrigued many members of the audience. Image provided by Yasunari Watanabe
For Adlin Zainal (Class of 2017), who attended the lecture because it combined the two things – animals and psychology – she was most passionate about, seeing the animals in action left her with an "incredibly profound appreciation for animals and how complex and intelligent they actually are".
She shared: "You hear about it in theory, but to see how they are able to recognise themselves in mirrors or display cooperative behaviour is just incredible."
Jessica Teng (Class of 2018) was similarly amazed by the animal behaviours recorded in the video clips shown at the lecture. "I was struck by how animals have a sense of inequity and operate in communities very much like our own. It makes them more relatable," she remarked.
Professor de Waal also explained a recent scientific breakthrough regarding the concept of the ability of animals to engage in "time travel". After showing a clip of a Bonobo chimpanzee carrying a large rock on its back for 15 minutes to a rock platform to break nuts, he explained that this was evidence of the ape planning to perform a task. This requires the animal to be able to think across time, something which had previously been thought to be a uniquely human skill.
Ultimately, Professor de Waal believes that a more accurate understanding of animal cognition lies in our ability to recognise its diversity and range. Instead of measuring animal intelligence using a linear scale, he suggests that a more useful approach is to understand animal cognitions as "a bush that branches out in a multitude of ways". For example, humans have long neglected the study of the bat's ability to use echolocation to locate its insect prey as we do not share the same cognition.
Professor de Waal is also the inaugural speaker for the Big Think, a new annual event aimed at bringing the liberal arts experience to the community. This comprises a series of public talks and small-group discussions for the Yale-NUS community and members of the public to engage with and be inspired by thought-provoking insights from a prominent and influential scholar.
As part of the Big Think, Dr. de Waal also spoke at a panel discussion titled 'Being Human: Ethics, Religion, and our Ancestry' with Yap Kim Hao Professor of Comparative Religious Studies Gavin Flood and Senior Lecturer John van Wyhe, a NUS historian of science.