By Daryl Yang | Images provided by Nozomi Naoi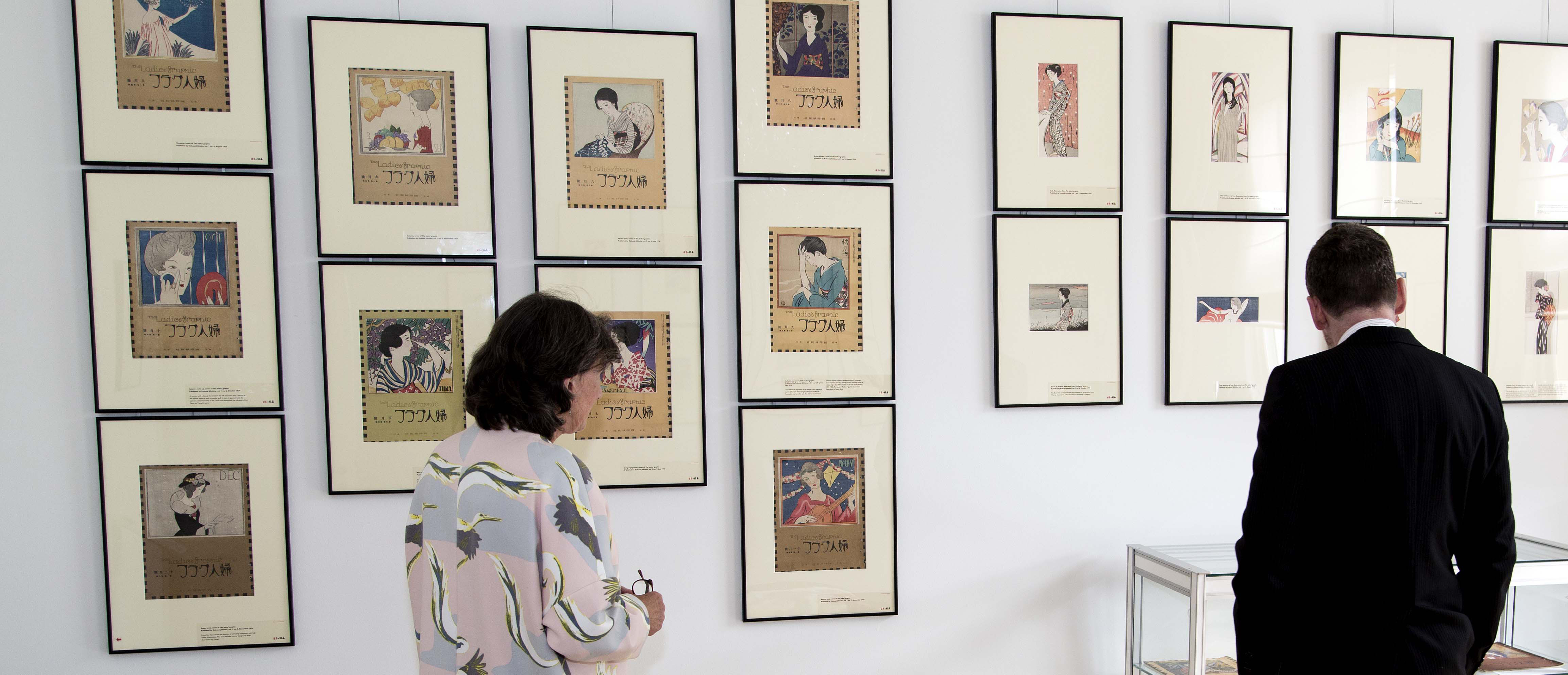 On 4 March 2017, Assistant Professor of Humanities (Art History) & Georgette Chen Fellow Nozomi Naoi was recognised by the Takehisa Yumeji Studies Association (Takehisa Yumeji Gakkai) in Japan for her contributions to Yumeji studies in English language scholarship.
According to the art history expert, Yumeji studies focus on the modernist works of Japanese artist Takehisa Yumeji (1884-1934). "He is best known for his prolific images of beautiful women, who are even referred to as "Yumeji-style beauties" (Yumeji-shiki bijin)," she shared.
While Yumeji is incredibly well known in the popular sphere in Japan (with six museums solely dedicated to his works), there had never been a solo exhibition on his works outside of Japan until Dr Naoi co-curated an exhibition held in Amsterdam in 2015.
"The exhibition Takehisa Yumeji: Artist of Romance and Nostalgia showcased the Yumeji collection of Nihon no Hanga museum in Amsterdam owned by Elise Wessels. The accompanying exhibition catalogue (co-authored with Sabine Schenk) marked the first English-language scholarship dedicated to Yumeji and his body of works," she explained.
The Takehisa Yumeji Studies Association was established in 2014 and previously invited Dr Naoi as a guest speaker for its inaugural international symposium held in March 2016. The award was given to Dr Naoi and her co-author, Sabine Schenk for their contributions in the exhibition and exhibition catalogue.
"It is quite remarkable that Yumeji scholars in Japan have recognised such efforts, which demonstrates further interest in Yumeji not only in the popular realm, but also academically," Dr Naoi noted.
Dr Naoi first developed her interest in Yumeji in graduate school. She received her PhD and MA from the Department of History of Art and Architecture at Harvard University.
"I initially became interested in the modern era (1910s – 1920s) in Japanese art history because it was a time when Japan was reassessing its identity within the world. How does Japan modernise without totally losing its traditional culture? What does it mean for a non-Western culture to modernise and Westernise? When I was at Harvard, these questions resonated with me personally as a Japanese student studying Japanese art in a Western institution," she reflected.
"The specific artist Yumeji was part of this larger interest in the modern era as well as my passion and taste for images of beautiful women in Japanese art in general. In particular, my research focuses on his diverse range of graphic production, from illustrations in socialist newspapers and magazines with images of anti-war and leftist sentiment to fashionable images of beautiful women."
Dr Naoi explained that Yumeji's works circulated widely and reached a level of visibility that touched a broad spectrum of society.
"This reveals his role in the cultivation of a new demographic of young female consumers and the reinvention of the woodcut medium from its centuries-long tradition of "floating-world pictures" (ukiyo-e) into a technically diverse vehicle of visual culture and avant-garde pictorialism," she explained. Professor Naoi also previously taught a class titled "Japanese Woodblock Prints" at Yale-NUS College.
Having published extensively on Yumeji, Dr Naoi is currently working on the first academic monograph on Yumeji and his legacy.
"Tentatively titled Beyond the Modern Beauty: Takehisa Yumeji and the New Mediascape of Early Twentieth-Century Japan, this book represents the first holistic study of Yumeji's artistry that attempts to examine how the study of Takehisa Yumeji and his works contributes to reshaping our existing understanding of the modern art historical discourse in Japan," she shared.
Dr Naoi hopes to complete the manuscript and publish the book within the next few years.
Before starting her graduate programme, Dr Naoi worked as a Research Assistant at the Museum of Fine Arts, Boston. She received her undergraduate degree from Carleton College in Northfield, Minnesota.