By Lim Wei Da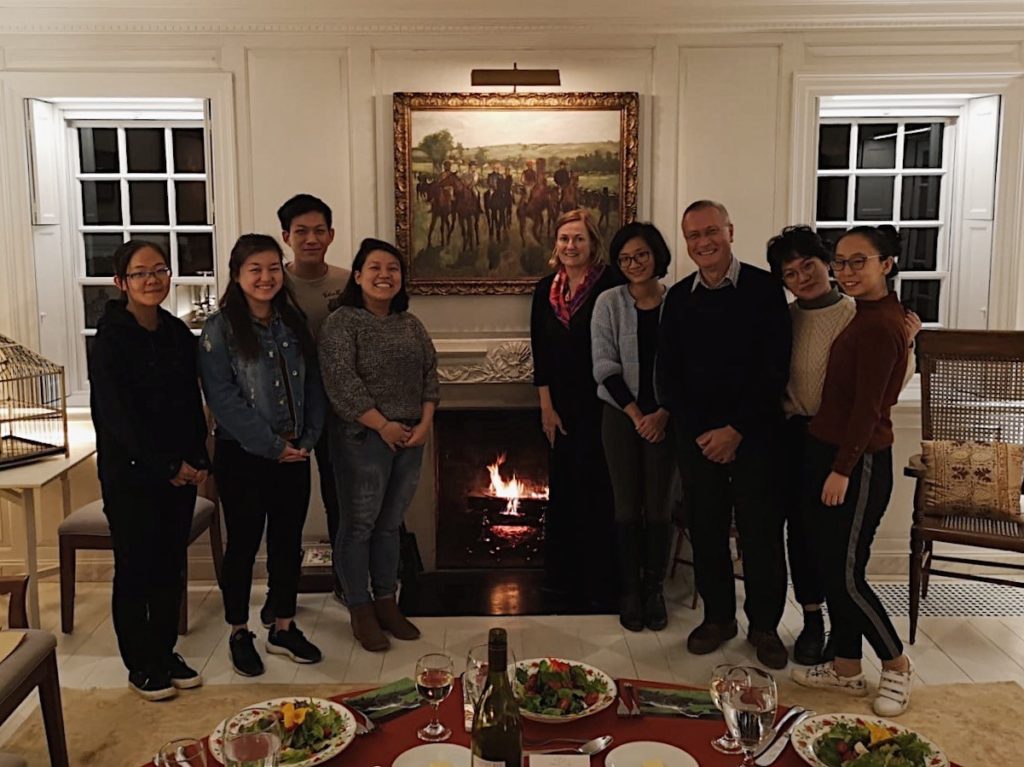 Image provided by Zhang Liu.
Oak Spring, Virginia, the United States is the former home of philanthropists and renowned art collectors, Bunny Mellon and Paul Mellon (who graduated from Yale University in 1929). After Bunny's passing, the Mellons' estate, Oak Spring Farm, was turned into the Oak Spring Garden Foundation, whose "mission is to inspire and facilitate scholarship and public dialogue on the history and future of plants". In a Learning Across Boundaries (LAB) programme during the week-long break in February, seven Yale-NUS students visited Oak Spring to continue work on a gazetteer (a dictionary of place which contains further information to help one understand the item mentioned) which contains stories of sites, events, and people associated with the Mellons and Oak Spring. Lim Wei Da writes about his experience at Oak Spring.
When I arrived, my first thought was: "Oak Spring is so beautiful!"
Over recess week, I visited Oak Spring with Vice President (Engagement) Dr Trisha Craig, Dean of Educational Resources & Technology Mr Ronald Milne, and six fellow students. While this was one of Yale-NUS' Learning Across Boundaries (LAB) trips, it also contained elements of an internship. We started doing research and writing a month before we visited, in preparation for our work on the gazetteer.
Though it was around the end of winter when we visited, Oak Spring was still tremendously beautiful. We stayed at the Broodmare Barn, old stables that were converted into guest accommodation, and every morning we breakfasted at the main house before working on gazetteer entries at the Basket House, a room filled with dozens of Bunny Mellon's artisan-crafted baskets.
One of the main things I learnt more about was garden culture. Sir Peter Crane, former dean of the Yale School of Forestry and Environmental Studies and current president of Oak Spring Garden Foundation, explained some of the philosophies and techniques Bunny Mellon used to design the estate's garden. She regarded trees as individual, malleable objects that could be manipulated by design, and would prune the trees in her gardens, creating an aesthetic that would match her flowers and the sky.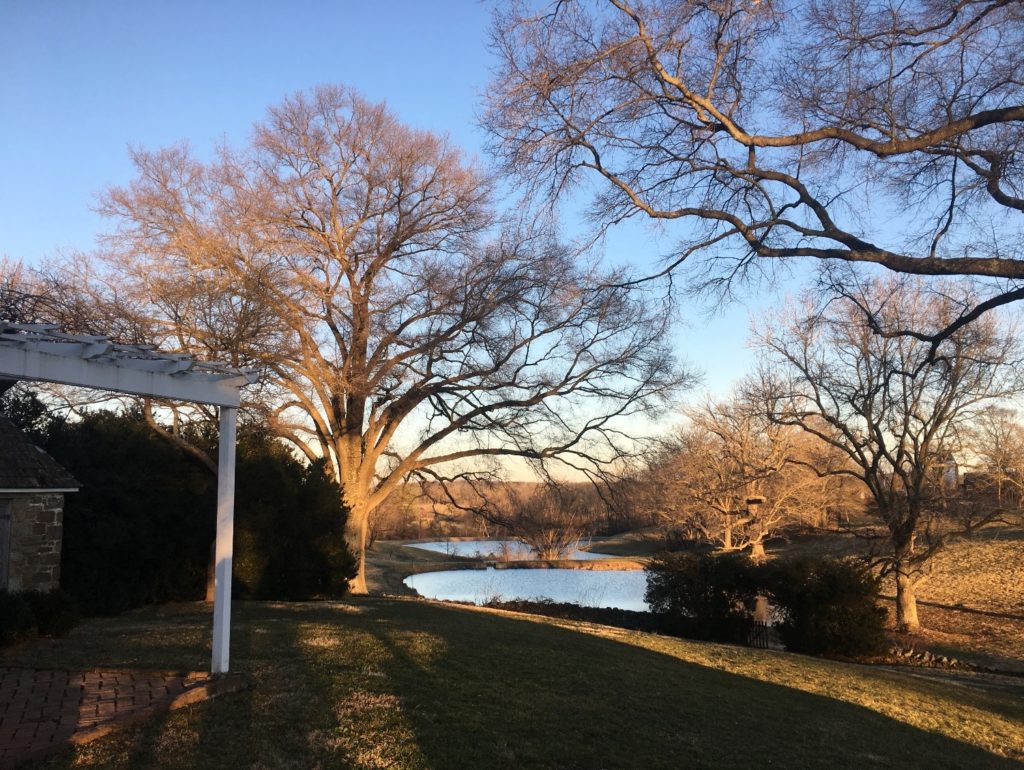 Image by Lim Wei Da for Yale-NUS College.
Working on the gazetteer taught me to write in a different way. While I was used to writing academic papers, this was writing that I was unfamiliar with. We were fortunate to have mentorship from our seniors, Pham Le Vi and Yang Yilin (Class of 2019), who interned at Oak Spring over the summer and worked on the gazetteer. They explained the history and culture of the place, and taught us how to develop a voice in our writing.
Over the week, we visited the Oak Spring Garden Library to find rare publications for research and even interviewed some of the staff for the entries we worked on. This was very useful as the internet did not offer much information on some of our entries, so we had to consult the librarians who then referred us to specific catalogues, books, and print materials.
For example, for my gazetteer entry on the National Gallery of Art, I referred to an old publication by the Gallery, which detailed the Mellons' contributions to it and the story behind various art pieces.
As part of the LAB, we were included in conversations between Sir Peter Crane and external partners like Dumbarton Oaks (a Harvard University institute and foundation focused on gardens, Byzantine art, and Pre-Columbian art) on how they could better engage the public in their respective foundations' missions.
Through sitting in on these conversations, I had a clearer understanding of the role of foundations and philanthropic organisations in promoting arts and culture, especially in the context of the US where there is a long tradition of philanthropy.
While philanthropy is still relatively new to Asia, it has played a crucial role in America's history. For example, the National Gallery of Art was almost completely funded by philanthropists who wanted America to have a great art museum rivalling those of other nations.
We also learnt about the digital humanities – how data science and technology can be applied to the study of the humanities, academia and popular culture – from Catherine DeRose, manager at Yale Digital Humanities Lab, who visited our campus two weeks later to teach a short course on the topic. "Robots Reading Vogue", a project at Yale University, is a good example of this – researchers use image analysis to analyse over 2,700 Vogue magazine covers to investigate how Vogue's aesthetics has changed over the decades.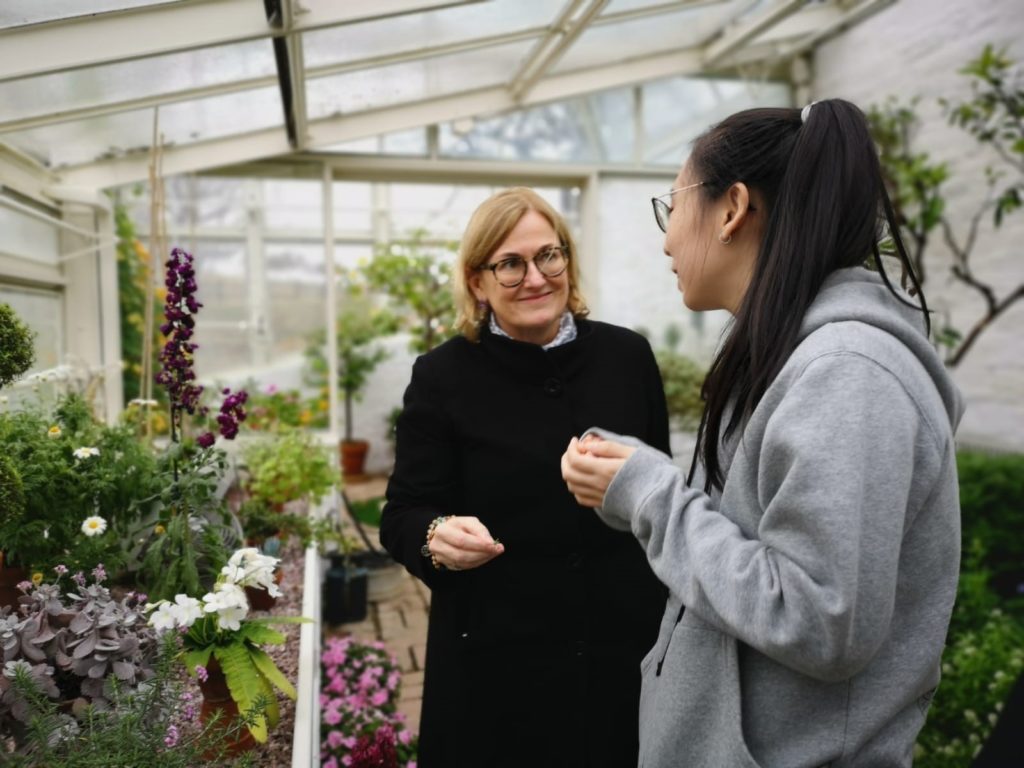 Image provided by Zhang Liu.
Over the week, we had many chances to engage with nature and the outdoors at Oak Spring. We went on several walking tours – on which we saw horses and gorgeous sunsets – and visited museums and other places of attraction in Middleburg, one of the towns near Oak Spring.
One such visit was to the National Sporting Library & Museum, to which the Mellons had donated some paintings. Paul Mellon was known for his love for horses, and one of his favourites, Sea Hero, won the 1993 Kentucky Derby. Paul Mellon had a statue of Sea Hero installed at the Museum to honour his achievement.
At the Museum, Dr Craig explained to us the evolution of horse-riding and sporting culture throughout American history. She also talked about artistic representations of horses, including the legend that statues depicting horses with both front legs raised mean the rider died in battle. We also visited churches and community parks that the Mellons had generously given to, informing our gazetteer entries on these places.
This experiential learning would not have been possible in a typical school trip, and I am so grateful for the fantastic opportunity to learn about the culture of gardens, foundation work, and cultural philanthropy that Yale-NUS has given me.
Some of the conversations we had with Oak Spring, such as how Oak Spring can contribute to the culture of gardens and engage the public in doing so, is especially pertinent to my study of Anthropology and Environmental Studies, and I am excited to see how my experience at Oak Spring will enrich my future research and activities.
Watch a video about my experiences below!