By Akanksha Madan
What could be a warmer experience than bonding with members of your community over a nice meal? Endeavouring to give Yale-NUS students, staff and faculty a chance to connect over a meal, Lunch Tag is a student-led initiative that runs every semester.
Any interested student, staff or faculty member can register online, following which they are randomly paired with another registered individual. A shared lunch gives them the opportunity to have a conversation with another member of the Yale-NUS community and potentially forge a new friendship, and also helps them win points for their Residential Colleges (RCs). A completed lunch tag earns each participant one point, while uploading a photo of themselves onto the Lunch Tag system nets them an additional point each. Total points for each RC are announced at the end of the semester, with the winning RC taking home bragging rights.
"The objective of Lunch Tag was to help the community bond over something everyone loves – food", said Mr Martin Vasev (Class of 2018), who was part of the founding team of Lunch Tag during his first year. First launched in 2014 by a group of Dean's Fellows – residential support staff who also contribute to the development of the College's programmes and initiatives – and students such as Martin, the initiative has been flourishing and improving each year. Although initially established only for inter-student interactions, by 2017, Lunch Tag grew to include faculty and staff to promote better integration within the wider College community.
"Lunch Tag has been a platform for people to meet other members of the community whom they would not have met otherwise", said Jin Hee Lee (Class of 2021) and Linda Li (Class of 2022), co-coordinators of Lunch Tag this academic year. They also acknowledged the need for such an initiative as the residential community expands and the campus approaches full enrolment capacity.
May Wang (Class of 2022), who has shared 60 Lunch Tag meals over the past few semesters, explained that these lunches have given her the chance to learn more about the faces she sees on campus, and transition from being strangers to friends. Similarly, Ivan Leo Min Kai (Class of 2022), who has had 9 Lunch Tag meals this semester, shared, "I've met some great friends through Lunch Tag."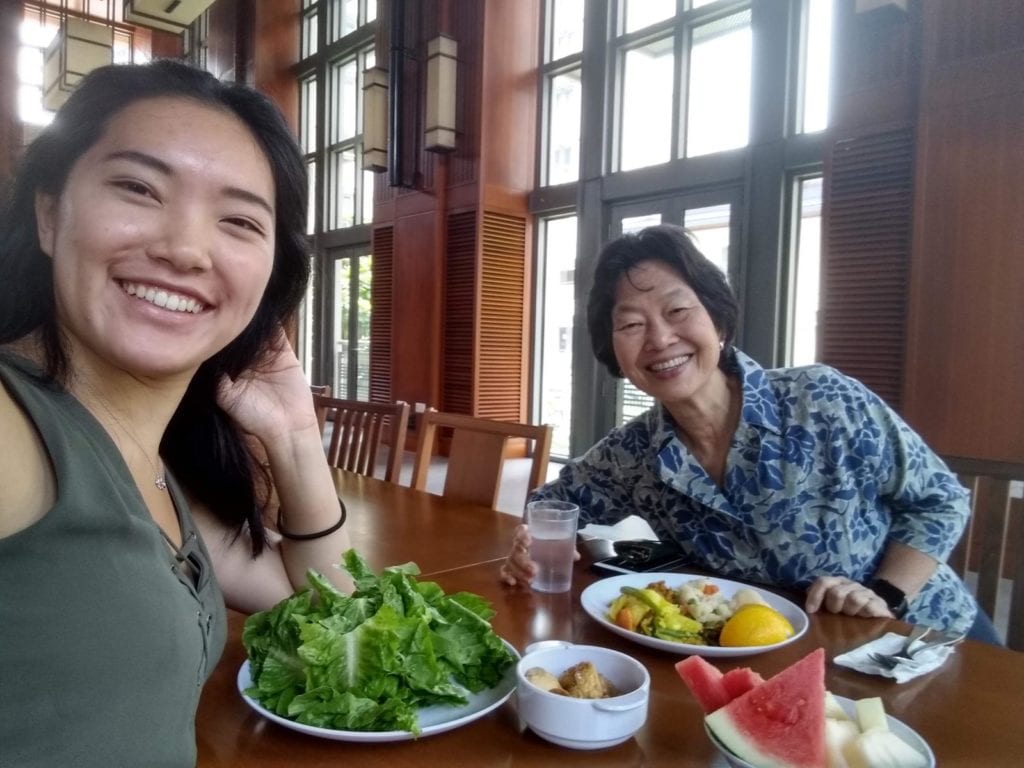 May Wang (Class of 2022) and Saga College Rector, Associate Professor Khoo Hoon Eng. Image provided by May Wang.
Lunch Tag meals can often be intimate, with vulnerable and personal conversations. "I was moved very strongly by recalling some aspects of my time here at Yale-NUS. I did not expect that in a lunchtime conversation," said Professor Steven Bernasek, Rector of Cendana College, who has dined with both students and faculty.
Lunch Tag meals are also deeply enriched by the diversity of the faculty, staff and the student body. With over 70 nationalities on campus, students, staff and faculty alike enjoy learning about each other's unique experiences. "The various experiences that I've heard about during Lunch Tag have really helped me appreciate the diversity at Yale-NUS," said Ivan.
Over 350 participants representing close to 200 pairings have dined so far this semester. Elm College students currently lead the other two Residential Colleges, with a 36 percent participation rate. The current edition of Lunch Tag ended on 1 December 2019.
Students, faculty, and staff can register for the next edition, commencing in January 2020, at https://lunchtag.org/view/yalenus.