By Bilge Arslan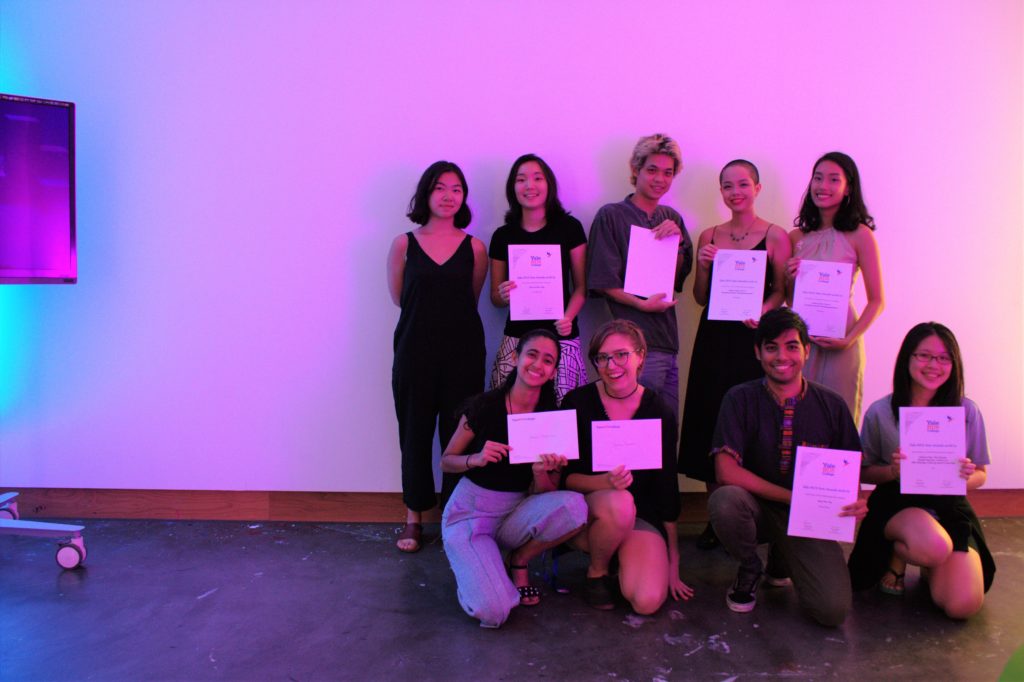 Image by Bilge Arslan for Yale-NUS College
Yale-NUS students are a creative and talented group of individuals, and nowhere is this more apparent than in the visual and performing arts.
This year, the Division of Humanities, in collaboration with the Arts Spaces Committee, launched the inaugural Arts Awards to celebrate the vibrant art scene at Yale-NUS. Students and alumni were eligible to apply under the award categories of visual arts or performing arts, either individually or as a group.
The winners for the visual arts and performing arts categories were 'TV Aquarium' by Tiara Lui (Class of 2019) and 'Master Race', a play by Myle Yan Tay (Yan) (Class of 2019) respectively. Besides receiving stipends to aid them in their future endeavours, the winning artists had the opportunity to exhibit their work during the awards ceremony, which took place on 8 March at an arts studio in Yale-NUS.
Congratulating the winners, President of Yale-NUS College, Professor Tan Tai Yong highlighted the vibrancy of the College's art scene that constantly evolves as new productions, exhibitions, and workshops were organised by students and visitors.
"Our intimate community of scholars fosters the arts – not only to produce artists, but so that all of our graduates become creative thinkers and imaginative problem solvers within any field they chose to enter. I would like to specially thank the Chen Chong Swee Asian Arts Programme, whose generous support made these Awards possible," he said.
A panel of eminent external judges comprising arts practitioners and industry experts reviewed the entries. These included playwright and director Chong Tze Chien; composer Hoh Chung Shih; photographer Kevin Lee; painter and sculptor Richard Streitmatter-Tran; senior curator at the National Gallery Singapore Adele Tan; artist and graduate programme director of LASALLE College of the Arts Dr Ian Woo; percussionist and composer Sascia Pellegrini; and arts management consultant and theatre producer Michele Lim.
Set in near-future Singapore, Yan's winning play, 'Master Race', explored the theme of racial identity in Singapore, beyond the broad notion of "Singaporean multiculturalism". As a result, the play is "about the ways we talk about race," he said, as it is intended to be part of a larger conversation Singapore is having about race and its impact on our daily lives.
"The awards are a great way to recognise our efforts and let us know that beyond students, the administration and staff care about our work. It's also terrific that the judges are external arts practitioners, reminding us that our works have meaning and value beyond the College," said Yan.
'Y19', an interactive, audience-based dance production, netted second place for the performing arts category. The production by Juliette Chia (Class of 2020), Tan Xin You (Class of 2020), Natalie Sutanto (Class of 2020), Larissa Lee (Class of 2021), Zhu Minying (Class of 2019), Chim Jia Jian (NUS, Class of 2019), and Leon Han (Class of 2020) explored the meaning of youth and charted the highs and lows of this precious yet transient time of life.
According to Juliette, the production of 'Y19' was a memorable experience, and she found it very meaningful to create something that means so much to the team of 'Y19' and the audience. She is also very excited to embark on 'Y20' with the team, another production about youth that will take place in the future.
"It is crazy how this whole thing went from inspiration, to gathering a committed group of dancers and production members, to the actual show itself, to the Yale-NUS Arts Awards," she said, highlighting the supportive environment Yale-NUS provides for the generation of creative works.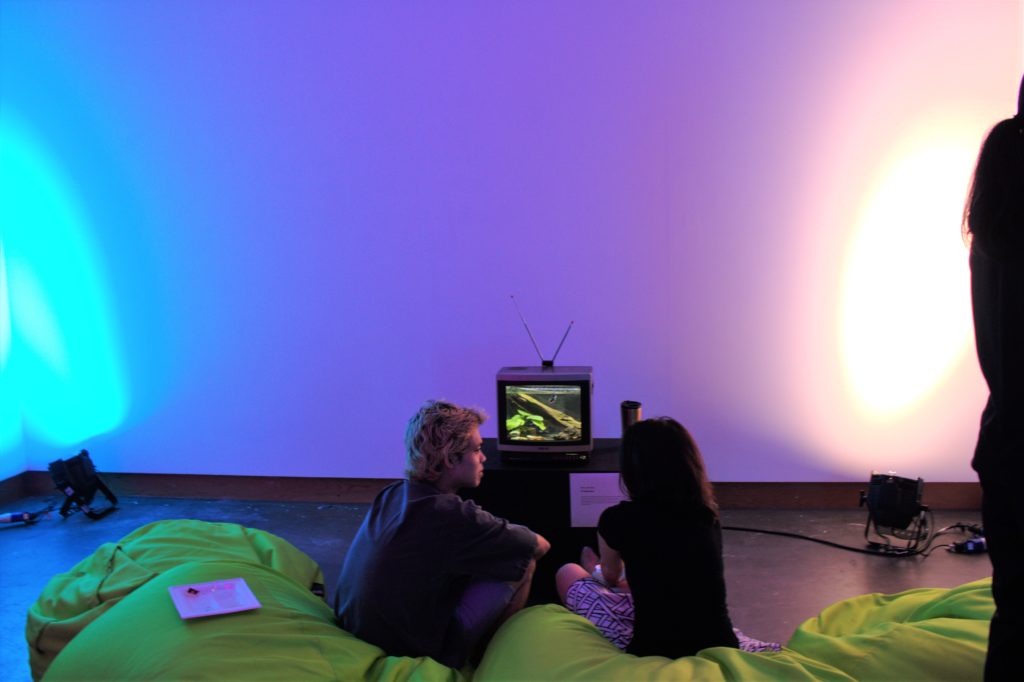 Image by Bilge Arslan for Yale-NUS College
In the visual arts category, first place went to 'TV Aquarium' by Tiara Lui (Class of 2019), a work consisting of a hollow TV screen filled with water that serves as an aquarium. It represents how we consume nature by allowing us to look at nature from a TV screen, making us reflect on our contribution (or damage) to nature with our passiveness.
Second place in the visual arts category went to 'this was a place' by Art Naming (formerly known as Adam Lau, Class of 2019). Through the use of vocabulary reminiscent of historical plaques mounted around places  such as the Quiet Room and Library, 'this was a place' reimagined the spaces by sharing fictional narratives. After a brief statement on the place's past and present situation, the text on all the plaques ends with the statement: "Ever since, nothing exceptional happened here," which aims to show the "decay of a once lively space," said Art.
Besides recognising the works of current students, the Arts Awards also included an Alumni Artist Development Grant to celebrate alumni's artistic achievements and support them in their future endeavours. The judges offered mentorship opportunities for future alumni awards winners, which could guide them through their transition into a professional career in the arts. Ms Shanice Stanislaus (Class of 2017) and Ms Julianne Thomson (Class of 2018) received the grants for the performing arts and visual arts categories.
Ms Stanislaus said, "The Arts Awards is a great initiative to help emerging artists in the school by encouraging them to keep creating. I hope to work with the school and the organising committee to structure some kind of support for future artists who win the Awards."