Text and image by Melissa Wang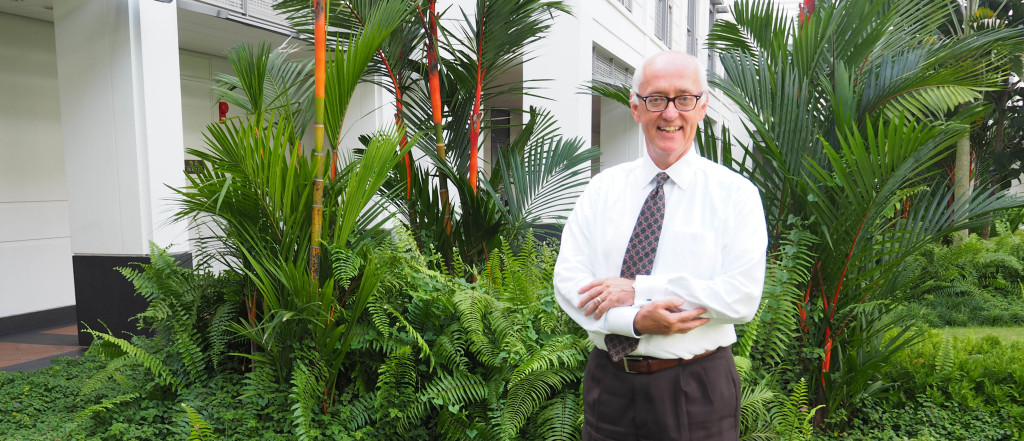 A familiar face on campus, Professor Steven Bernasek now wears a new hat – as the Dean of Faculty. Making a smooth transition into his new role, Professor Bernasek is looking to further bolster the faculty team at Yale-NUS.
Under the leadership of inaugural Dean of Faculty, Professor Charles Bailyn, a comprehensive review of the Common Curriculum had been carried out, and the capstone projects finalised for the inaugural Class of 2017. Taking over, Professor Bernasek will be concentrating his efforts on strengthening the tenure process and increasing the number of tenured faculty. This will cater to the needs of many of the younger faculty members within the College who have come onboard in the last three to four years.
An academic tenure offers faculty a permanent post, as opposed to a contract position. A common practice among universities worldwide, untenured or junior faculty members are typically considered for tenure after about six years.
The new Dean of Faculty shared that the tenure system at Yale-NUS is already in place, and his main task is "making sure that the process is done with rigour, and with attention to the standards, such that it is applied uniformly".
Apart from strengthening the faculty team from within through tenure, Professor Bernasek is also actively overseeing faculty recruitment, where he hopes to bring in more senior faculty members to build up the team further. In the last academic year, Yale-NUS welcomed over 30 new faculty members, who brought with them diverse experiences and knowledge in their various fields of expertise. Professor Bernasek is continuing the search for talented faculty who can contribute to a liberal arts college like Yale-NUS, where the faculty-to-student is lower, and faculty spend more time helping to develop the curriculum and engaging with students.
As opposed to large research institutions where research tends to be a priority, Professor Bernasek highlighted that at Yale-NUS, research and undergraduate teaching are of equal importance. He revealed that while faculty always need to keep their scholarship active, the College is looking out for commitment to undergraduate teaching during the recruitment process.
"At Yale-NUS, it is very important that you do a great job of teaching, and that you have an active research group that will involve undergraduates," he said.
To enable faculty to better achieve their twin goals of research and undergraduate teaching, efforts are also underway to enhance the faculty support infrastructure, such as expanding opportunities for field studies and increasing the library resources needed for faculty research.
More immediately, the former Director of the Division of Science hopes to get to know current faculty members better, particularly those in the Social Sciences and Humanities divisions.
"This would help me to better understand the needs and challenges of the faculty across the three divisions," he explained.
With new priorities and time commitments due to new responsibilities, Professor Bernasek will have to set aside some other roles. Citing his passion for teaching students with a thirst for understanding, and equipping them with knowledge to solve problems and figure out how things work through the liberal arts curriculum, Professor Bernasek remarked:
"I'm a little bit sad that I'll not be teaching this year, and this is the first time in a long time that I would have not taught something."
Nonetheless, Professor Bernasek is excited about his new role, and looks forward to giving his best as the Dean of Faculty, and taking on new responsibilities to continue contributing to the College.
Outside of his work at Yale-NUS, Professor Bernasek is in Singapore with his wife, Sandra. He enjoys going on walks and reading. Professor Bernasek is also a licensed pilot and looks forward to flying at Seletar airport again, once his work in his new role is more settled.